World's oldest gorilla turns 56
Despite doomsday, Colo marks major milestone.
Assuming the world doesn't end today (as predicted by a Mayan prophecy), Ohio's Columbus Zoo plans to party: It's celebrating Colo the gorilla's 56th birthday this weekend.
The first gorilla to be born at a zoo, Colo is the oldest known gorilla in the world. That record was last held by Jenny at the Dallas Zoo, who died at age 55 in 2008.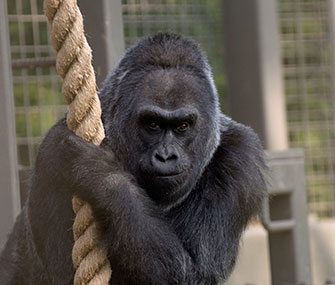 While zoo visitors serenade her with happy birthday wishes this weekend, Colo will indulge in a specially made cake and her favorite food — tomatoes.
Related: Rudolph really had a red nose
This accomplished Western gorilla is the mother of three, grandmother of 16, great grandmother of seven and great-great grandmother of two.
Bing: See photos of baby gorillas.
Photo: Columbus Zoo and Aquarium // Colo the gorilla turns 56 on Dec. 22.
More from Vetstreet:
7 Animals With Very Long Life Spans
Britney Spears, Jimmy Fallon & Taylor Swift's Pets Among the 11 Top Celeb Pets of 2012
7 Cats Who Hate Wearing Sweaters
Video: Playtime for Baby Monkey and Baby
Photos: Comfort Dogs Help the Grieving Town of Newtown, Connecticut
News, stories, tips and laughs for moms & dads
Transform the fall vegetable into cool decor pieces.

Put together these creative, but simple, Halloween looks for your youngsters.

We know you're documenting just about every move baby makes. (Do you even have any memory left on your phone? We didn't think so.) These tips from professional photographers can help you perfect your pics.

These six on-trend ideas will make baby's room your new favorite place to hang out.

Baby probably won't remember his first birthday party, but that doesn't mean you can't go all out (after all, parents need to celebrate making it through this first year, right?). These fun, colorful themes take planning to the next level.

See what celebrities who had problems conceiving have to say.

You'll be hearing a lot of advice and opinions. Some of it will be really helpful and some will be just plain wrong. Here are the most common things people say about babies that aren't true.

A new dad finds an Epcot Center's worth of innovation after expecting none at all.

The dog days of summer may be well behind us, but that doesn't mean it's time to pack in the outdoor adventures quite yet.

Protect yourself and your family with these ingenious gizmos and smartphone apps.

Make sure your go-to gadgets are as cute as your style, with these trendy tech finds!

Oh, how the times have changed...