World's oldest gorilla turns 56
Despite doomsday, Colo marks major milestone.
Assuming the world doesn't end today (as predicted by a Mayan prophecy), Ohio's Columbus Zoo plans to party: It's celebrating Colo the gorilla's 56th birthday this weekend.
The first gorilla to be born at a zoo, Colo is the oldest known gorilla in the world. That record was last held by Jenny at the Dallas Zoo, who died at age 55 in 2008.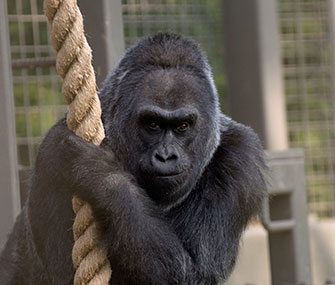 While zoo visitors serenade her with happy birthday wishes this weekend, Colo will indulge in a specially made cake and her favorite food — tomatoes.
Related: Rudolph really had a red nose
This accomplished Western gorilla is the mother of three, grandmother of 16, great grandmother of seven and great-great grandmother of two.
Bing: See photos of baby gorillas.
Photo: Columbus Zoo and Aquarium // Colo the gorilla turns 56 on Dec. 22.
More from Vetstreet:
7 Animals With Very Long Life Spans
Britney Spears, Jimmy Fallon & Taylor Swift's Pets Among the 11 Top Celeb Pets of 2012
7 Cats Who Hate Wearing Sweaters
Video: Playtime for Baby Monkey and Baby
Photos: Comfort Dogs Help the Grieving Town of Newtown, Connecticut
News, stories, tips and laughs for moms & dads
Got kids that are questioning whether or not the Easter Bunny is real? If you want to keep the tradition going at least one more year, try one of these ideas...

You're cold-hearted? We'll take care of that for you...read on.

This kid despises poetry and he's not afraid to let you know.

I used to be one of those moms who thought, 'who on earth would bring their child to an event like that?' and then I had a son. Here's why you might become a convert, too.

Take a look at your house for these telltale signs that a cat is running the show.

Check out this list of requirements you should meet before getting a new puppy or adult dog.

Virtually everything you need to know about relationships, you learned in nursery school: Treat people as you want to be treated, clean up after yourself, and don't be a know-it-all.

Here are our experts' best tips for how to be a positive role model for your kids so that they grow up healthy, strong and confident about the way they look.

Much like their famous owners, these pooches live a fabulous life. Some are rescues, others purebred, but one thing is certain – these dogs play an important part in their famous parents' lives. Can you guess who owns each of these dogs?

We captured a frame-by-frame look just for you.

Two controversial science projects resembled weapons, school officials said.