World's oldest gorilla turns 56
Despite doomsday, Colo marks major milestone.
Assuming the world doesn't end today (as predicted by a Mayan prophecy), Ohio's Columbus Zoo plans to party: It's celebrating Colo the gorilla's 56th birthday this weekend.
The first gorilla to be born at a zoo, Colo is the oldest known gorilla in the world. That record was last held by Jenny at the Dallas Zoo, who died at age 55 in 2008.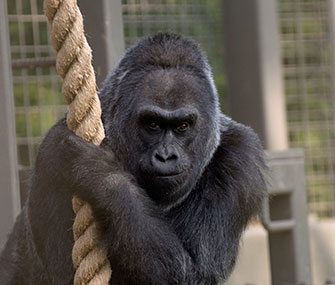 While zoo visitors serenade her with happy birthday wishes this weekend, Colo will indulge in a specially made cake and her favorite food — tomatoes.
Related: Rudolph really had a red nose
This accomplished Western gorilla is the mother of three, grandmother of 16, great grandmother of seven and great-great grandmother of two.
Bing: See photos of baby gorillas.
Photo: Columbus Zoo and Aquarium // Colo the gorilla turns 56 on Dec. 22.
More from Vetstreet:
7 Animals With Very Long Life Spans
Britney Spears, Jimmy Fallon & Taylor Swift's Pets Among the 11 Top Celeb Pets of 2012
7 Cats Who Hate Wearing Sweaters
Video: Playtime for Baby Monkey and Baby
Photos: Comfort Dogs Help the Grieving Town of Newtown, Connecticut
News, stories, tips and laughs for moms & dads
Protect yourself and your family with these ingenious gizmos and smartphone apps.

Make sure your go-to gadgets are as cute as your style, with these trendy tech finds!

Oh, how the times have changed...

Get ready to hit the mall! Check out the hottest back-to-school trends—and get ready to make a major style statement this year.

Unique, or downright strange?

This is Kevin Droniak and his grandma. They're besties, they're awesome and they're YouTube stars.

It can be difficult to entice little ones to eat anything at all, let alone to devour a healthy plate. But feeding your kids nutritious snacks after school just got way easier, thanks to these adorably clever and cute snack ideas! For more smart and fun ways to get your kids to enjoy healthful and delicious foods, try one of these amazingly artsy lunch ideas.

Through a tonsillectomy all the way to brain surgery, my mother deserves some recognition. She's my spine, my birthday shadow, my BFF, my thunder buddy, so Mommy, thank you.

My son needs me, as much as yours needs you. Sadly, my son needs me more. He needs someone to have his back, when it seems that the police, the men he'd wave to with excitement as a little boy, see him as a being worthy only of prison or death.

If you know someone who has adopted and have made some of these comments, don't fret... now you know!

"Because you shine from within," I said, touching my finger to her heart. "Not everybody sees it, but I do. I see it. And my job is to protect that light. So when people say mean comments that squelch that light, I want you to tell me. I will protect your light by listening and loving you, my brave, courageous, and unique little firefly."

Studies have shown that it helps, top education officials have recommended it, and now doctors are officially saying the same.