New Study: Babies Are Totally Racist
And the sad part is that they aren't even old enough to apologize and then go into rehab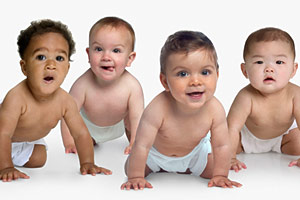 A new study has demonstrated that babies as young as 9 months have trouble recognizing the facial expressions of babies in other racial groups. So, for all those fans of the old TV show Different Strokes who used to wonder why Gary Coleman's character would constantly ask his white father, "What you talkin' 'bout Mr. Drummond?", well, we now know he may actually not have known. Or, at least according to this study, known what his facial expressions meant.
Studies like this again remind me of the important job a parent must do in educating and culturing a child. I'm not surprised that humans develop racist tendencies even before they know the concept of race. We're also a violent species that if left unchecked would, kill, copulate, and consume anything we could (oh, what, just me? Don't leave me hangin'). Humans are one of the few species who aren't born ready to go. The only reason babies pop out at 9 months is because if it took any longer, the mom would be in serious danger during the birth.  While it's not scientific, I'd say most humans aren't truly born until they're about twenty-three years old.
I would also like to encourage those of you who are yet to settle down to consider engaging in a lot of interracial intercourse. I have long believed that the real solution to peace in the Middle East is simply to have copulation camps in which Palestinians and Israelis must go to really start a "shared land" policy. And parents should encourage their kids to choose someone of a different race to marry. I mean, sure, the first few Thanksgivings might be a bit nuanced.  But in the end, your kids will have babies who will be so mixed that they won't be able to distinguish which group they're from. This could mean they'll then recognize everyone's facial expressions, or no one's. But at least we'll stop giving birth to all of these ignorant, racist babies.
 Is your baby racist? What about your uncle?
Photo: John Lund/Annabelle Breakey/Getty Images
Love our blog? Become a fan of MSN Living on Facebook.  We're like the Lady Gaga of news and entertainment portals.
Check out my hilarious book Sorry I Peed on You (and other heartwarming letters to Mommy)(Andrews McMeel). Makes a great baby shower gift!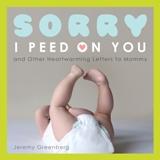 And hey, do ya love doggies and puppies? My hilarious and adorable new book, Sorry I Pooped in Your Shoe (and Other Heartwarming Letters from Doggie) (Andrews McMeel) is now available!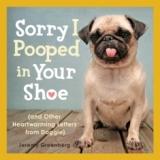 News, stories, tips and laughs for moms & dads
Make sure your go-to gadgets are as cute as your style, with these trendy tech finds!

Oh, how the times have changed...

Get ready to hit the mall! Check out the hottest back-to-school trends—and get ready to make a major style statement this year.

Unique, or downright strange?

This is Kevin Droniak and his grandma. They're besties, they're awesome and they're YouTube stars.

It can be difficult to entice little ones to eat anything at all, let alone to devour a healthy plate. But feeding your kids nutritious snacks after school just got way easier, thanks to these adorably clever and cute snack ideas! For more smart and fun ways to get your kids to enjoy healthful and delicious foods, try one of these amazingly artsy lunch ideas.

Through a tonsillectomy all the way to brain surgery, my mother deserves some recognition. She's my spine, my birthday shadow, my BFF, my thunder buddy, so Mommy, thank you.

My son needs me, as much as yours needs you. Sadly, my son needs me more. He needs someone to have his back, when it seems that the police, the men he'd wave to with excitement as a little boy, see him as a being worthy only of prison or death.

If you know someone who has adopted and have made some of these comments, don't fret... now you know!

"Because you shine from within," I said, touching my finger to her heart. "Not everybody sees it, but I do. I see it. And my job is to protect that light. So when people say mean comments that squelch that light, I want you to tell me. I will protect your light by listening and loving you, my brave, courageous, and unique little firefly."

Studies have shown that it helps, top education officials have recommended it, and now doctors are officially saying the same.

I may have accidentally dropped you a few times, forgotten to document your first fart, let a little pee fly and dressed you like an idiot, but I have also loved you with every piece of me, and you will never hear an apology for that.