New Study: Babies Are Totally Racist
And the sad part is that they aren't even old enough to apologize and then go into rehab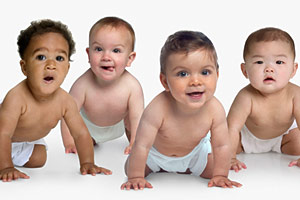 A new study has demonstrated that babies as young as 9 months have trouble recognizing the facial expressions of babies in other racial groups. So, for all those fans of the old TV show Different Strokes who used to wonder why Gary Coleman's character would constantly ask his white father, "What you talkin' 'bout Mr. Drummond?", well, we now know he may actually not have known. Or, at least according to this study, known what his facial expressions meant.
Studies like this again remind me of the important job a parent must do in educating and culturing a child. I'm not surprised that humans develop racist tendencies even before they know the concept of race. We're also a violent species that if left unchecked would, kill, copulate, and consume anything we could (oh, what, just me? Don't leave me hangin'). Humans are one of the few species who aren't born ready to go. The only reason babies pop out at 9 months is because if it took any longer, the mom would be in serious danger during the birth.  While it's not scientific, I'd say most humans aren't truly born until they're about twenty-three years old.
I would also like to encourage those of you who are yet to settle down to consider engaging in a lot of interracial intercourse. I have long believed that the real solution to peace in the Middle East is simply to have copulation camps in which Palestinians and Israelis must go to really start a "shared land" policy. And parents should encourage their kids to choose someone of a different race to marry. I mean, sure, the first few Thanksgivings might be a bit nuanced.  But in the end, your kids will have babies who will be so mixed that they won't be able to distinguish which group they're from. This could mean they'll then recognize everyone's facial expressions, or no one's. But at least we'll stop giving birth to all of these ignorant, racist babies.
 Is your baby racist? What about your uncle?
Photo: John Lund/Annabelle Breakey/Getty Images
Love our blog? Become a fan of MSN Living on Facebook.  We're like the Lady Gaga of news and entertainment portals.
Check out my hilarious book Sorry I Peed on You (and other heartwarming letters to Mommy)(Andrews McMeel). Makes a great baby shower gift!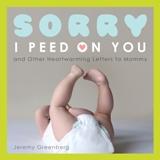 And hey, do ya love doggies and puppies? My hilarious and adorable new book, Sorry I Pooped in Your Shoe (and Other Heartwarming Letters from Doggie) (Andrews McMeel) is now available!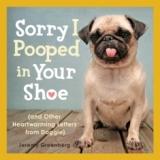 News, stories, tips and laughs for moms & dads
Got kids that are questioning whether or not the Easter Bunny is real? If you want to keep the tradition going at least one more year, try one of these ideas...

You're cold-hearted? We'll take care of that for you...read on.

This kid despises poetry and he's not afraid to let you know.

I used to be one of those moms who thought, 'who on earth would bring their child to an event like that?' and then I had a son. Here's why you might become a convert, too.

Take a look at your house for these telltale signs that a cat is running the show.

Check out this list of requirements you should meet before getting a new puppy or adult dog.

Virtually everything you need to know about relationships, you learned in nursery school: Treat people as you want to be treated, clean up after yourself, and don't be a know-it-all.

Here are our experts' best tips for how to be a positive role model for your kids so that they grow up healthy, strong and confident about the way they look.

Much like their famous owners, these pooches live a fabulous life. Some are rescues, others purebred, but one thing is certain – these dogs play an important part in their famous parents' lives. Can you guess who owns each of these dogs?

We captured a frame-by-frame look just for you.

Two controversial science projects resembled weapons, school officials said.