New Study: Babies Are Totally Racist
And the sad part is that they aren't even old enough to apologize and then go into rehab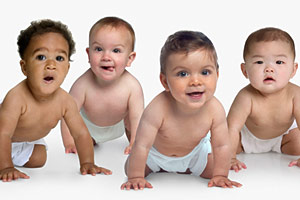 A new study has demonstrated that babies as young as 9 months have trouble recognizing the facial expressions of babies in other racial groups. So, for all those fans of the old TV show Different Strokes who used to wonder why Gary Coleman's character would constantly ask his white father, "What you talkin' 'bout Mr. Drummond?", well, we now know he may actually not have known. Or, at least according to this study, known what his facial expressions meant.
Studies like this again remind me of the important job a parent must do in educating and culturing a child. I'm not surprised that humans develop racist tendencies even before they know the concept of race. We're also a violent species that if left unchecked would, kill, copulate, and consume anything we could (oh, what, just me? Don't leave me hangin'). Humans are one of the few species who aren't born ready to go. The only reason babies pop out at 9 months is because if it took any longer, the mom would be in serious danger during the birth.  While it's not scientific, I'd say most humans aren't truly born until they're about twenty-three years old.
I would also like to encourage those of you who are yet to settle down to consider engaging in a lot of interracial intercourse. I have long believed that the real solution to peace in the Middle East is simply to have copulation camps in which Palestinians and Israelis must go to really start a "shared land" policy. And parents should encourage their kids to choose someone of a different race to marry. I mean, sure, the first few Thanksgivings might be a bit nuanced.  But in the end, your kids will have babies who will be so mixed that they won't be able to distinguish which group they're from. This could mean they'll then recognize everyone's facial expressions, or no one's. But at least we'll stop giving birth to all of these ignorant, racist babies.
 Is your baby racist? What about your uncle?
Photo: John Lund/Annabelle Breakey/Getty Images
Love our blog? Become a fan of MSN Living on Facebook.  We're like the Lady Gaga of news and entertainment portals.
Check out my hilarious book Sorry I Peed on You (and other heartwarming letters to Mommy)(Andrews McMeel). Makes a great baby shower gift!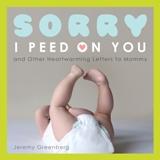 And hey, do ya love doggies and puppies? My hilarious and adorable new book, Sorry I Pooped in Your Shoe (and Other Heartwarming Letters from Doggie) (Andrews McMeel) is now available!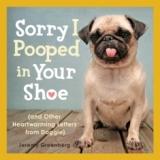 News, stories, tips and laughs for moms & dads
A thrill-obsessed subculture claimed another life this week.

A few suggested answers for the diciest questions

Must-haves for every mommy on the road

Here's our list of fifteen moms in the food industry that deserve some recognition.

The site gets high marks for its user-friendly interface and excellent and responsive customer service. And the reviews are also pretty accurate. Compare amenities and prices next to a hotel's in the same area, and you're likely to see Airbnb come out on top.

We captured a frame-by-frame look just for you.

Other moms can be ruthless when it comes to picking apart your parenting choices. From dissing your decision to go back to work to criticizing when you started baby on solids, here are the most ridiculous comments moms have heard. Bonus, we've got just the right way to respond to the haters! You're welcome.

Nope, you don't have to spend the next nine months in black elastic-waist pants and oversize sweaters. And you don't have to shell out a fortune on your "temporary" wardrobe either. Check out these stylish and affordable maternity clothes.

Because society crumbles without us

Another kid figured out how to get into a claw machine.

As a new mom, you've recently discovered there are many things you can live without—sleep and modesty being chief among them. But what can't you live without? Seasoned moms share their Top 10 list for how to survive the early months of motherhood.

Here are our experts' best tips for how to be a positive role model for your kids so that they grow up healthy, strong and confident about the way they look.