Father Pays a 17-year-old Girl to Fight His Child's Bully
Not that there aren't better afterschool jobs
How far would you go to protect your child from a bully? If you're Connecticut area dad Philip Prokop, you'll allegedly hire another teenager to beat up your daughter's tormentor. He's being accused of inciting injury and conspiracy to commit third-degree assault. But all I will accuse him of is being a loving parent. He may not be the best role model, but at least he takes an active role in his daughter's life. How many kids wish they'd had a father who cared enough about their safety to do something as misguided as try to have their bullies beaten up? Unfortunately, Mr. Prokop's entire plan became a complete disaster. The assassin he hired actually got her butt kicked by the bully. And the dad, supposedly in an attempt to break up that fight, ended up laying his hands on the bully herself. At that point, you have an adult pushing someone else's 13-year-old daughter.  Bully or not, that's still a child.
I get that this guy caused more problems than he solved by trying to take matters into his own hands. But I've been in the room when a slightly bigger kid has pushed one of my 4-year-old sons. It was all I could do not to physically separate him from my son. No loving parent can sit idly by while his child is being bullied or tormented. Granted, paying another child to beat up the bully is not the proper way to deal with it. But sometimes the only way to change a bully's ways is let her have a taste of her own medicine. Although that didn't happen, I believe Mr. Prokop had this thought in mind when he committed this loving blunder.
I think what we ultimately have here is the difference between being a good parent and a loving parent. His alleged bonehead move wasn't good parenting, but it was the act of a loving parent.

How far would you go to stop your child from being bullied?
Love our blog? Become a fan of MSN Living on Facebook.  We're like the Lady Gaga of news and entertainment portals.
Check out my hilarious book Sorry I Peed on You (and other heartwarming letters to Mommy)(Andrews McMeel). Makes a great baby shower gift!
And hey, do ya love doggies and puppies? My hilarious and adorable new book, Sorry I Pooped in Your Shoe (and Other Heartwarming Letters from Doggie) (Andrews McMeel) is now available!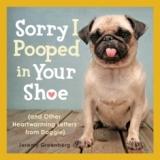 News, stories, tips and laughs for moms & dads
This kid despises poetry and he's not afraid to let you know.

I used to be one of those moms who thought, 'who on earth would bring their child to an event like that?' and then I had a son. Here's why you might become a convert, too.

Take a look at your house for these telltale signs that a cat is running the show.

Check out this list of requirements you should meet before getting a new puppy or adult dog.

Virtually everything you need to know about relationships, you learned in nursery school: Treat people as you want to be treated, clean up after yourself, and don't be a know-it-all.

Here are our experts' best tips for how to be a positive role model for your kids so that they grow up healthy, strong and confident about the way they look.

Much like their famous owners, these pooches live a fabulous life. Some are rescues, others purebred, but one thing is certain – these dogs play an important part in their famous parents' lives. Can you guess who owns each of these dogs?

We captured a frame-by-frame look just for you.

Two controversial science projects resembled weapons, school officials said.

Make the most of the summer with these family-oriented activities!

Pets are part of many children's lives. Learn how to help them foster strong, healthy relationships.