Passenger gives birth on Royal Air Maroc flight
A 39-year-old woman went into labor shortly after takeoff.
RABAT, Morocco (AP) — A passenger on a Royal Air Maroc flight from Casablanca, Morocco, to Bologna, Italy, gave birth to a boy in mid-air.
The official Moroccan news agency MAP says that the 39-year-old woman went into labor shortly after takeoff on Sunday. The flight was diverted to Barcelona, Spain, and the baby was born just before landing.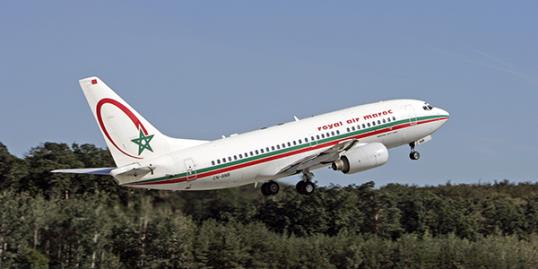 The airline didn't specify the passenger's nationality. It said crew members and a midwife, who happened to be on the plane, helped with the delivery.
MSN Living: How to travel with kids
Mother and child were taken to Sant Joan de Deu hospital in Barcelona and are in good health, the airline says. The flight continued on to Bologna around 50 minutes after landing in Barcelona.
Bing: Rapper Soulja Boy kicked off flight
More from The Family Room:
California law allows transgender students to pick bathrooms
Prince's first photos to be released in a down-to-earth way
Study: Flexible work schedules less likely for working moms
Subscribe to The Family Room | Friend us on Facebook, follow us on Twitter and find us on Pinterest.
File photo of a Royal Air Maroc Boeing 737-700 taking off in Frankfurt, Germany (REX/Image Broker)
News, stories, tips and laughs for moms & dads
Got kids that are questioning whether or not the Easter Bunny is real? If you want to keep the tradition going at least one more year, try one of these ideas...

You're cold-hearted? We'll take care of that for you...read on.

This kid despises poetry and he's not afraid to let you know.

I used to be one of those moms who thought, 'who on earth would bring their child to an event like that?' and then I had a son. Here's why you might become a convert, too.

Take a look at your house for these telltale signs that a cat is running the show.

Check out this list of requirements you should meet before getting a new puppy or adult dog.

Virtually everything you need to know about relationships, you learned in nursery school: Treat people as you want to be treated, clean up after yourself, and don't be a know-it-all.

Here are our experts' best tips for how to be a positive role model for your kids so that they grow up healthy, strong and confident about the way they look.

Much like their famous owners, these pooches live a fabulous life. Some are rescues, others purebred, but one thing is certain – these dogs play an important part in their famous parents' lives. Can you guess who owns each of these dogs?

We captured a frame-by-frame look just for you.

Two controversial science projects resembled weapons, school officials said.