Is it wrong to send kids to private school?
One writer argues that every parent should invest in the public school system.
Wealthy parents should forgo a private education for their children and instead invest in the public school system. That's the argument writer Allison Benedikt makes this morning in an article for Slate headlined, "If you send your kid to private school, you are a bad person." Her reasoning is compelling.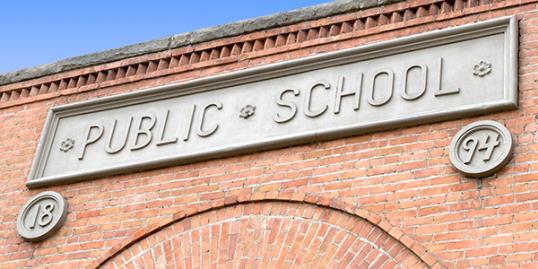 MSN Family Room: Little girls in high heels? 
If all parents would send their children to public school, the schools would get better, Benedikt wrote. After all, it's usually the parents who rise up to make changes to the system, and if more parents supported public education, well, it would get more support. Things would be more likely to change.
"Your local school stinks but you don't send your child there? Then its badness is just something you deplore in the abstract," the writer argues. "Your local school stinks and you do send your child there? I bet you are going to do everything within your power to make it better."
In short, if parents have an investment in the public school system, they're probably going to make its improvement a priority.
Bing: Private school versus public school
"There are a lot of reasons why bad people send their kids to private school," Benedikt wrote. She lists family tradition, religion and prestige as some of the less compelling reasons, but there are admirable reasons, too: a better education, solutions for learning issues, the desire for them to get a decent job.
MSN Family Room: Teens headed back to school want gadgets, not shoes 
She argues that the latter reasons are exactly why everyone should send their kids to public schools: to improve the system for everyone.
"I believe in public education, but my district school really isn't good! you might say. I understand. You want the best for your child, but your child doesn't need it."
Benedikt writes that if you can afford private school, chances are your child will come from an environment that allows them to overcome "a perfectly crappy public school."
"She will have support at home (that's you!) and all the advantages that go along with being a person whose family can pay for and cares about superior education — the exact kind of family that can help your crappy public school become less crappy."
What do you think of the argument? Are parents who send their children to private schools doing a disservice to the public school system?
More from The Family Room: 
Can you have it all without having kids?
Spanking in public: Another great parenting debate
Kate applauded for not hiding new-mommy tummy
Subscribe to The Family Room | Friend us on Facebook, follow us on Twitter and find us on Pinterest.
Photo: Carl Keyes/Alamy
News, stories, tips and laughs for moms & dads
Megan Davies Mennes has been blogging and posting photos of her son Quinn online for some time now. Quinn has Down syndrome, and Mennes has dealt with a few nasty comments here and there, the type of stuff you'd expect to encounter on the Internet.

From a cozy-chic hotel by the seashore in Los Angeles that doubles as a home away from home to a nature-lover's tropical paradise in Costa Rica, each of these properties is a family-friendly in its own special way.

Two controversial science projects resembled weapons, school officials said.

Must-haves for every mommy on the road

What are we teaching our children when we focus on their achievements rather than their kindness?

Discover the seemingly insignificant things that can affect your chances of getting pregnant.

A thrill-obsessed subculture claimed another life this week.

A few suggested answers for the diciest questions

Here's our list of fifteen moms in the food industry that deserve some recognition.

The site gets high marks for its user-friendly interface and excellent and responsive customer service. And the reviews are also pretty accurate. Compare amenities and prices next to a hotel's in the same area, and you're likely to see Airbnb come out on top.

We captured a frame-by-frame look just for you.

Other moms can be ruthless when it comes to picking apart your parenting choices. From dissing your decision to go back to work to criticizing when you started baby on solids, here are the most ridiculous comments moms have heard. Bonus, we've got just the right way to respond to the haters! You're welcome.