Is it wrong to send kids to private school?
One writer argues that every parent should invest in the public school system.
Wealthy parents should forgo a private education for their children and instead invest in the public school system. That's the argument writer Allison Benedikt makes this morning in an article for Slate headlined, "If you send your kid to private school, you are a bad person." Her reasoning is compelling.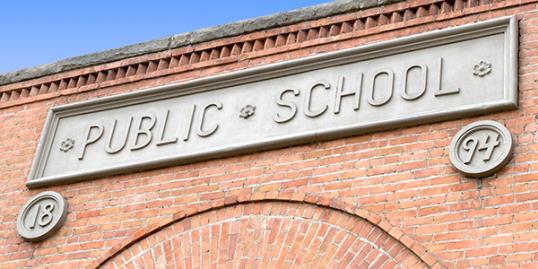 MSN Family Room: Little girls in high heels? 
If all parents would send their children to public school, the schools would get better, Benedikt wrote. After all, it's usually the parents who rise up to make changes to the system, and if more parents supported public education, well, it would get more support. Things would be more likely to change.
"Your local school stinks but you don't send your child there? Then its badness is just something you deplore in the abstract," the writer argues. "Your local school stinks and you do send your child there? I bet you are going to do everything within your power to make it better."
In short, if parents have an investment in the public school system, they're probably going to make its improvement a priority.
Bing: Private school versus public school
"There are a lot of reasons why bad people send their kids to private school," Benedikt wrote. She lists family tradition, religion and prestige as some of the less compelling reasons, but there are admirable reasons, too: a better education, solutions for learning issues, the desire for them to get a decent job.
MSN Family Room: Teens headed back to school want gadgets, not shoes 
She argues that the latter reasons are exactly why everyone should send their kids to public schools: to improve the system for everyone.
"I believe in public education, but my district school really isn't good! you might say. I understand. You want the best for your child, but your child doesn't need it."
Benedikt writes that if you can afford private school, chances are your child will come from an environment that allows them to overcome "a perfectly crappy public school."
"She will have support at home (that's you!) and all the advantages that go along with being a person whose family can pay for and cares about superior education — the exact kind of family that can help your crappy public school become less crappy."
What do you think of the argument? Are parents who send their children to private schools doing a disservice to the public school system?
More from The Family Room: 
Can you have it all without having kids?
Spanking in public: Another great parenting debate
Kate applauded for not hiding new-mommy tummy
Subscribe to The Family Room | Friend us on Facebook, follow us on Twitter and find us on Pinterest.
Photo: Carl Keyes/Alamy
News, stories, tips and laughs for moms & dads
Make the most of the summer with these family-oriented activities!

Here our experts' best tips for how to be a positive role model for your kids so that they grow up healthy, strong and confident about the way they look.

Pets are part of many children's lives. Learn how to help them foster strong, healthy relationships.

It's that time again, parents...

One of our favorite ways to start the day is with a piping hot cup of coffee and a thought-provoking TED talk. In case you'€™re not familiar with the group, TED (which stands for Technology, Entertainment and Design) is a nonprofit organization dedicated to spreading ideas through projects and talks by a diverse group of inspired thinkers - people of all cultures, ages and disciplines. As you can probably guess, listening to these innovators share their ideas is a surefire way to jumpstart your day and get your creative juices flowing. Click through the slideshow above for the eight TED talks every parent needs to see. By Cordelia Tai

Much like their famous owners, these pooches live a fabulous life. Some are rescues, others purebred, but one thing is certain – these dogs play an important part in their famous parents' lives. Can you guess who owns each of these dogs?

If you value the backside of your theater seat and making it to your next paycheck, you may want to stay home

Two controversial science projects resembled weapons, school officials said.

One mom shares how she and her family make the Sedar fun and memorable for all

The threats were in public view on the boy's social media wall.

Sometimes, love isn't enough to save us.

Joe, Kevin, and Nick aren't the only hot bros in Hollywood. Seventeen has uncovered the cutest celebrity siblings!