Is it wrong to send kids to private school?
One writer argues that every parent should invest in the public school system.
Wealthy parents should forgo a private education for their children and instead invest in the public school system. That's the argument writer Allison Benedikt makes this morning in an article for Slate headlined, "If you send your kid to private school, you are a bad person." Her reasoning is compelling.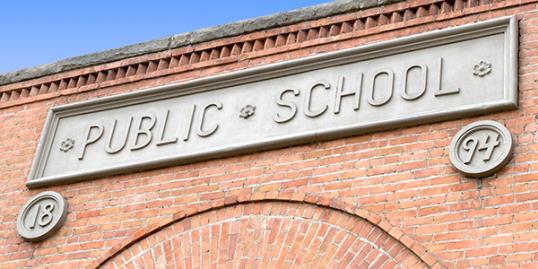 MSN Family Room: Little girls in high heels? 
If all parents would send their children to public school, the schools would get better, Benedikt wrote. After all, it's usually the parents who rise up to make changes to the system, and if more parents supported public education, well, it would get more support. Things would be more likely to change.
"Your local school stinks but you don't send your child there? Then its badness is just something you deplore in the abstract," the writer argues. "Your local school stinks and you do send your child there? I bet you are going to do everything within your power to make it better."
In short, if parents have an investment in the public school system, they're probably going to make its improvement a priority.
Bing: Private school versus public school
"There are a lot of reasons why bad people send their kids to private school," Benedikt wrote. She lists family tradition, religion and prestige as some of the less compelling reasons, but there are admirable reasons, too: a better education, solutions for learning issues, the desire for them to get a decent job.
MSN Family Room: Teens headed back to school want gadgets, not shoes 
She argues that the latter reasons are exactly why everyone should send their kids to public schools: to improve the system for everyone.
"I believe in public education, but my district school really isn't good! you might say. I understand. You want the best for your child, but your child doesn't need it."
Benedikt writes that if you can afford private school, chances are your child will come from an environment that allows them to overcome "a perfectly crappy public school."
"She will have support at home (that's you!) and all the advantages that go along with being a person whose family can pay for and cares about superior education — the exact kind of family that can help your crappy public school become less crappy."
What do you think of the argument? Are parents who send their children to private schools doing a disservice to the public school system?
More from The Family Room: 
Can you have it all without having kids?
Spanking in public: Another great parenting debate
Kate applauded for not hiding new-mommy tummy
Subscribe to The Family Room | Friend us on Facebook, follow us on Twitter and find us on Pinterest.
Photo: Carl Keyes/Alamy
News, stories, tips and laughs for moms & dads
Helpful tips for easing first day jitters.

Getting ready for fall has never been more fun.

Great reads for the back-to-school mindset.

Remember the concept of weekends being a time for rest, relaxation, and togetherness? No? Us either. Between soccer games, playdates, dragging your kids to see the new exhibition at the local children's museum, and we need to pick up a gift for that birthday party that starts in . . . 20 minutes, juggling a busy family's weekend schedule can be more stressful than a weekday. While we know it's simply not realistic to cancel all your plans and obligations moving forward, clearing the calendar for just one weekend can be just the refresher that your family's craving. Here's why.

Any of these sound familiar?

4 steps for raising a child who doesn't feel emotionally stranded.

You just had a baby? You're a superstar! All those diapers, all that spit up, and you're makin' magic happen. But you're also likely tired - really tired - and busy (so, so busy). Taking time for yourself might seem like an indulgence but a happy mom makes for a happy baby. Here are 7 things you should definitely do to keep your sanity intact and your spirit high. <more, below>

Summertime is on, and the kids are out of school. Every mom knows that for these three months it's more important than ever to keep the kids busy. But you don't have to schedule your life away with camps, or drop a bundle on activities and games that come in a box. You can make your own fun, and even include the kids in the prep, with some simple, inexpensive DIY crafts that will keep them playing 'til the lightening bugs come out. Make your own fingerpaint, bubbles, and crayons. Create a fort-building kit and superhero capes that will kick their imaginations into overdrive. Here are 10 of our favorite kid-friendly DIY crafts to fuel your summertime fun.

Let these DIY dog bed projects be your inspiration and within a single weekend, you can construct something that really makes Rex feel like a king.

The task of finding an eco-friendly, safe-for-baby gift parents-to-be will actually use is kind of challenging. Add to that a price limit of $50, and the feat suddenly feels impossible! Fortunately, we combed the marketplace for some of the prettiest, most useful, sweetest gifts for baby and family. Many are fine on their own, while others would work well as part of a bigger basket — you know, if you wish to achieve that shower-goer hero status.

Jennifer Goodall gave birth Friday after much drama