Is it wrong to send kids to private school?
One writer argues that every parent should invest in the public school system.
Wealthy parents should forgo a private education for their children and instead invest in the public school system. That's the argument writer Allison Benedikt makes this morning in an article for Slate headlined, "If you send your kid to private school, you are a bad person." Her reasoning is compelling.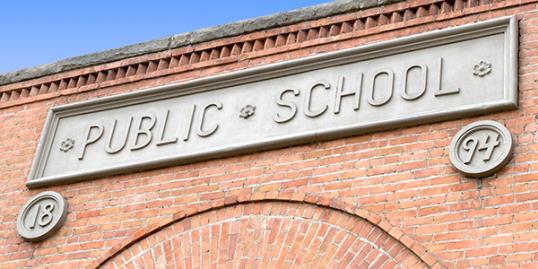 MSN Family Room: Little girls in high heels? 
If all parents would send their children to public school, the schools would get better, Benedikt wrote. After all, it's usually the parents who rise up to make changes to the system, and if more parents supported public education, well, it would get more support. Things would be more likely to change.
"Your local school stinks but you don't send your child there? Then its badness is just something you deplore in the abstract," the writer argues. "Your local school stinks and you do send your child there? I bet you are going to do everything within your power to make it better."
In short, if parents have an investment in the public school system, they're probably going to make its improvement a priority.
Bing: Private school versus public school
"There are a lot of reasons why bad people send their kids to private school," Benedikt wrote. She lists family tradition, religion and prestige as some of the less compelling reasons, but there are admirable reasons, too: a better education, solutions for learning issues, the desire for them to get a decent job.
MSN Family Room: Teens headed back to school want gadgets, not shoes 
She argues that the latter reasons are exactly why everyone should send their kids to public schools: to improve the system for everyone.
"I believe in public education, but my district school really isn't good! you might say. I understand. You want the best for your child, but your child doesn't need it."
Benedikt writes that if you can afford private school, chances are your child will come from an environment that allows them to overcome "a perfectly crappy public school."
"She will have support at home (that's you!) and all the advantages that go along with being a person whose family can pay for and cares about superior education — the exact kind of family that can help your crappy public school become less crappy."
What do you think of the argument? Are parents who send their children to private schools doing a disservice to the public school system?
More from The Family Room: 
Can you have it all without having kids?
Spanking in public: Another great parenting debate
Kate applauded for not hiding new-mommy tummy
Subscribe to The Family Room | Friend us on Facebook, follow us on Twitter and find us on Pinterest.
Photo: Carl Keyes/Alamy
News, stories, tips and laughs for moms & dads
From the confusing to just plain cringe-worthy, check out the worst celebrity baby names this year.

This year, we saw a ton of celeb moms and dads choose unique, glamorous and totally timeless names for their baby boys and girls. From traditional to trendy, here are our picks for the best celebrity baby names.

The top 25 best holiday movies for kids and their families, from old school classics like Miracle on 34th Street and It's a Wonderful Life, to newer classics like Elf and The Nightmare Before Christmas.

Parenting has its up and downs, like any aspect of life. The people who really excel as parents are the ones who keep things interesting, at least in our book. Check out these Imgur posts from parents who really raised the bar.

Maybe you used to greet your partner at the door with a smile and a kiss (and sometimes even more than that!) but now, when he arrives, you launch into a fight because he's two minutes late and you need to take a shower or cook dinner or have a moment of baby-free sanity. That's pretty typical for new parents.

Watch them on a live stream!

We talked to 122 veterinary professionals and got their take on which canines are the smartest of them all.

Find out which names topped the lists

But will they get to stay together?

Readers share their favorite holiday family traditions that really make it the most wonderful time of the year. By Lauren Passell

Brand new Babycenter.com baby-naming reports reveal a few naming trends that may surprise you (or not).

Every family has its oddballs. And the holiday season is the one time of year when you're pretty much forced to interact and play nice with the grand majority of them. Click through the slideshow above for our guide to dealing with the five worst kinds of kin. *Disclaimer: All characters appearing in this work are fictitious. Any resemblance to real persons, living or dead, is purely coincidental.