Newborn not sleeping through night? Neither is prince
Here are some tips to help.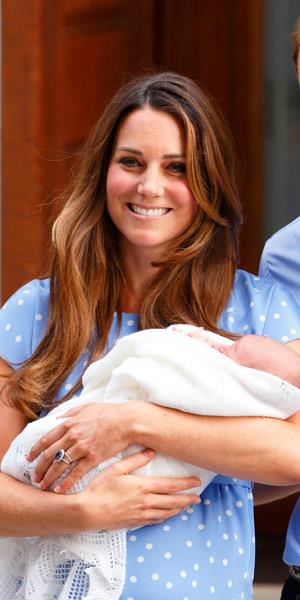 Didn't think your baby would have much in common with Britain's new Prince George or that you'd ever have stories to swap with Kate Middleton and Prince William? Think again. 
The Duke and Duchess of Cambridge have been getting though life as new parents just like the rest of us: without much sleep.
At an event at the Anglesey Show –  where William was in attendance to thank the people of Anglesey for welcoming him and his bride, Kate, so warmly to the island while he was performing his duty as search and rescue pilot for the Royal Air Force – he told reporters, "I have to say that I thought search and rescue duties over Snowdonia were physically and mentally demanding, but looking after a 3-week-old baby is up there!" Sounds like the royal baby, cute as he may be, is giving his royal mum and dad a run for their money. Joan Roberts, a visitor who spoke to the doting royal daddy while at the show, said that he told her he "hopes that he (George) will sleep through the night soon." 
For many new parents, the idea of a good night's sleep is just a dream, but never fear — there are some ways you can encourage your wee one to get some much-needed shut-eye so you can get catch some Z's, too. While some newborns sleep for a six-hour stretch in the first six to eight weeks, most won't. "If you have a good daytime eater, with a consistent routine and a bit of luck, your baby will sleep through the night at 12 weeks," says Dr. Tanya Remer Altmann, author of "Mommy Calls," who stresses the luck part. For everyone else, she says, it may not happen for another month or two – or even three – and that doesn't mean you're doing anything wrong. Here's what helps:

Establish a short, calming bedtime routine. Allow your baby to fall asleep on his own; no nursing or rocking him to sleep. And once he's asleep, don't run to the nursery at every little noise he makes; he needs to learn he can fall back to sleep on his own. If you're consistent, she says, you increase the likelihood that your infant will be sleeping at least six to eight hours straight on night by four to six months of age.

Generally, after four months of age, an infant should be able to sleep at least six to eight hours straight without feeding, Altmann says. And by six months, they should be able to go at least eight to 10 hours without a feeding. To encourage a good routine, let baby sleep. Slowly start extending the time between nighttime feedings until you get there.
How did you help get your newborn to sleep for longer stretches?
More from The Bump:
By Kylie McConville
Photo: Getty Images / The Bump

News, stories, tips and laughs for moms & dads
Two sociologists have found that parents who have daughters are more inclined to support the GOP and turn a cold shoulder to Democrats.

The experts at Nameberry.com predict what will be big in baby-naming next year

Famed event-planner David Stark shared tips for making chic holiday decorations using items you already have around the house. Take a look!

Sociologist Karen Z. Kramer found that over the past decade more than 550,000 men were stay-at-home fathers, which is about 3.5 percent of the married with kids population.

Ben Miller celebrates his wife's birthday and the anniversary of the day their premature son Ward Miles came home for good with a video documenting his first year.

Adopting an animal is a major commitment. Yet all too often people put more effort into researching what kind of car to get than the type of pet that would best fit their lifestyle.

'Tis the season to send out holiday greeting cards to all your friends and family. But, as our friends at Awkward Family Pet Photos know, not all holiday snapshots are the same. Some are just plain kooky — especially when pets are included. So with good tidings and great cheer, here are 10 wacky holiday animal portraits that are sure to make you laugh out loud and get you in the holiday spirit. And possibly make you think twice about dressing up the family cat this year.

King of the jungle? Nah, it's just a labradoodle!

Side-by-side images of adorable babies and their celebrity doppelgängers

Do you have a finicky furry friend on your holiday gift list this year? You're in luck! We've rounded up the coolest cat-approved products to bring you purrfect gift ideas for every kind of cat -- from the curious kitten to the most refined feline. Any one of these special gifts could make your resident kitty purr with pleasure and maybe, just maybe, like the present this year even more than the box and wrapping paper it came in!

Plus, puppy names to watch

This holiday season's hottest toy has yet to be revealed, but more often than not, the best gifts are the ones kids don't even know to ask for. So this year, surprise your kids with unique presents under the tree, and watch as their eyes light up when they unwrap them. From space-age sand to a DIY race track, these out-of-the-box gift ideas will provide some serious shopping inspiration. Click through the slideshow above for all our favorite picks.