The best places to be born in 2013
The U.S. doesn't crack the top 10.
Not that one can choose such things, but The Economist has published a ranking of the best and worst countries to be born in for 2013—and the U.S. isn't No. 1.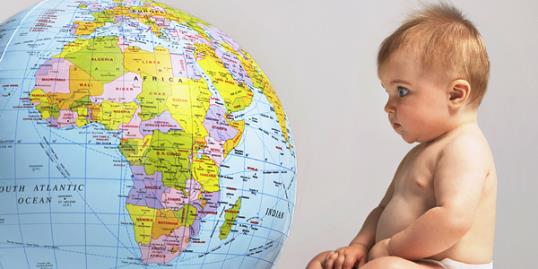 More from Parenting: 9 unique holiday traditions
The index averages rankings from 11 geographic, social and economic factors. Switzerland ranked first and Nigeria ranked last. And the US? America came in at No. 16 behind Germany.
When The World created a Where to be Born index way back in 1988, the U.S. ranked first.
More from Parenting: Car seat safety
Also ranked in the top were Nordic countries, Australia and Singapore; nations in Africa and eastern Europe came in last.
Here's the top 10 list.
Best places to be born (from The Economist):
1. Switzerland
2. Australia
3. Norway
4. Sweden
5. Denmark
6. Singapore
7. New Zealand
8. Netherlands
9. Canada
10. Hong Kong
Photo: Moodboard/Getty Images
Tell us on Facebook: Did this surprise you?
Bing: The worst places to retire.
More from Parenting:
After-school snack ideas
Search for baby names
Best gifts for kids
News, stories, tips and laughs for moms & dads
Megan Davies Mennes has been blogging and posting photos of her son Quinn online for some time now. Quinn has Down syndrome, and Mennes has dealt with a few nasty comments here and there, the type of stuff expect to encounter on the Internet.

Two controversial science projects resembled weapons, school officials said.

Must-haves for every mommy on the road

What are we teaching our children when we focus on their achievements rather than their kindness?

Discover the seemingly insignificant things that can affect your chances of getting pregnant.

A thrill-obsessed subculture claimed another life this week.

A few suggested answers for the diciest questions

Here's our list of fifteen moms in the food industry that deserve some recognition.

The site gets high marks for its user-friendly interface and excellent and responsive customer service. And the reviews are also pretty accurate. Compare amenities and prices next to a hotel's in the same area, and you're likely to see Airbnb come out on top.

We captured a frame-by-frame look just for you.

Other moms can be ruthless when it comes to picking apart your parenting choices. From dissing your decision to go back to work to criticizing when you started baby on solids, here are the most ridiculous comments moms have heard. Bonus, we've got just the right way to respond to the haters! You're welcome.

Nope, you don't have to spend the next nine months in black elastic-waist pants and oversize sweaters. And you don't have to shell out a fortune on your "temporary" wardrobe either. Check out these stylish and affordable maternity clothes.