Number of stay-at-home dads hits record high
The percentage of dads who stay home with the kids is higher than ever, a new study finds.
More dads than ever are staying at home full time with their children, a new study from the University of Illinois has revealed.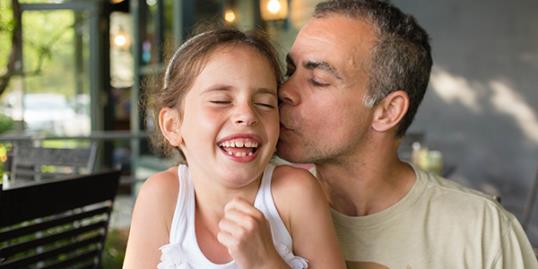 MSN Living: The reality of being a working mom

According to the study, the past decade has seen roughly 550,000 stay-at-home dads. That equates to about 3.5 percent of all married couples with children where at least one spouse works full time. In the 1970s, that number was only 2 percent.
MSN Living: 10 things you didn't know about being a stay-at-home dad
While it sounds like the gender gap is closing on stay-at-home parenting, it should be noted that only 22 percent of the stay-at-home dads are considered primary caregivers. Most of the 550,000 are disabled, ill or unemployed.
Read more about the study here.
Bing: What never to say to a stay-at-home mom
More from The Family Room: 
Avoid what-not-to-say moments with new parents
Spanking in public: Another great parenting debate
Can you have it all without having kids?
Subscribe to The Family Room | Friend us on Facebook, follow us on Twitter and find us on Pinterest.
Photo: ​Anda Panciuk Photography/Getty Images

Children need to be removed from their parents if we are to sustain a strong society. Male children especially should be removed from their mothers at the age of ten, and sent away to school or farmed-out into work-life situations. To do otherwise breeds an unhealthy dependence.
The way we raise our children in the modern era is contributing to our decline and eventual demise as a society. Fosterage was a means to strengthening individuals and thus societies in general has been practiced by wise cultures since ancient times. Many Native American societies prescribed that children be raised by their uncles and aunts past only a very initial period spent with their biological parents. This was to prevent the building of an unhealthy dependence between children and their biological parents, and to build stronger, more well-grounded extended families and communities, not to mention individuals. The British tradition of sending boys away to school to accelerate their development and toughen them is a reasonable modern approximation.
The nuclear family is an unhealthy psychological pressure cooker that breeds neurosis and dependence, not to mention an unhealthy sentimentality about children. Adult men should have as little to do with children as possible: being around children causes men's testosterone levels to decline. By encouraging behavior such as that displayed by "attachment parenting" women, "helicopter parents", and other contemporary phenomena such as "stay-at-home-dads",​ we are encouraging the continual decline in the strength of our nation and society. We need to return to the old virtues.
Even Christianity is not the "pro-family" institution it is mistakenly touted to be today. Jesus admonished his followers to turn their backs on the expectations, (bio-)materialism, and error of their families and to follow him instead.  
Are you sure you want to delete this comment?
News, stories, tips and laughs for moms & dads
Go ahead, admit it: you've always wondered what a monster truck rally was like. I used to be one of those moms who thought, 'who on earth would bring their child to an event like that?' and then I had a son. Here's why you might become a convert, too.

Virtually everything you need to know about relationships, you learned in nursery school: Treat people as you want to be treated, clean up after yourself, and don't be a know-it-all.

Much like their famous owners, these pooches live a fabulous life. Some are rescues, others purebred, but one thing is certain – these dogs play an important part in their famous parents' lives. Can you guess who owns each of these dogs?

We captured a frame-by-frame look just for you.

Two controversial science projects resembled weapons, school officials said.

Here our experts' best tips for how to be a positive role model for your kids so that they grow up healthy, strong and confident about the way they look.

Make the most of the summer with these family-oriented activities!

Pets are part of many children's lives. Learn how to help them foster strong, healthy relationships.

It's that time again, parents...

One of our favorite ways to start the day is with a piping hot cup of coffee and a thought-provoking TED talk. In case you'€™re not familiar with the group, TED (which stands for Technology, Entertainment and Design) is a nonprofit organization dedicated to spreading ideas through projects and talks by a diverse group of inspired thinkers - people of all cultures, ages and disciplines. As you can probably guess, listening to these innovators share their ideas is a surefire way to jumpstart your day and get your creative juices flowing. Click through the slideshow above for the eight TED talks every parent needs to see. By Cordelia Tai

If you value the backside of your theater seat and making it to your next paycheck, you may want to stay home

One mom shares how she and her family make the Sedar fun and memorable for all