Study: Overnights away from home affect baby's attachment
Babies who spend one night a week away from mom develop insecure attachments, researchers say.
A study from the University of Virginia recently found that babies who spend even just one night a week away from their mothers develop insecure attachments.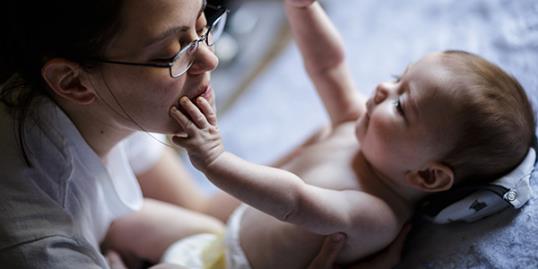 MSN Living: 5 worst money mistakes parents make
Researchers analyzed data from a study titled, "Fragile Families and Child Wellbeing." That study examined 5,000 children from 1998 to 2000. Researchers interviewed parents of children between the ages of 1 and 3. They assessed those children at age 1 and again at age 3.
MSN Living: 5 facts about fathers
For couples who didn't live together, 6.9 percent of infants who lived primarily with the mother also spent at least one night a week with their father. Forty-three percent of those infants who had weekly overnight visits were insecurely attached to their mothers. Research adviser Robert Emery said:
 "I would like infants and toddlers to be securely attached to two parents, but I am more worried about them being securely attached to zero parents."
Bing: Best parenting advice ever
Read more about this study here.
More from The Family Room:
Queen's granddaughter Zara Phillips is pregnant
Social media policies: Should schools have them?
Inside Kate Middleton's posh delivery room and playlist
Subscribe to The Family Room | Friend us on Facebook, follow us on Twitter and find us on Pinterest.
Photo: Overnights away from baby affect attachment, study suggests. / Jamie De Pould/Flickr/Getty Images
News, stories, tips and laughs for moms & dads
Megan Davies Mennes has been blogging and posting photos of her son Quinn online for some time now. Quinn has Down syndrome, and Mennes has dealt with a few nasty comments here and there, the type of stuff you'd expect to encounter on the Internet.

From a cozy-chic hotel by the seashore in Los Angeles that doubles as a home away from home to a nature-lover's tropical paradise in Costa Rica, each of these properties is a family-friendly in its own special way.

Two controversial science projects resembled weapons, school officials said.

Must-haves for every mommy on the road

What are we teaching our children when we focus on their achievements rather than their kindness?

Discover the seemingly insignificant things that can affect your chances of getting pregnant.

A thrill-obsessed subculture claimed another life this week.

A few suggested answers for the diciest questions

Here's our list of fifteen moms in the food industry that deserve some recognition.

The site gets high marks for its user-friendly interface and excellent and responsive customer service. And the reviews are also pretty accurate. Compare amenities and prices next to a hotel's in the same area, and you're likely to see Airbnb come out on top.

We captured a frame-by-frame look just for you.

Other moms can be ruthless when it comes to picking apart your parenting choices. From dissing your decision to go back to work to criticizing when you started baby on solids, here are the most ridiculous comments moms have heard. Bonus, we've got just the right way to respond to the haters! You're welcome.