Study: Overnights away from home affect baby's attachment
Babies who spend one night a week away from mom develop insecure attachments, researchers say.
A study from the University of Virginia recently found that babies who spend even just one night a week away from their mothers develop insecure attachments.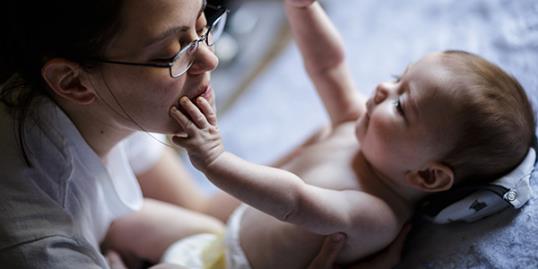 MSN Living: 5 worst money mistakes parents make
Researchers analyzed data from a study titled, "Fragile Families and Child Wellbeing." That study examined 5,000 children from 1998 to 2000. Researchers interviewed parents of children between the ages of 1 and 3. They assessed those children at age 1 and again at age 3.
MSN Living: 5 facts about fathers
For couples who didn't live together, 6.9 percent of infants who lived primarily with the mother also spent at least one night a week with their father. Forty-three percent of those infants who had weekly overnight visits were insecurely attached to their mothers. Research adviser Robert Emery said:
 "I would like infants and toddlers to be securely attached to two parents, but I am more worried about them being securely attached to zero parents."
Bing: Best parenting advice ever
Read more about this study here.
More from The Family Room:
Queen's granddaughter Zara Phillips is pregnant
Social media policies: Should schools have them?
Inside Kate Middleton's posh delivery room and playlist
Subscribe to The Family Room | Friend us on Facebook, follow us on Twitter and find us on Pinterest.
Photo: Overnights away from baby affect attachment, study suggests. / Jamie De Pould/Flickr/Getty Images
News, stories, tips and laughs for moms & dads
Transform the fall vegetable into cool decor pieces.

Put together these creative, but simple, Halloween looks for your youngsters.

We know you're documenting just about every move baby makes. (Do you even have any memory left on your phone? We didn't think so.) These tips from professional photographers can help you perfect your pics.

These six on-trend ideas will make baby's room your new favorite place to hang out.

Baby probably won't remember his first birthday party, but that doesn't mean you can't go all out (after all, parents need to celebrate making it through this first year, right?). These fun, colorful themes take planning to the next level.

See what celebrities who had problems conceiving have to say.

You'll be hearing a lot of advice and opinions. Some of it will be really helpful and some will be just plain wrong. Here are the most common things people say about babies that aren't true.

A new dad finds an Epcot Center's worth of innovation after expecting none at all.

The dog days of summer may be well behind us, but that doesn't mean it's time to pack in the outdoor adventures quite yet.

Protect yourself and your family with these ingenious gizmos and smartphone apps.

Make sure your go-to gadgets are as cute as your style, with these trendy tech finds!

Oh, how the times have changed...