Brothers re-enact awkward childhood photos
29 years later, 3 siblings stage hilarious re-creations.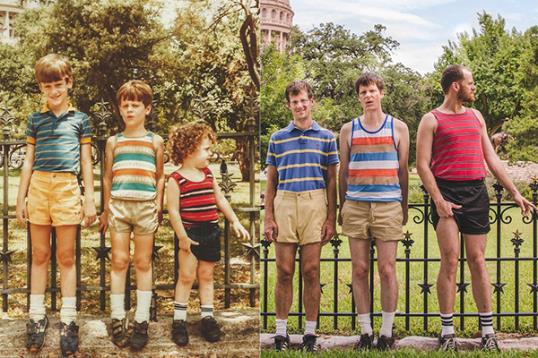 Like most of us, these three brothers were the subject of a few awkward photos as kids. But their idea to re-create the pics as adults had us cracking up.
MSN Living: The hottest celebrity brothers
Reddit user asuh uploaded the comparison pics over the weekend, along with the caption:
"1984 and 2013 – 29 years later, my brothers and I re-created our family vacation photo at the Texas State Capitol."
MSN Living: Avoiding sibling rivalry after you get engaged
The brothers reprised the same awkward poses and were even able to don similar T-shirts. The Reddit user explained:
"The middle tank top has painted orange and tans stripes and the right tank top was a polo shirt that we had to cut up to look like a tank top."
Well done, guys. Well done. Check out the second photo here.
More on The Family Room:
Breastfeeding moms hold 'nurse-in' at airport
The hottest baby names of the year
Families spend an average of $635 on back-to-school supplies
Subscribe to The Family Room | Friend us on Facebook, follow us on Twitter and find us on Pinterest.
News, stories, tips and laughs for moms & dads
A thrill-obsessed subculture claimed another life this week.

A few suggested answers for the diciest questions

Must-haves for every mommy on the road

Here's our list of fifteen moms in the food industry that deserve some recognition.

The site gets high marks for its user-friendly interface and excellent and responsive customer service. And the reviews are also pretty accurate. Compare amenities and prices next to a hotel's in the same area, and you're likely to see Airbnb come out on top.

We captured a frame-by-frame look just for you.

Other moms can be ruthless when it comes to picking apart your parenting choices. From dissing your decision to go back to work to criticizing when you started baby on solids, here are the most ridiculous comments moms have heard. Bonus, we've got just the right way to respond to the haters! You're welcome.

Nope, you don't have to spend the next nine months in black elastic-waist pants and oversize sweaters. And you don't have to shell out a fortune on your "temporary" wardrobe either. Check out these stylish and affordable maternity clothes.

Because society crumbles without us

Another kid figured out how to get into a claw machine.

As a new mom, you've recently discovered there are many things you can live without—sleep and modesty being chief among them. But what can't you live without? Seasoned moms share their Top 10 list for how to survive the early months of motherhood.

Here are our experts' best tips for how to be a positive role model for your kids so that they grow up healthy, strong and confident about the way they look.