High School Yearbook Shows Picture of Graduating Girl Flashing Her Naked Crotch
Someone please tell her that is not what colleges mean by "entrance exam"
Remember when a wild senior stunt was greasing a goat and letting it loose in the main hall? Well, apparently, these days if you want your classmates to remember you, you've got to really show 'em something. And that something for one particular North Carolina teenage girl is her bare vagina. During her graduation she lifted her gown right as the cameras were flashing. Now you can only buy her high school yearbook from behind the counter at a liquor store.
As a parent, I have two competing thoughts. First of all, I think this young woman is going to regret allowing her vagina to give the school's commencement speech. I don't care if it was voted Most Popular. Our socially networked world is much smaller than at any time in history. She's one tagged photo and one "like" away from this crotch shot following her for the rest of her life. Good luck being accepted by the Master Gardeners now.
But on the other side, this act of vagilism shows that women have made progress in becoming equally as moronic as teenage boys. Teenage guys have been mooning the world ever since they realized their butts would fit outside the windows of moving cars. If society is going to devolve into a real life American Pie sequel, it is nice to see that men and women will enter the gates of hell on equal footing.
My sincere hope for this young woman is that this embarrasses her back into a right state of mind. She's still young. She can blame her parents having to work late on her need for attention. She could even say she was drunk. It wouldn't be the first time a high school girl successfully played the booze card. Above all, she can still go on to live a life that doesn't involve clever ways to pick up dollar bills. She might even find what she was really looking for by getting naked.
What is your favorite high school graduation memory?
Love our blog? Become a fan of MSN Living on Facebook.  We're like the Lady Gaga of news and entertainment portals.
Check out my hilarious book Sorry I Peed on You (and other heartwarming letters to Mommy)(Andrews McMeel). Makes a great baby shower gift!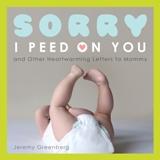 And hey, do ya love doggies and puppies? My hilarious and adorable new book, Sorry I Pooped in Your Shoe (and Other Heartwarming Letters from Doggie) (Andrews McMeel) is now available!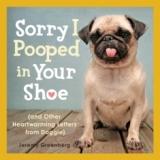 Wonder if she passed her final anatomy exam... honestly, who really cares anymore? It used to be some things were a mystery; now that most of the mystery of the " feminine mystique" is gone, along with it went most of the magic & excitement of love and sexual delight. All a lot of kids know anymore is the sexual attraction and so little about real love. Glad I grew up when I did.

If you do a little research into this picture you will find that this girl did not actually flash her goods at graduation. Sadly it seems no one taught her how a lady is supposed to sit when wearing a dress, but in the uncensored, unedited picture she is sitting with her legs open at the knee, holding a program that is similar in color to her gown. The gown is parted in the middle and the camera is at such an angle that you can see up her skirt, but the only thing exposed is her thigh. Once censored the edge of the program she is holding makes it look like she is holding her gown up, but she is not.
Are you sure you want to delete this comment?
News, stories, tips and laughs for moms & dads
Protect yourself and your family with these ingenious gizmos and smartphone apps.

Make sure your go-to gadgets are as cute as your style, with these trendy tech finds!

Oh, how the times have changed...

Get ready to hit the mall! Check out the hottest back-to-school trends—and get ready to make a major style statement this year.

Unique, or downright strange?

This is Kevin Droniak and his grandma. They're besties, they're awesome and they're YouTube stars.

It can be difficult to entice little ones to eat anything at all, let alone to devour a healthy plate. But feeding your kids nutritious snacks after school just got way easier, thanks to these adorably clever and cute snack ideas! For more smart and fun ways to get your kids to enjoy healthful and delicious foods, try one of these amazingly artsy lunch ideas.

Through a tonsillectomy all the way to brain surgery, my mother deserves some recognition. She's my spine, my birthday shadow, my BFF, my thunder buddy, so Mommy, thank you.

My son needs me, as much as yours needs you. Sadly, my son needs me more. He needs someone to have his back, when it seems that the police, the men he'd wave to with excitement as a little boy, see him as a being worthy only of prison or death.

If you know someone who has adopted and have made some of these comments, don't fret... now you know!

"Because you shine from within," I said, touching my finger to her heart. "Not everybody sees it, but I do. I see it. And my job is to protect that light. So when people say mean comments that squelch that light, I want you to tell me. I will protect your light by listening and loving you, my brave, courageous, and unique little firefly."

Studies have shown that it helps, top education officials have recommended it, and now doctors are officially saying the same.