Prince Harry says being an uncle is 'fantastic'
Harry, now fourth in line to the British throne, saw nephew smile.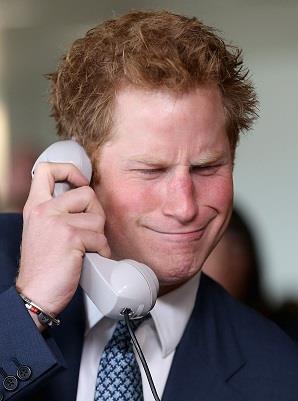 LONDON (AP) — Prince Harry says he loves being an uncle, telling children at an awards ceremony that he'd just witnessed the baby who may one day be king crack a smile.
Harry, who was pushed back to fourth in line to the British throne after the birth of his brother's son, Prince George, said Wednesday he'd just visited the 1 ½-month-old royal, who was taking a bath.
Harry told 9-year-old Nikki Christou that it was the "first time I've seen him smile." The prince seems to have warmed to his new family role, telling Mary Kirk, the mother of another child, that being an uncle was "fantastic."
Bing: Prince William wants to 'safeguard' the future for his son
The ceremony was hosted by the WellChild charity, which is dedicated to the needs of sick children and their families.
More from Family Room:
'Siberian Mowgli' found living in forest
School rethinks its ban on dreadlocks
Couple regrets conceiving twins
Subscribe to The Family Room | Friend us on Facebook, follow us on Twitter and find us on Pinterest.
Photo: Prince Harry takes part in a trade on the BGC Partners trading floor, during the BGC Charity Day 2013, in Canary Wharf, London, Wednesday, Sept. 11, 2013. (AP Photo/Chris Jackson, Pool)

Monarchy does indeed works better and faster than secular governments... the problem in the past was how foolishly Royals in various countries spent the peoples money... Today we have a similar problem except the politicians are not spending it on luxury items, but on the wars being waged for corporations who have manipulated the people to believe it is in our best interest which is a big lie.

I think William and Harry are a testament to their mother, Princess Diana, in confirming what a wonderful job she did in raising them.  They seem to be more down to earth and realistic as to what life is all about.  They aren't the spoiled rich kids acting like snobs, they have jumped in wherever needed and haven't been afraid to get their hands dirty, so to speak.  God bless them all with good health, happiness, prosperity and love.
Are you sure you want to delete this comment?
News, stories, tips and laughs for moms & dads
Two sociologists have found that parents who have daughters are more inclined to support the GOP and turn a cold shoulder to Democrats.

The experts at Nameberry.com predict what will be big in baby-naming next year

Famed event-planner David Stark shared tips for making chic holiday decorations using items you already have around the house. Take a look!

Sociologist Karen Z. Kramer found that over the past decade more than 550,000 men were stay-at-home fathers, which is about 3.5 percent of the married with kids population.

Ben Miller celebrates his wife's birthday and the anniversary of the day their premature son Ward Miles came home for good with a video documenting his first year.

Adopting an animal is a major commitment. Yet all too often people put more effort into researching what kind of car to get than the type of pet that would best fit their lifestyle.

'Tis the season to send out holiday greeting cards to all your friends and family. But, as our friends at Awkward Family Pet Photos know, not all holiday snapshots are the same. Some are just plain kooky — especially when pets are included. So with good tidings and great cheer, here are 10 wacky holiday animal portraits that are sure to make you laugh out loud and get you in the holiday spirit. And possibly make you think twice about dressing up the family cat this year.

King of the jungle? Nah, it's just a labradoodle!

Side-by-side images of adorable babies and their celebrity doppelgängers

Do you have a finicky furry friend on your holiday gift list this year? You're in luck! We've rounded up the coolest cat-approved products to bring you purrfect gift ideas for every kind of cat -- from the curious kitten to the most refined feline. Any one of these special gifts could make your resident kitty purr with pleasure and maybe, just maybe, like the present this year even more than the box and wrapping paper it came in!

Plus, puppy names to watch

This holiday season's hottest toy has yet to be revealed, but more often than not, the best gifts are the ones kids don't even know to ask for. So this year, surprise your kids with unique presents under the tree, and watch as their eyes light up when they unwrap them. From space-age sand to a DIY race track, these out-of-the-box gift ideas will provide some serious shopping inspiration. Click through the slideshow above for all our favorite picks.