Growing trend: Craigslist adoption ads
Prospective parents turn to the popular online classified site in hopes of adopting a child.
"Happy couple seeks to adopt baby."
Would-be parents are posting ads like this on Craigslist in hopes of connecting directly with birth mothers and cutting out the middle man and a lot of costs reports the Daily Mail.  
Why is private online adoption growing so rapidly?
Piper Weiss, a writer who's been exploring the world of online adoption, told ABC: "It allows them to connect with each other, potentially, but also it forces them to be their own filter and kind of be their own experts in the matter."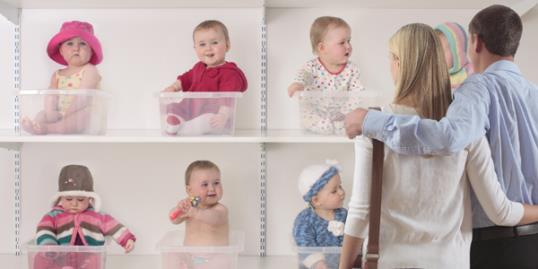 According to the National Council for Adoption, in 2011 there were about 18,000 domestic infant adoptions.
More from MSN Living: Top 10 dog names of the year
While experts, like the National Council for Adoption, recommend using Craigslist only in coordination with an adoption professional, the services of an agency can cost tens of thousands of dollars, compared with a free ad on Craigslist and the minimal expense of a toll-free number reports HLNtv.com.
Some may think seeking a birth mom match on Craigslist is a strange way to grow your family.
More from MSN Living: 15 amazing, inspiring baby nurseries
Kristin Howerton, a blogger on Babble.com, disagrees:
"Craiglist is the new public marketplace. For years, people have advertised about adoption in the newspaper. And while that may have seemed more legitimate, the truth is that the internet is undoubtedly taking the place of print publications, especially for young people. A teenager with an unplanned pregnancy is much more likely to look online for a solution than she is to scour the personal ads in a local circular.  Craigslist is easy, and it's accessible to anyone with an internet connection."
Tell us: What do you think about online adoption ads?
Bing: Adopted celebrities
More from Family Room:
Teen mom denied right to breast feed
Toddler death raises concern over car seat rules
Violent video games and child aggression
Love content like this? Friend us on Facebook, follow us on Twitter and find us on Pinterest.
Readers: Calling all mom bloggers – we're looking for fresh voices on MSN Living. Email us your samples and contact info!
Photo: Craigslist adoption ads / Peter Cade/Getty Images
News, stories, tips and laughs for moms & dads
Remember the concept of weekends being a time for rest, relaxation, and togetherness? No? Us either. Between soccer games, playdates, dragging your kids to see the new exhibition at the local children's museum, and we need to pick up a gift for that birthday party that starts in . . . 20 minutes, juggling a busy family's weekend schedule can be more stressful than a weekday. While we know it's simply not realistic to cancel all your plans and obligations moving forward, clearing the calendar for just one weekend can be just the refresher that your family's craving. Here's why.

Any of these sound familiar?

4 steps for raising a child who doesn't feel emotionally stranded.

You just had a baby? You're a superstar! All those diapers, all that spit up, and you're makin' magic happen. But you're also likely tired - really tired - and busy (so, so busy). Taking time for yourself might seem like an indulgence but a happy mom makes for a happy baby. Here are 7 things you should definitely do to keep your sanity intact and your spirit high. <more, below>

Summertime is on, and the kids are out of school. Every mom knows that for these three months it's more important than ever to keep the kids busy. But you don't have to schedule your life away with camps, or drop a bundle on activities and games that come in a box. You can make your own fun, and even include the kids in the prep, with some simple, inexpensive DIY crafts that will keep them playing 'til the lightening bugs come out. Make your own fingerpaint, bubbles, and crayons. Create a fort-building kit and superhero capes that will kick their imaginations into overdrive. Here are 10 of our favorite kid-friendly DIY crafts to fuel your summertime fun.

Let these DIY dog bed projects be your inspiration and within a single weekend, you can construct something that really makes Rex feel like a king.

The task of finding an eco-friendly, safe-for-baby gift parents-to-be will actually use is kind of challenging. Add to that a price limit of $50, and the feat suddenly feels impossible! Fortunately, we combed the marketplace for some of the prettiest, most useful, sweetest gifts for baby and family. Many are fine on their own, while others would work well as part of a bigger basket — you know, if you wish to achieve that shower-goer hero status.

Jennifer Goodall gave birth Friday after much drama

My kids snapped a pic of me on my phone and it changed how I see myself

6-year-old has rare brain condition

He wanted to know if woman was pregnant

Did your state make the grade?