Top New Year's resolutions parents wish their kids would make
Cleaning their room still ranks high among a list of suggestions to children.
Get a haircut and get a real job was George Thoroughgood's parents' advice to him. And several of his folks' further suggestions to their rebel son echo the top New Year's resolutions parents want their offspring to make in 2013.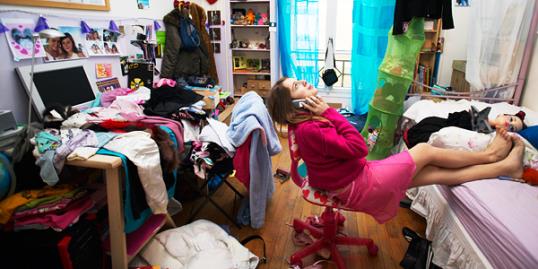 According to a study by K¹² Inc., an online education provider for pre-elementary through high school students, parents have a variety of recommendations for their kids captured in an interactive survey the company conducted in December.
Parents responded that 47 percent of them favor having their children keep a cleaner room in the new year. (It seems that the bedroom battle may be the longest running in our nation's history.)
More from MSN Living: 51 perfect daytrips for families
Desires for kids to become more involved in school, eat healthier and be more physically active each accounted for 33 percent of support from responding moms and dads. Playing fewer video games, which may contribute positively to the previously listed goals, received 29 percent of parental votes.
Bing: Worst New Year's resolutions 
Other suggestions for children were to practice better etiquette, have better hygiene, text less and read more.
All seem like beneficial suggestions regardless of age, but it remains to be seen how many children will implement their parent's advice.
More from MSN Living: The most popular baby names of all time
And then, just like the rest of us, how many will see them through in 2013.
But remember that things worked out pretty well for Mr. Thoroughgood, even though he ignored his parents' counsel.
Photo: B2M Productions/Getty Images
More from MSN Living:
Top baby name predictions for 2013
20 Pinterest crafting 'fails'
Best baby names of 2012
family: tips, trends & advice for all things family
From designer crosses to giant breeds, we scoured Vetstreet's data of millions of dog breeds to determine the trendiest breeds of the past decade.

One of the most unsettling consequences of bringing a child into your previously simple, happily oblivious manly life is that you're now unquestionably, inescapably…The Man.

Whether it was baby's first kick or the first time your boobs leaked in public, there's a point in every mom's life when the world as you know it ends and you realize -- Whoa, I'm someone's mom now. Some of our favorite mommy bloggers revealed what their aha moments were. They range from heartwarming to completely hilarious.

From DIY jewelry to homemade "flowers" to sweet vases, you can help your kid make mom's day with these crafty gifts.

The first parenting shock: They let you take the baby home. Like, without supervision. Only then do the real surprises unfold. Here's what readers told us was most unexpected for them as they embraced this whole mama thing.

Be prepared to say, 'awww,' multiple times while flipping through this collection super-sweet stuff for babies and kids on Etsy.com. Take a peek at some of our favorite finds for moms (and click 'More' to find out how to get this amazing gnome hat!)...By MSN Living editors

Your Mother's Day plans are all set, right? Brunch is booked and a fabulous gift is wrapped and ready to go. So take a breather and celebrate these stylish celebrity moms who work hard, care for their kids, and manage to look amazing in the process.

Find out this year's top baby names on Parenting.com, and see what we predict will be big in 2013

Sophia and Jacob reign supreme.

In an online contest, Parenting.com asked readers to tell us what it means to "have it all." Read the winner's moving essay on how that phrase has defined her motherhood, plus essays from the three runners up.

Tow lot employee finds abandoned pup.

Animals, says Dr. Patty Khuly, are the best listeners in the world and don't care that you've just been dumped or laid off.