Top New Year's resolutions parents wish their kids would make
Cleaning their room still ranks high among a list of suggestions to children.
Get a haircut and get a real job was George Thoroughgood's parents' advice to him. And several of his folks' further suggestions to their rebel son echo the top New Year's resolutions parents want their offspring to make in 2013.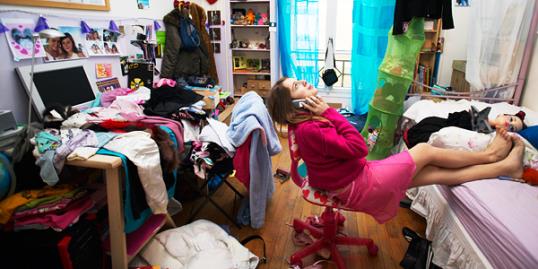 According to a study by K¹² Inc., an online education provider for pre-elementary through high school students, parents have a variety of recommendations for their kids captured in an interactive survey the company conducted in December.
Parents responded that 47 percent of them favor having their children keep a cleaner room in the new year. (It seems that the bedroom battle may be the longest running in our nation's history.)
More from MSN Living: 51 perfect daytrips for families
Desires for kids to become more involved in school, eat healthier and be more physically active each accounted for 33 percent of support from responding moms and dads. Playing fewer video games, which may contribute positively to the previously listed goals, received 29 percent of parental votes.
Bing: Worst New Year's resolutions 
Other suggestions for children were to practice better etiquette, have better hygiene, text less and read more.
All seem like beneficial suggestions regardless of age, but it remains to be seen how many children will implement their parent's advice.
More from MSN Living: The most popular baby names of all time
And then, just like the rest of us, how many will see them through in 2013.
But remember that things worked out pretty well for Mr. Thoroughgood, even though he ignored his parents' counsel.
Photo: B2M Productions/Getty Images
More from MSN Living:
Top baby name predictions for 2013
20 Pinterest crafting 'fails'
Best baby names of 2012
News, stories, tips and laughs for moms & dads
Remember the concept of weekends being a time for rest, relaxation, and togetherness? No? Us either. Between soccer games, playdates, dragging your kids to see the new exhibition at the local children's museum, and we need to pick up a gift for that birthday party that starts in . . . 20 minutes, juggling a busy family's weekend schedule can be more stressful than a weekday. While we know it's simply not realistic to cancel all your plans and obligations moving forward, clearing the calendar for just one weekend can be just the refresher that your family's craving. Here's why.

Any of these sound familiar?

4 steps for raising a child who doesn't feel emotionally stranded.

You just had a baby? You're a superstar! All those diapers, all that spit up, and you're makin' magic happen. But you're also likely tired - really tired - and busy (so, so busy). Taking time for yourself might seem like an indulgence but a happy mom makes for a happy baby. Here are 7 things you should definitely do to keep your sanity intact and your spirit high. <more, below>

Summertime is on, and the kids are out of school. Every mom knows that for these three months it's more important than ever to keep the kids busy. But you don't have to schedule your life away with camps, or drop a bundle on activities and games that come in a box. You can make your own fun, and even include the kids in the prep, with some simple, inexpensive DIY crafts that will keep them playing 'til the lightening bugs come out. Make your own fingerpaint, bubbles, and crayons. Create a fort-building kit and superhero capes that will kick their imaginations into overdrive. Here are 10 of our favorite kid-friendly DIY crafts to fuel your summertime fun.

Let these DIY dog bed projects be your inspiration and within a single weekend, you can construct something that really makes Rex feel like a king.

The task of finding an eco-friendly, safe-for-baby gift parents-to-be will actually use is kind of challenging. Add to that a price limit of $50, and the feat suddenly feels impossible! Fortunately, we combed the marketplace for some of the prettiest, most useful, sweetest gifts for baby and family. Many are fine on their own, while others would work well as part of a bigger basket — you know, if you wish to achieve that shower-goer hero status.

Jennifer Goodall gave birth Friday after much drama

My kids snapped a pic of me on my phone and it changed how I see myself

6-year-old has rare brain condition

He wanted to know if woman was pregnant

Did your state make the grade?