Top New Year's resolutions parents wish their kids would make
Cleaning their room still ranks high among a list of suggestions to children.
Get a haircut and get a real job was George Thoroughgood's parents' advice to him. And several of his folks' further suggestions to their rebel son echo the top New Year's resolutions parents want their offspring to make in 2013.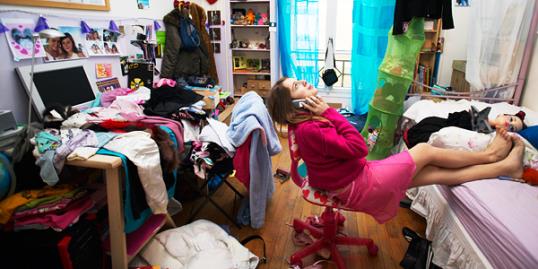 According to a study by K¹² Inc., an online education provider for pre-elementary through high school students, parents have a variety of recommendations for their kids captured in an interactive survey the company conducted in December.
Parents responded that 47 percent of them favor having their children keep a cleaner room in the new year. (It seems that the bedroom battle may be the longest running in our nation's history.)
More from MSN Living: 51 perfect daytrips for families
Desires for kids to become more involved in school, eat healthier and be more physically active each accounted for 33 percent of support from responding moms and dads. Playing fewer video games, which may contribute positively to the previously listed goals, received 29 percent of parental votes.
Bing: Worst New Year's resolutions 
Other suggestions for children were to practice better etiquette, have better hygiene, text less and read more.
All seem like beneficial suggestions regardless of age, but it remains to be seen how many children will implement their parent's advice.
More from MSN Living: The most popular baby names of all time
And then, just like the rest of us, how many will see them through in 2013.
But remember that things worked out pretty well for Mr. Thoroughgood, even though he ignored his parents' counsel.
Photo: B2M Productions/Getty Images
More from MSN Living:
Top baby name predictions for 2013
20 Pinterest crafting 'fails'
Best baby names of 2012
News, stories, tips and laughs for moms & dads
The 4 crucial conversations you need to have with your spouse before you make this decision.

You bring baby home and it seems like everyone has an opinion on which techniques you should use to get her to sleep, to feed her and to help her learn and develop. And they tell you which ones not to use too. So what's worth trying out and what's completely insane? Decide for yourself!

I'll say it: if your baby is melting down at Din Tai Fung, please pack your wipes and go

Pregnancy is just one long, unending stream of unsolicited advice—people love to tell you what to do, how to do it, and why you'd be crazy to do it any other way.

Maybe I was naïve, but I thought getting pregnant was as simple as having unprotected sex, and I'd be a mom in nine months flat. We spent years trying to prevent pregnancy, waiting until we were ready and having panic attacks if my period was late. So naturally, once we stopped preventing — boom! — it should've happened, right? Silly me.