Top New Year's resolutions parents wish their kids would make
Cleaning their room still ranks high among a list of suggestions to children.
Get a haircut and get a real job was George Thoroughgood's parents' advice to him. And several of his folks' further suggestions to their rebel son echo the top New Year's resolutions parents want their offspring to make in 2013.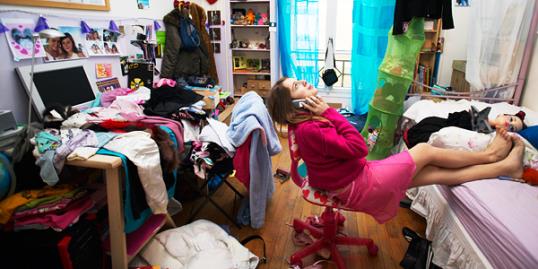 According to a study by K¹² Inc., an online education provider for pre-elementary through high school students, parents have a variety of recommendations for their kids captured in an interactive survey the company conducted in December.
Parents responded that 47 percent of them favor having their children keep a cleaner room in the new year. (It seems that the bedroom battle may be the longest running in our nation's history.)
More from MSN Living: 51 perfect daytrips for families
Desires for kids to become more involved in school, eat healthier and be more physically active each accounted for 33 percent of support from responding moms and dads. Playing fewer video games, which may contribute positively to the previously listed goals, received 29 percent of parental votes.
Bing: Worst New Year's resolutions 
Other suggestions for children were to practice better etiquette, have better hygiene, text less and read more.
All seem like beneficial suggestions regardless of age, but it remains to be seen how many children will implement their parent's advice.
More from MSN Living: The most popular baby names of all time
And then, just like the rest of us, how many will see them through in 2013.
But remember that things worked out pretty well for Mr. Thoroughgood, even though he ignored his parents' counsel.
Photo: B2M Productions/Getty Images
More from MSN Living:
Top baby name predictions for 2013
20 Pinterest crafting 'fails'
Best baby names of 2012
News, stories, tips and laughs for moms & dads
Side-by-side images of adorable babies and their celebrity doppelgängers

Do you have a finicky furry friend on your holiday gift list this year? You're in luck! We've rounded up the coolest cat-approved products to bring you purrfect gift ideas for every kind of cat -- from the curious kitten to the most refined feline. Any one of these special gifts could make your resident kitty purr with pleasure and maybe, just maybe, like the present this year even more than the box and wrapping paper it came in!

Plus, puppy names to watch

This holiday season's hottest toy has yet to be revealed, but more often than not, the best gifts are the ones kids don't even know to ask for. So this year, surprise your kids with unique presents under the tree, and watch as their eyes light up when they unwrap them. From space-age sand to a DIY race track, these out-of-the-box gift ideas will provide some serious shopping inspiration. Click through the slideshow above for all our favorite picks.

Yep, you're older than you think

Avoid these gaffes for a better relationship with your stepchildren—and your spouse.

The top 25 best holiday movies for kids and their families, from old school classics like Miracle on 34th Street and It's a Wonderful Life, to newer classics like Elf and The Nightmare Before Christmas.

Since the dawn of time, we men have been preprogrammed with two biological imperatives: Number one: to bravely kill bathtub spiders; and number two: to reproduce. (Actually, I really should have ordered those in reverse.) So what happens when we find out we're infertile?

New mamas weigh in on all the things they wish someone had warned them about before baby arrived.

We scoured Pinterest for 30 way-too-cute Elf on the Shelf poses we'd never seen before...let these inspire you during your family's funniest tradition.

Stroll down any aisle of a Toys"R"Us these days and you'll be confronted with a billion options that are light-years beyond anything you had to entertain yourself with as a kid. Lego cruise ships (complete with flatscreen TVs in the lounge and sideboard jet-skis), battery-operated Mercedes-Benz sedans, and hi-tech tablets with Android operating systems abound. We wondered, as we let ourselves get nostalgic for a moment, if any of the beloved toys we played with as children were still even on the market. Thanks to a quick hunt on the Internet we were able to find that Fisher Price still makes their classic Two Tune TV, and you can still get your hands on a good ol' Slinky. Here's a roundup of the best old-school toys for kids-- we encourage you to click through the slideshow and consider wrapping up a well-loved classic for your little one this year.