Top New Year's resolutions parents wish their kids would make
Cleaning their room still ranks high among a list of suggestions to children.
Get a haircut and get a real job was George Thoroughgood's parents' advice to him. And several of his folks' further suggestions to their rebel son echo the top New Year's resolutions parents want their offspring to make in 2013.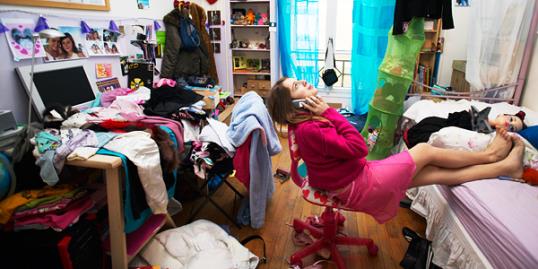 According to a study by K¹² Inc., an online education provider for pre-elementary through high school students, parents have a variety of recommendations for their kids captured in an interactive survey the company conducted in December.
Parents responded that 47 percent of them favor having their children keep a cleaner room in the new year. (It seems that the bedroom battle may be the longest running in our nation's history.)
More from MSN Living: 51 perfect daytrips for families
Desires for kids to become more involved in school, eat healthier and be more physically active each accounted for 33 percent of support from responding moms and dads. Playing fewer video games, which may contribute positively to the previously listed goals, received 29 percent of parental votes.
Bing: Worst New Year's resolutions 
Other suggestions for children were to practice better etiquette, have better hygiene, text less and read more.
All seem like beneficial suggestions regardless of age, but it remains to be seen how many children will implement their parent's advice.
More from MSN Living: The most popular baby names of all time
And then, just like the rest of us, how many will see them through in 2013.
But remember that things worked out pretty well for Mr. Thoroughgood, even though he ignored his parents' counsel.
Photo: B2M Productions/Getty Images
More from MSN Living:
Top baby name predictions for 2013
20 Pinterest crafting 'fails'
Best baby names of 2012
News, stories, tips and laughs for moms & dads
One mom says no, no we don't

If your family doesn't have a vacation planned this year, you may be fretting about spring break activities for kids that won't cost you a month's salary. After all, you know what happens when your little ones are left unoccupied; you're expected to run interference stat. This time around, plan ahead with an economically sound mind, and you won't dare hear the words, "Mom, I'm bored," ever leave their lips. Plan ahead, and there's no way your kids will run out of things to do. As a result, you won't be subject to bored stares or incessant wining. Plus, we find that thinking of things in advance makes you more likely to stumble upon something creative, whereas last minute activities can often feel repetitive or lacking in any educational element. Click through this slideshow for ten awesome ideas for spring break activities for kids.

Find out which comments and questions about adopted children you should keep to yourself.

When money is no object, celebrity parents happily fork over the Benjamins to create some truly incredible nurseries for their babies. Can you guess which famous parents created these sweet, often over-the-top rooms for their little bundles of joy? Click through for some eye-candy nurseries enjoyed by celebritots...

Sure, beaches and amusement parks promise all kinds of family fun during spring or summer breaks. But there are plenty of ways to live it up without hitting the road.

When it comes to traveling with the family, "adventure" can mean a lot of different things. Just packing the suitcases for a 3-hour flight can be an adventure of its own. And surviving a 5-hour flight with a toddler? That's a whole different kind of adventure (tip: pack snacks). But when your family adventure is good, it can be really, really good. Sometimes swimming with dolphins or ziplining through the rainforest is just the kind of vacation that will make you forget all about airport hassle and will get your kids (even the teens) smiling. From hiking the Rockies to white-water rafting, we've found 11 family adventure vacations that will get the adrenaline pumping without driving you crazy.

We know—it's cold outside and you're dreaming of beaches. Consider this the next best thing: awesome indoor water parks around the world equipped with pools, water slides, swim-up bars, and in some cases, all-year "sunlight."

Happify shares their results of a recent study on the importance of being nurturing

Figuring out the best kind of vacation for your family can take a bit of time -- if you're beach people, it's pretty easy. Find a resort, make sure they have cribs and book your tickets. Adventure buffs with older kids can hit a national park and have a total blast, while artsy types might prefer to pick a cosmopolitan city with great museums, restaurants, and some serious insider tips on babysitters. Whatever your preferences for a spring getaway for the family, there's still time! Click through this slideshow for some of our favorite vacation ideas for families, from those with babies and toddlers through to teens. Bon voyage!

Ah, bedtime. That sweet, sweet hour when you pack the kiddos off to dreamland and you get some much-needed "me time." Right? Well, sometimes. Bedtime can also be one of the most stressful times of day. Developing a bedtime ritual is something nearly every baby expert and pediatrician recommends. Children rely on ritual and stability, and it's a huge comfort to them to repeat the same actions every night before bed.You can treat this time of day as a series of hurdles to jump over before the big relief or decide to turn bedtime into a series of sweet moments to cherish daily. Here are our favorite ideas for bedtime rituals that everyone in the family will take comfort in.

Millennials have a notoriously bad rap. In the age of all-encompassing technology, recent generations are often criticized for their affinity for video games, their short attention spans and their selfie-obsession. Such insularity in face of the apex of globalization seems especially troubling. And yet, there may be hope. All conjecture aside, social media has a different story to tell about the leaders of tomorrow. Not too long ago, Malala Yousufzai became the youngest Nobel Peace Prize nominee in history, but she's not the only wunderkind to watch. Click through this slideshow for our list of today's top ten inspirational kids. We think you'll find Malala's in very good company.

Find yourself wandering the aisles, suddenly needing an owl-shaped candle while drinking a $5 latte? You're not alone, moms...