New book explores the not-so-miserable only child
No kids, one kid, four kids: There's no end to the debate over why people decide on a certain number.
NEW YORK (AP) — Is one family configuration more scrutinized than another? Lauren Sandler thinks so.
She delves into the myths and misconceptions about singletons in a new book, "One and Only," out this month from Simon & Schuster. And she feels strongly about the subject, as a journalist and an only child raising an only child with her photographer husband, who's one of two.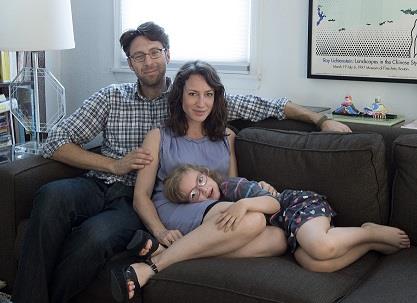 The choice of one, the Brooklyn mom said, is often demonized, and the pull to have more is strong at times. Based on scores of interviews with academics and only children, the book wasn't intended as a memoir, though Sandler's family — her "lean team" of three — is woven throughout.
While she's content and confident her 5-year-old daughter is doing great, Sandler hasn't escaped the conflict. Her reaction when her husband suggests he get a vasectomy drives home the turmoil.
"I burst into tears, run up to our bedroom, and throw myself onto the pillows like a heartsick teenager," she writes.
"Despite all the rational information that supports my reluctance to have another kid, all the research demonstrating that only children are fine, all the data suggesting the additional sacrifices another kid would require, making the choice not to have another child is still fraught with conflict. It's an emotional struggle that, it turns out, no set of numbers and analysis can erase."
Gallery: 15 things moms overshare on Facebook
A conversation with Lauren Sandler:
AP: How has research on raising only children changed in recent years?
Sandler: I don't think it's really changed. What keeps happening is people keep retesting, saying, "Oh, how could it possibly be true that all of these studies from all of these years ago have said that only children are just fine." And so they retest and then they find out, "Oh yeah, only children are fine."
AP: So where does the notion come from that only children are lonely, selfish and maladjusted?
Sandler: I've been puzzling over this for three years, and the best I can come up with is this sort of three-pronged answer.
No. 1, it was a story that needed to develop in an evolutionary biology sense, that in order to thrive as a species we had to have more of us, so that was important. And then we were an agrarian society, and in an agrarian society children were a work force and a life insurance policy, and if you wanted your family to thrive you needed to have a bigger one.
But then the Industrial Revolution came around, then the women's movement came around. We didn't really come to terms with what women's freedom looks like, and we didn't really come to terms with how much society had changed, and so we kept telling this story. I've talked to researchers who think that it's a story that people need to tell because having more kids is hard and you need to feel like there's a reason behind it.
AP: Is there an underlying discrimination in the culture against only children?
Sandler: I was having a conversation with an only child I met and she was telling me that about 10 years ago she was in a job interview and her lack of siblings came up, and the person she was interviewing with, the boss of this company, said, "I'm sorry, I don't hire only children." And that was that.
Can you imagine if she was any other group? I'm sure it's illegal but I'm sure that no one even thinks about it in terms of being illegal because we're not a race. We're not any standard minority group. We just happen to be this group of people that the world has decided is a certain way even though hundreds of studies and decades and decades of research have shown that we just aren't all that different.
AP: What drives that nagging pull to have more?
Sandler: I think that as parents we want our kids to be happy and to thrive. We want our families to be happy, and we have society telling us if you have one kid, your kid's going to be really unhappy. You're going to have a miserable misfit of a child, but if you give your child a sibling you will have a happy family.
The data tells us that most people have their first child for themselves and the second child for the benefit of their first. I feel like if you want two kids, three kids, five kids, no kids, great. Do what your heart tells you but don't do what society is whispering in your ear, especially when it's based on such fallacy.
Gallery: 15 beautiful swimming pools we'd love to take a dip in
AP: When you're raising only one, everyone seems to want a say. As an only yourself who is raising an only do you feel you're under a spotlight in that respect?
Sandler: If you choose not to have a child, like many people I know, then society may mumble and grumble about how you're not fully a woman, you're a selfish person, and you're going to mess up a "defenseless child" by not giving them a sibling.
I think that that feeling, that you are making a bad call and it's going to hurt a child, is enough so that people feel like they can go from beaming at your adorable child in the subway or in the supermarket line to shaking their head and saying they wouldn't do that to their child, which is a line that I've heard a lot.
AP: In light of all the positives you've rounded up on the benefits of having an only child, including the financial benefits, you seem to remain conflicted about it. Can you explain that a bit?
Sandler: I know my daughter would be a great big sister and I love babies, and I love being a parent more than I ever thought that I would. I love the delicious closeness that you have with a small child, and you know, my kid's 5. I know that type of delicious intensity with a small kid is eroding. I know that that's going to come to an end. That makes me feel like, "All right, I'm pretty sure that this is what's going to be the best choice for the three of us," but I'm always open to the idea of change, or the notion that the heart can swerve.
More from Family Room:
Outrage over school photo isolating disabled student
6 blue-inspired must-haves fit for the royal baby's nursery
Danish mothers hold public breastfeeding protest
Subscribe to The Family Room | Friend us on Facebook, follow us on Twitter and find us on Pinterest.
___
Follow Leanne Italie on Twitter at http://twitter.com/l​italie
Photo: From left, Justin Lane, Lauren Sandler and Dahlia Lane at their home in the Brooklyn borough of New York on June 17. Sandler delves into the myths and misconceptions about singletons in a new book, "One and Only," out this month from Simon & Schuster. (AP Photo/Courtesy of Lauren Sandler)
News, stories, tips and laughs for moms & dads
Watch the video of Kristen Bell going head to head with paparazzi - it will make you angry

Every year, toy makers from around the world gather to show their latest creations at the Toy Fair in New York City. The high-tech models, gadgets and trinkets on display put those basic Legos we played with at kids to shame. Here are 10 new toys that we'd happily buy or children. Or, really, ourselves.

Find yourself wandering the aisles, suddenly needing an owl-shaped candle while drinking a $5 latte? You're not alone, moms...

Here's some parenting advice for whatever stage of separation or divorce you're in.

Whether you pop it in the mail or post it on social media, a creative photo is a surefire way to grab everyone's attention and proudly say, "I'm pregnant!" Prepare for a lot of likes.

Remember the magical children's rooms in Peter Pan and The Little Prince? These timeless novels described spaces that were enchanting and made us wish that we could inhabit the rooms ourselves. The sumptuous interiors that were filled with never-ending toys and fort-like draping may seem like a fairytale, but thanks to four of our favorite kids' furniture websites, the dream could actually become a reality. Click through the slideshow to check out the best kids furniture websites that have everything necessary to create a fantasy room for your little one. And check out Sophia Demenge's super-fun space in the video below. By Barry Samaha

They lay, they play, and they take selfies with supermodels. Meet 5 of the most social media-savvy pets—animals taking control of their own fashionable online image.

We could try to offer you carefully researched and crafted words of Dad-centric inspiration, intended to show you the path to being a better man and, in turn, a better father. But Tom Limbert took up the task for us in his new book 'Dad's Playbook: Wisdom for Fathers from the Greatest Coaches of All Time,' so we left it to him. Limbert -- a parent coach and the founder of the Studio Grow children's play space in Berkeley, California -- has collected pearls of wisdom from an elite crew of coaches who have not only experienced greatness themselves, but also found ways to consistently instill it in their teams. "It's monkey-see, monkey-do," Limbert told us, after we asked him to gather the best quotes on achieving one's goals. "If you want your child to follow, you have to lead." Click on to read the often simple-seeming words that have inspired countless others to follow through on the field, but that can also easily be translated to the school, work, fitness, and, of course, parenting arenas.

What parents need to know

It's raining, it's pouring ... but that doesn't mean the day has to be a snore. Rather than let the kids grow restless and rambunctious, why not divert their energy toward some fun family bonding activities? Although the weather may have scotched your original plans for the day, seize the opportunity to reconnect and let loose with your loved ones. Click through this slideshow for ten refreshing rainy day activities that'll make you glad the clouds (almost) rained on your parade.

Every family has its oddballs. And the holiday season is the one time of year when you're pretty much forced to interact and play nice with the grand majority of them. Click through the slideshow above for our guide to dealing with the five worst kinds of kin. *Disclaimer: All characters appearing in this work are fictitious. Any resemblance to real persons, living or dead, is purely coincidental.

Not great with a budget? Don't sweat it. Try these simple ways to save.