New book explores the not-so-miserable only child
No kids, one kid, four kids: There's no end to the debate over why people decide on a certain number.
NEW YORK (AP) — Is one family configuration more scrutinized than another? Lauren Sandler thinks so.
She delves into the myths and misconceptions about singletons in a new book, "One and Only," out this month from Simon & Schuster. And she feels strongly about the subject, as a journalist and an only child raising an only child with her photographer husband, who's one of two.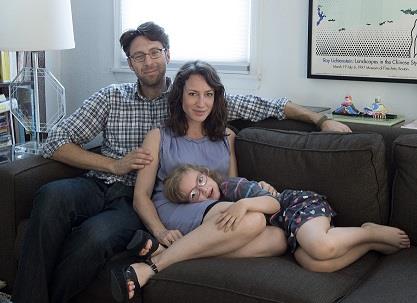 The choice of one, the Brooklyn mom said, is often demonized, and the pull to have more is strong at times. Based on scores of interviews with academics and only children, the book wasn't intended as a memoir, though Sandler's family — her "lean team" of three — is woven throughout.
While she's content and confident her 5-year-old daughter is doing great, Sandler hasn't escaped the conflict. Her reaction when her husband suggests he get a vasectomy drives home the turmoil.
"I burst into tears, run up to our bedroom, and throw myself onto the pillows like a heartsick teenager," she writes.
"Despite all the rational information that supports my reluctance to have another kid, all the research demonstrating that only children are fine, all the data suggesting the additional sacrifices another kid would require, making the choice not to have another child is still fraught with conflict. It's an emotional struggle that, it turns out, no set of numbers and analysis can erase."
Gallery: 15 things moms overshare on Facebook
A conversation with Lauren Sandler:
AP: How has research on raising only children changed in recent years?
Sandler: I don't think it's really changed. What keeps happening is people keep retesting, saying, "Oh, how could it possibly be true that all of these studies from all of these years ago have said that only children are just fine." And so they retest and then they find out, "Oh yeah, only children are fine."
AP: So where does the notion come from that only children are lonely, selfish and maladjusted?
Sandler: I've been puzzling over this for three years, and the best I can come up with is this sort of three-pronged answer.
No. 1, it was a story that needed to develop in an evolutionary biology sense, that in order to thrive as a species we had to have more of us, so that was important. And then we were an agrarian society, and in an agrarian society children were a work force and a life insurance policy, and if you wanted your family to thrive you needed to have a bigger one.
But then the Industrial Revolution came around, then the women's movement came around. We didn't really come to terms with what women's freedom looks like, and we didn't really come to terms with how much society had changed, and so we kept telling this story. I've talked to researchers who think that it's a story that people need to tell because having more kids is hard and you need to feel like there's a reason behind it.
AP: Is there an underlying discrimination in the culture against only children?
Sandler: I was having a conversation with an only child I met and she was telling me that about 10 years ago she was in a job interview and her lack of siblings came up, and the person she was interviewing with, the boss of this company, said, "I'm sorry, I don't hire only children." And that was that.
Can you imagine if she was any other group? I'm sure it's illegal but I'm sure that no one even thinks about it in terms of being illegal because we're not a race. We're not any standard minority group. We just happen to be this group of people that the world has decided is a certain way even though hundreds of studies and decades and decades of research have shown that we just aren't all that different.
AP: What drives that nagging pull to have more?
Sandler: I think that as parents we want our kids to be happy and to thrive. We want our families to be happy, and we have society telling us if you have one kid, your kid's going to be really unhappy. You're going to have a miserable misfit of a child, but if you give your child a sibling you will have a happy family.
The data tells us that most people have their first child for themselves and the second child for the benefit of their first. I feel like if you want two kids, three kids, five kids, no kids, great. Do what your heart tells you but don't do what society is whispering in your ear, especially when it's based on such fallacy.
Gallery: 15 beautiful swimming pools we'd love to take a dip in
AP: When you're raising only one, everyone seems to want a say. As an only yourself who is raising an only do you feel you're under a spotlight in that respect?
Sandler: If you choose not to have a child, like many people I know, then society may mumble and grumble about how you're not fully a woman, you're a selfish person, and you're going to mess up a "defenseless child" by not giving them a sibling.
I think that that feeling, that you are making a bad call and it's going to hurt a child, is enough so that people feel like they can go from beaming at your adorable child in the subway or in the supermarket line to shaking their head and saying they wouldn't do that to their child, which is a line that I've heard a lot.
AP: In light of all the positives you've rounded up on the benefits of having an only child, including the financial benefits, you seem to remain conflicted about it. Can you explain that a bit?
Sandler: I know my daughter would be a great big sister and I love babies, and I love being a parent more than I ever thought that I would. I love the delicious closeness that you have with a small child, and you know, my kid's 5. I know that type of delicious intensity with a small kid is eroding. I know that that's going to come to an end. That makes me feel like, "All right, I'm pretty sure that this is what's going to be the best choice for the three of us," but I'm always open to the idea of change, or the notion that the heart can swerve.
More from Family Room:
Outrage over school photo isolating disabled student
6 blue-inspired must-haves fit for the royal baby's nursery
Danish mothers hold public breastfeeding protest
Subscribe to The Family Room | Friend us on Facebook, follow us on Twitter and find us on Pinterest.
___
Follow Leanne Italie on Twitter at http://twitter.com/l​italie
Photo: From left, Justin Lane, Lauren Sandler and Dahlia Lane at their home in the Brooklyn borough of New York on June 17. Sandler delves into the myths and misconceptions about singletons in a new book, "One and Only," out this month from Simon & Schuster. (AP Photo/Courtesy of Lauren Sandler)
News, stories, tips and laughs for moms & dads
Protect yourself and your family with these ingenious gizmos and smartphone apps.

Make sure your go-to gadgets are as cute as your style, with these trendy tech finds!

Oh, how the times have changed...

Get ready to hit the mall! Check out the hottest back-to-school trends—and get ready to make a major style statement this year.

Unique, or downright strange?

This is Kevin Droniak and his grandma. They're besties, they're awesome and they're YouTube stars.

It can be difficult to entice little ones to eat anything at all, let alone to devour a healthy plate. But feeding your kids nutritious snacks after school just got way easier, thanks to these adorably clever and cute snack ideas! For more smart and fun ways to get your kids to enjoy healthful and delicious foods, try one of these amazingly artsy lunch ideas.

Through a tonsillectomy all the way to brain surgery, my mother deserves some recognition. She's my spine, my birthday shadow, my BFF, my thunder buddy, so Mommy, thank you.

My son needs me, as much as yours needs you. Sadly, my son needs me more. He needs someone to have his back, when it seems that the police, the men he'd wave to with excitement as a little boy, see him as a being worthy only of prison or death.

If you know someone who has adopted and have made some of these comments, don't fret... now you know!

"Because you shine from within," I said, touching my finger to her heart. "Not everybody sees it, but I do. I see it. And my job is to protect that light. So when people say mean comments that squelch that light, I want you to tell me. I will protect your light by listening and loving you, my brave, courageous, and unique little firefly."

Studies have shown that it helps, top education officials have recommended it, and now doctors are officially saying the same.