Little girls' book of rules goes viral
Store employee discovers the cute collection of 157 rules in parking lot.
Self-published authors have penetrated the marketplace, but none have attracted the press's attention in quite the way a set of Sacramento cousins have.
Wal-Mart employee Raymond Flores discovered the girls' instructional manual of 157 rules in the Citrus Heights store's parking lot while collecting shopping carts. The collection of suggestions, such as "eat the food you get served," don't bite the dentist" and "don't color on people", so charmed Flores that he set out on a search for the book's authors.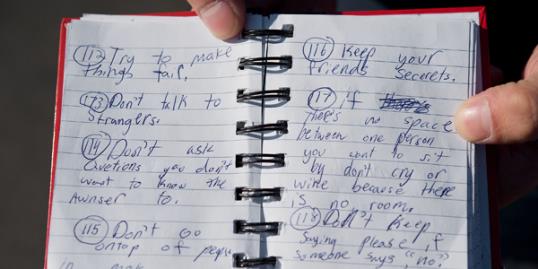 After contacting several television stations, Flores' discovery went viral. Media outlets the world over joined the search for the book's creators.
More from MSN Living: 51 perfect daytrips for families
Last Wednesday, Isabella Thorsden, 8, and Isabelle Busath, 10, were identified as the authors. Flores met them that evening.
The girls had been working on the book for two weeks. It was intended as a guidebook for their newly minted Follow the Rules club, which they invited Flores to join.
More from MSN Living: The most popular baby names of all time
He's already a fan of the Thorsden and Busath's work. ""I read the whole thing to myself and couldn't stop smiling because it's so adorable," Flores told the Sacramento Bee.
More from Family Room:
Most addictive video games for kids
Toddler death raises concern over car seat rules
Violent video games and child aggression
Photo: Randall Benton/Sacramento Bee/ZUMAPRESS.com
News, stories, tips and laughs for moms & dads
Make the most of the summer with these family-oriented activities!

Here our experts' best tips for how to be a positive role model for your kids so that they grow up healthy, strong and confident about the way they look.

Pets are part of many children's lives. Learn how to help them foster strong, healthy relationships.

It's that time again, parents...

One of our favorite ways to start the day is with a piping hot cup of coffee and a thought-provoking TED talk. In case you'€™re not familiar with the group, TED (which stands for Technology, Entertainment and Design) is a nonprofit organization dedicated to spreading ideas through projects and talks by a diverse group of inspired thinkers - people of all cultures, ages and disciplines. As you can probably guess, listening to these innovators share their ideas is a surefire way to jumpstart your day and get your creative juices flowing. Click through the slideshow above for the eight TED talks every parent needs to see. By Cordelia Tai

Much like their famous owners, these pooches live a fabulous life. Some are rescues, others purebred, but one thing is certain – these dogs play an important part in their famous parents' lives. Can you guess who owns each of these dogs?

If you value the backside of your theater seat and making it to your next paycheck, you may want to stay home

Two controversial science projects resembled weapons, school officials said.

One mom shares how she and her family make the Sedar fun and memorable for all

The threats were in public view on the boy's social media wall.

Sometimes, love isn't enough to save us.

Joe, Kevin, and Nick aren't the only hot bros in Hollywood. Seventeen has uncovered the cutest celebrity siblings!