Little girls' book of rules goes viral
Store employee discovers the cute collection of 157 rules in parking lot.
Self-published authors have penetrated the marketplace, but none have attracted the press's attention in quite the way a set of Sacramento cousins have.
Wal-Mart employee Raymond Flores discovered the girls' instructional manual of 157 rules in the Citrus Heights store's parking lot while collecting shopping carts. The collection of suggestions, such as "eat the food you get served," don't bite the dentist" and "don't color on people", so charmed Flores that he set out on a search for the book's authors.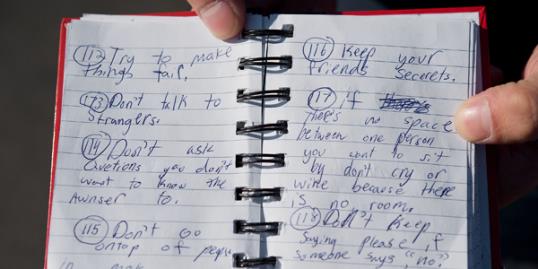 After contacting several television stations, Flores' discovery went viral. Media outlets the world over joined the search for the book's creators.
More from MSN Living: 51 perfect daytrips for families
Last Wednesday, Isabella Thorsden, 8, and Isabelle Busath, 10, were identified as the authors. Flores met them that evening.
The girls had been working on the book for two weeks. It was intended as a guidebook for their newly minted Follow the Rules club, which they invited Flores to join.
More from MSN Living: The most popular baby names of all time
He's already a fan of the Thorsden and Busath's work. ""I read the whole thing to myself and couldn't stop smiling because it's so adorable," Flores told the Sacramento Bee.
More from Family Room:
Most addictive video games for kids
Toddler death raises concern over car seat rules
Violent video games and child aggression
Photo: Randall Benton/Sacramento Bee/ZUMAPRESS.com
News, stories, tips and laughs for moms & dads
Make sure your go-to gadgets are as cute as your style, with these trendy tech finds!

Oh, how the times have changed...

Get ready to hit the mall! Check out the hottest back-to-school trends—and get ready to make a major style statement this year.

Unique, or downright strange?

This is Kevin Droniak and his grandma. They're besties, they're awesome and they're YouTube stars.

It can be difficult to entice little ones to eat anything at all, let alone to devour a healthy plate. But feeding your kids nutritious snacks after school just got way easier, thanks to these adorably clever and cute snack ideas! For more smart and fun ways to get your kids to enjoy healthful and delicious foods, try one of these amazingly artsy lunch ideas.

Through a tonsillectomy all the way to brain surgery, my mother deserves some recognition. She's my spine, my birthday shadow, my BFF, my thunder buddy, so Mommy, thank you.

My son needs me, as much as yours needs you. Sadly, my son needs me more. He needs someone to have his back, when it seems that the police, the men he'd wave to with excitement as a little boy, see him as a being worthy only of prison or death.

If you know someone who has adopted and have made some of these comments, don't fret... now you know!

"Because you shine from within," I said, touching my finger to her heart. "Not everybody sees it, but I do. I see it. And my job is to protect that light. So when people say mean comments that squelch that light, I want you to tell me. I will protect your light by listening and loving you, my brave, courageous, and unique little firefly."

Studies have shown that it helps, top education officials have recommended it, and now doctors are officially saying the same.

I may have accidentally dropped you a few times, forgotten to document your first fart, let a little pee fly and dressed you like an idiot, but I have also loved you with every piece of me, and you will never hear an apology for that.