Little girls' book of rules goes viral
Store employee discovers the cute collection of 157 rules in parking lot.
Self-published authors have penetrated the marketplace, but none have attracted the press's attention in quite the way a set of Sacramento cousins have.
Wal-Mart employee Raymond Flores discovered the girls' instructional manual of 157 rules in the Citrus Heights store's parking lot while collecting shopping carts. The collection of suggestions, such as "eat the food you get served," don't bite the dentist" and "don't color on people", so charmed Flores that he set out on a search for the book's authors.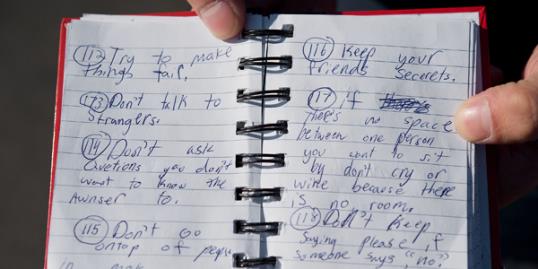 After contacting several television stations, Flores' discovery went viral. Media outlets the world over joined the search for the book's creators.
More from MSN Living: 51 perfect daytrips for families
Last Wednesday, Isabella Thorsden, 8, and Isabelle Busath, 10, were identified as the authors. Flores met them that evening.
The girls had been working on the book for two weeks. It was intended as a guidebook for their newly minted Follow the Rules club, which they invited Flores to join.
More from MSN Living: The most popular baby names of all time
He's already a fan of the Thorsden and Busath's work. ""I read the whole thing to myself and couldn't stop smiling because it's so adorable," Flores told the Sacramento Bee.
More from Family Room:
Most addictive video games for kids
Toddler death raises concern over car seat rules
Violent video games and child aggression
Photo: Randall Benton/Sacramento Bee/ZUMAPRESS.com
News, stories, tips and laughs for moms & dads
Find out which classroom supplies and dorm-room buys you don't need to spend a fortune on

4 steps for raising a child who doesn't feel emotionally stranded.

Any of these sound familiar?

Fire challenge involves pouring alcohol on one's chest and lighting it

A coincidence after the furlough?

Helpful tips for easing first day jitters.

Getting ready for fall has never been more fun.

Great reads for the back-to-school mindset.

Remember the concept of weekends being a time for rest, relaxation, and togetherness? No? Us either. Between soccer games, playdates, dragging your kids to see the new exhibition at the local children's museum, and we need to pick up a gift for that birthday party that starts in . . . 20 minutes, juggling a busy family's weekend schedule can be more stressful than a weekday. While we know it's simply not realistic to cancel all your plans and obligations moving forward, clearing the calendar for just one weekend can be just the refresher that your family's craving. Here's why.

You just had a baby? You're a superstar! All those diapers, all that spit up, and you're makin' magic happen. But you're also likely tired - really tired - and busy (so, so busy). Taking time for yourself might seem like an indulgence but a happy mom makes for a happy baby. Here are 7 things you should definitely do to keep your sanity intact and your spirit high. <more, below>

Summertime is on, and the kids are out of school. Every mom knows that for these three months it's more important than ever to keep the kids busy. But you don't have to schedule your life away with camps, or drop a bundle on activities and games that come in a box. You can make your own fun, and even include the kids in the prep, with some simple, inexpensive DIY crafts that will keep them playing 'til the lightening bugs come out. Make your own fingerpaint, bubbles, and crayons. Create a fort-building kit and superhero capes that will kick their imaginations into overdrive. Here are 10 of our favorite kid-friendly DIY crafts to fuel your summertime fun.