Little girls' book of rules goes viral
Store employee discovers the cute collection of 157 rules in parking lot.
Self-published authors have penetrated the marketplace, but none have attracted the press's attention in quite the way a set of Sacramento cousins have.
Wal-Mart employee Raymond Flores discovered the girls' instructional manual of 157 rules in the Citrus Heights store's parking lot while collecting shopping carts. The collection of suggestions, such as "eat the food you get served," don't bite the dentist" and "don't color on people", so charmed Flores that he set out on a search for the book's authors.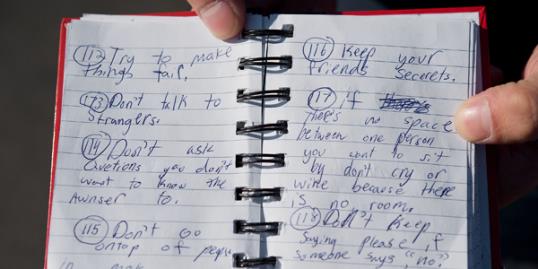 After contacting several television stations, Flores' discovery went viral. Media outlets the world over joined the search for the book's creators.
More from MSN Living: 51 perfect daytrips for families
Last Wednesday, Isabella Thorsden, 8, and Isabelle Busath, 10, were identified as the authors. Flores met them that evening.
The girls had been working on the book for two weeks. It was intended as a guidebook for their newly minted Follow the Rules club, which they invited Flores to join.
More from MSN Living: The most popular baby names of all time
He's already a fan of the Thorsden and Busath's work. ""I read the whole thing to myself and couldn't stop smiling because it's so adorable," Flores told the Sacramento Bee.
More from Family Room:
Most addictive video games for kids
Toddler death raises concern over car seat rules
Violent video games and child aggression
Photo: Randall Benton/Sacramento Bee/ZUMAPRESS.com
News, stories, tips and laughs for moms & dads
What are we teaching our children when we focus on their achievements rather than their kindness?

Discover the seemingly insignificant things that can affect your chances of getting pregnant.

A thrill-obsessed subculture claimed another life this week.

A few suggested answers for the diciest questions

Must-haves for every mommy on the road

Here's our list of fifteen moms in the food industry that deserve some recognition.

The site gets high marks for its user-friendly interface and excellent and responsive customer service. And the reviews are also pretty accurate. Compare amenities and prices next to a hotel's in the same area, and you're likely to see Airbnb come out on top.

We captured a frame-by-frame look just for you.

Other moms can be ruthless when it comes to picking apart your parenting choices. From dissing your decision to go back to work to criticizing when you started baby on solids, here are the most ridiculous comments moms have heard. Bonus, we've got just the right way to respond to the haters! You're welcome.

Nope, you don't have to spend the next nine months in black elastic-waist pants and oversize sweaters. And you don't have to shell out a fortune on your "temporary" wardrobe either. Check out these stylish and affordable maternity clothes.

Because society crumbles without us

Another kid figured out how to get into a claw machine.