Little girls' book of rules goes viral
Store employee discovers the cute collection of 157 rules in parking lot.
Self-published authors have penetrated the marketplace, but none have attracted the press's attention in quite the way a set of Sacramento cousins have.
Wal-Mart employee Raymond Flores discovered the girls' instructional manual of 157 rules in the Citrus Heights store's parking lot while collecting shopping carts. The collection of suggestions, such as "eat the food you get served," don't bite the dentist" and "don't color on people", so charmed Flores that he set out on a search for the book's authors.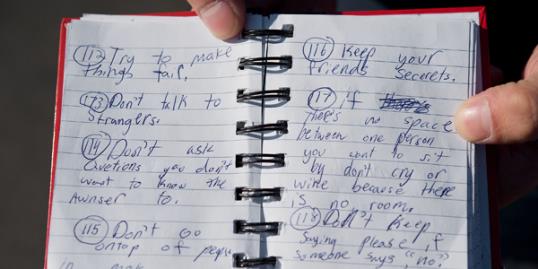 After contacting several television stations, Flores' discovery went viral. Media outlets the world over joined the search for the book's creators.
More from MSN Living: 51 perfect daytrips for families
Last Wednesday, Isabella Thorsden, 8, and Isabelle Busath, 10, were identified as the authors. Flores met them that evening.
The girls had been working on the book for two weeks. It was intended as a guidebook for their newly minted Follow the Rules club, which they invited Flores to join.
More from MSN Living: The most popular baby names of all time
He's already a fan of the Thorsden and Busath's work. ""I read the whole thing to myself and couldn't stop smiling because it's so adorable," Flores told the Sacramento Bee.
More from Family Room:
Most addictive video games for kids
Toddler death raises concern over car seat rules
Violent video games and child aggression
Photo: Randall Benton/Sacramento Bee/ZUMAPRESS.com
News, stories, tips and laughs for moms & dads
Transform the fall vegetable into cool decor pieces.

Put together these creative, but simple, Halloween looks for your youngsters.

We know you're documenting just about every move baby makes. (Do you even have any memory left on your phone? We didn't think so.) These tips from professional photographers can help you perfect your pics.

These six on-trend ideas will make baby's room your new favorite place to hang out.

Baby probably won't remember his first birthday party, but that doesn't mean you can't go all out (after all, parents need to celebrate making it through this first year, right?). These fun, colorful themes take planning to the next level.

See what celebrities who had problems conceiving have to say.

You'll be hearing a lot of advice and opinions. Some of it will be really helpful and some will be just plain wrong. Here are the most common things people say about babies that aren't true.

A new dad finds an Epcot Center's worth of innovation after expecting none at all.

The dog days of summer may be well behind us, but that doesn't mean it's time to pack in the outdoor adventures quite yet.

Protect yourself and your family with these ingenious gizmos and smartphone apps.

Make sure your go-to gadgets are as cute as your style, with these trendy tech finds!

Oh, how the times have changed...