Elvis song leaves Utah school district 'All Shook Up'
High school play is scrapped after complaints about a sexually suggestive song.
A Utah school district has pulled the curtain on "All Shook Up," a production that uses Elvis Presley's music, reports The Associated Press. The show, which is loosely based on William Shakespeare's "Twelfth Night," is claimed to include a sexually suggestive song that could be taken as offensive.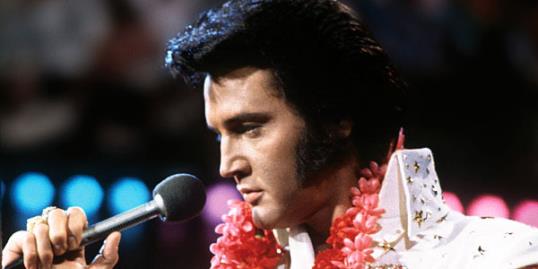 More from MSN Living: 51 perfect daytrips for families
District spokeswoman Sandy Riesgraf says a person approached the district and complained about the play. After reviewing the script, Riesgraf says it didn't meet new standards put in place in August after another high school play came under scrutiny.
Students at Herriman High School had already started rehearsing the play, which was scheduled to debut in February.
More from MSN Living: The most popular baby names of all time
This isn't the first time the plug has been pulled on a high school production due to so-called inappropriate content. Just last month, an Ohio woman was forced to resign from her post as drama teacher after a sold-out production of "Legally Blonde" was deemed too racy by school officials.
Do you think the play should have been canceled?
Bing: Sandy Hook students head back to school
Photo: Gary Null/NBCU Photo Bank/ Getty Images
More from MSN Living:
America's most popular neighborhoods
Is Wi-Fi on school buses a good idea?
Baby names for Kim and Kanye
News, stories, tips and laughs for moms & dads
4 steps for raising a child who doesn't feel emotionally stranded.

Any of these sound familiar?

Fire challenge involves pouring alcohol on one's chest and lighting it

A coincidence after the furlough?

Helpful tips for easing first day jitters.

Getting ready for fall has never been more fun.

Great reads for the back-to-school mindset.

Remember the concept of weekends being a time for rest, relaxation, and togetherness? No? Us either. Between soccer games, playdates, dragging your kids to see the new exhibition at the local children's museum, and we need to pick up a gift for that birthday party that starts in . . . 20 minutes, juggling a busy family's weekend schedule can be more stressful than a weekday. While we know it's simply not realistic to cancel all your plans and obligations moving forward, clearing the calendar for just one weekend can be just the refresher that your family's craving. Here's why.

You just had a baby? You're a superstar! All those diapers, all that spit up, and you're makin' magic happen. But you're also likely tired - really tired - and busy (so, so busy). Taking time for yourself might seem like an indulgence but a happy mom makes for a happy baby. Here are 7 things you should definitely do to keep your sanity intact and your spirit high. <more, below>

Summertime is on, and the kids are out of school. Every mom knows that for these three months it's more important than ever to keep the kids busy. But you don't have to schedule your life away with camps, or drop a bundle on activities and games that come in a box. You can make your own fun, and even include the kids in the prep, with some simple, inexpensive DIY crafts that will keep them playing 'til the lightening bugs come out. Make your own fingerpaint, bubbles, and crayons. Create a fort-building kit and superhero capes that will kick their imaginations into overdrive. Here are 10 of our favorite kid-friendly DIY crafts to fuel your summertime fun.

Let these DIY dog bed projects be your inspiration and within a single weekend, you can construct something that really makes Rex feel like a king.