School uses ID chips to track student locations
Students who refuse tracking reportedly can't vote for homecoming.
The Student Locator Project, which launched on Oct 1. at a San Antonio high school and middle school and could be extended to as many as 112 schools, tracks student whereabouts using embedded RFID (radio-frequency identification) chips on student ID badges.
PC World reports:
"Unlike passive chips that transmit data only when scanned by a reader, these chips have batteries and broadcast a constant signal so they can track students' exact locations on school property, down to where they're sitting—whether it's at a desk, in a counselor's office, or on the toilet."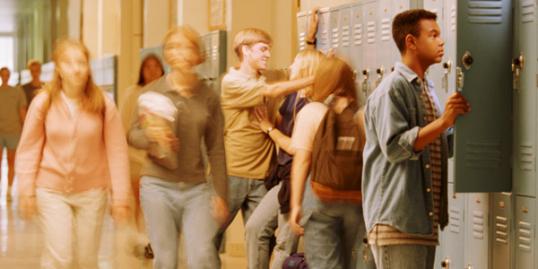 Some parents and students are reported to have protested the program and at least a few students are refusing to wear the badges, which are required to be worn around their necks.  
The students essentially need their badges with them at all times since they are necessary to perform ordinary student functions like access the library or cafeteria and participate in any extracurricular activities – such as voting for homecoming king and queen.
"I had a teacher tell me I would not be allowed to vote because I did not have the proper voter ID," one student told WND. "I had my old student ID card which they originally told us would be good for the entire four years we were in school. He said I needed the new ID with the chip in order to vote."
Bing: Read more news coverage about the controversy.
The district says the program is necessary to improve safety and track the number of students who attend the schools, which reportedly have high truancy rates.
MySanAntonio.com reports the pilot program will cost about $525,000 and another $136,000 a year to operate.
Tell us on Facebook: Do you think the school district has gone too far?
Photo: Barros & Barros/Getty Images
More Family & Parenting on MSN Living:
51 Perfect Day Trips for Families
The Most Popular Baby Names of All Time
Top Names for the Top 10 Dog Breeds
News, stories, tips and laughs for moms & dads
You just had a baby? You're a superstar! All those diapers, all that spit up, and you're makin' magic happen. But you're also likely tired - really tired - and busy (so, so busy). Taking time for yourself might seem like an indulgence but a happy mom makes for a happy baby. Here are 7 things you should definitely do to keep your sanity intact and your spirit high. <more, below>

Summertime is on, and the kids are out of school. Every mom knows that for these three months it's more important than ever to keep the kids busy. But you don't have to schedule your life away with camps, or drop a bundle on activities and games that come in a box. You can make your own fun, and even include the kids in the prep, with some simple, inexpensive DIY crafts that will keep them playing 'til the lightening bugs come out. Make your own fingerpaint, bubbles, and crayons. Create a fort-building kit and superhero capes that will kick their imaginations into overdrive. Here are 10 of our favorite kid-friendly DIY crafts to fuel your summertime fun.

Let these DIY dog bed projects be your inspiration and within a single weekend, you can construct something that really makes Rex feel like a king.

The task of finding an eco-friendly, safe-for-baby gift parents-to-be will actually use is kind of challenging. Add to that a price limit of $50, and the feat suddenly feels impossible! Fortunately, we combed the marketplace for some of the prettiest, most useful, sweetest gifts for baby and family. Many are fine on their own, while others would work well as part of a bigger basket — you know, if you wish to achieve that shower-goer hero status.

Jennifer Goodall gave birth Friday after much drama

My kids snapped a pic of me on my phone and it changed how I see myself

6-year-old has rare brain condition

He wanted to know if woman was pregnant

Did your state make the grade?

Remember the concept of weekends being a time for rest, relaxation, and togetherness? No? Us either. Between soccer games, playdates, dragging your kids to see the new exhibition at the local children's museum, and we need to pick up a gift for that birthday party that starts in . . . 20 minutes, juggling a busy family's weekend schedule can be more stressful than a weekday. While we know it's simply not realistic to cancel all your plans and obligations moving forward, clearing the calendar for just one weekend can be just the refresher that your family's craving. Here's why.

A new dad finds an Epcot Center's worth of innovation after expecting none at all.

Alcohol and tattoos are not meant for the pre-teen set