School uses ID chips to track student locations
Students who refuse tracking reportedly can't vote for homecoming.
The Student Locator Project, which launched on Oct 1. at a San Antonio high school and middle school and could be extended to as many as 112 schools, tracks student whereabouts using embedded RFID (radio-frequency identification) chips on student ID badges.
PC World reports:
"Unlike passive chips that transmit data only when scanned by a reader, these chips have batteries and broadcast a constant signal so they can track students' exact locations on school property, down to where they're sitting—whether it's at a desk, in a counselor's office, or on the toilet."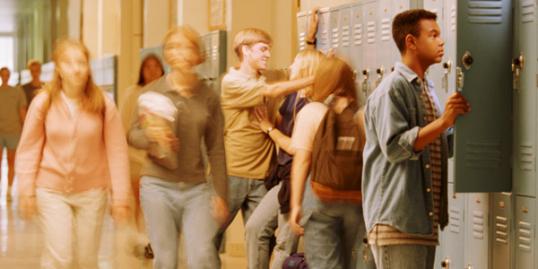 Some parents and students are reported to have protested the program and at least a few students are refusing to wear the badges, which are required to be worn around their necks.  
The students essentially need their badges with them at all times since they are necessary to perform ordinary student functions like access the library or cafeteria and participate in any extracurricular activities – such as voting for homecoming king and queen.
"I had a teacher tell me I would not be allowed to vote because I did not have the proper voter ID," one student told WND. "I had my old student ID card which they originally told us would be good for the entire four years we were in school. He said I needed the new ID with the chip in order to vote."
Bing: Read more news coverage about the controversy.
The district says the program is necessary to improve safety and track the number of students who attend the schools, which reportedly have high truancy rates.
MySanAntonio.com reports the pilot program will cost about $525,000 and another $136,000 a year to operate.
Tell us on Facebook: Do you think the school district has gone too far?
Photo: Barros & Barros/Getty Images
More Family & Parenting on MSN Living:
51 Perfect Day Trips for Families
The Most Popular Baby Names of All Time
Top Names for the Top 10 Dog Breeds
News, stories, tips and laughs for moms & dads
Make sure your go-to gadgets are as cute as your style, with these trendy tech finds!

Oh, how the times have changed...

Get ready to hit the mall! Check out the hottest back-to-school trends—and get ready to make a major style statement this year.

Unique, or downright strange?

This is Kevin Droniak and his grandma. They're besties, they're awesome and they're YouTube stars.

It can be difficult to entice little ones to eat anything at all, let alone to devour a healthy plate. But feeding your kids nutritious snacks after school just got way easier, thanks to these adorably clever and cute snack ideas! For more smart and fun ways to get your kids to enjoy healthful and delicious foods, try one of these amazingly artsy lunch ideas.

Through a tonsillectomy all the way to brain surgery, my mother deserves some recognition. She's my spine, my birthday shadow, my BFF, my thunder buddy, so Mommy, thank you.

My son needs me, as much as yours needs you. Sadly, my son needs me more. He needs someone to have his back, when it seems that the police, the men he'd wave to with excitement as a little boy, see him as a being worthy only of prison or death.

If you know someone who has adopted and have made some of these comments, don't fret... now you know!

"Because you shine from within," I said, touching my finger to her heart. "Not everybody sees it, but I do. I see it. And my job is to protect that light. So when people say mean comments that squelch that light, I want you to tell me. I will protect your light by listening and loving you, my brave, courageous, and unique little firefly."

Studies have shown that it helps, top education officials have recommended it, and now doctors are officially saying the same.

I may have accidentally dropped you a few times, forgotten to document your first fart, let a little pee fly and dressed you like an idiot, but I have also loved you with every piece of me, and you will never hear an apology for that.