School uses ID chips to track student locations
Students who refuse tracking reportedly can't vote for homecoming.
The Student Locator Project, which launched on Oct 1. at a San Antonio high school and middle school and could be extended to as many as 112 schools, tracks student whereabouts using embedded RFID (radio-frequency identification) chips on student ID badges.
PC World reports:
"Unlike passive chips that transmit data only when scanned by a reader, these chips have batteries and broadcast a constant signal so they can track students' exact locations on school property, down to where they're sitting—whether it's at a desk, in a counselor's office, or on the toilet."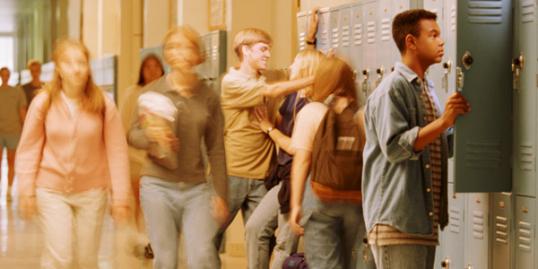 Some parents and students are reported to have protested the program and at least a few students are refusing to wear the badges, which are required to be worn around their necks.  
The students essentially need their badges with them at all times since they are necessary to perform ordinary student functions like access the library or cafeteria and participate in any extracurricular activities – such as voting for homecoming king and queen.
"I had a teacher tell me I would not be allowed to vote because I did not have the proper voter ID," one student told WND. "I had my old student ID card which they originally told us would be good for the entire four years we were in school. He said I needed the new ID with the chip in order to vote."
Bing: Read more news coverage about the controversy.
The district says the program is necessary to improve safety and track the number of students who attend the schools, which reportedly have high truancy rates.
MySanAntonio.com reports the pilot program will cost about $525,000 and another $136,000 a year to operate.
Tell us on Facebook: Do you think the school district has gone too far?
Photo: Barros & Barros/Getty Images
More Family & Parenting on MSN Living:
51 Perfect Day Trips for Families
The Most Popular Baby Names of All Time
Top Names for the Top 10 Dog Breeds
News, stories, tips and laughs for moms & dads
6-year-old has rare brain condition

He wanted to know if woman was pregnant

Did your state make the grade?

A new dad finds an Epcot Center's worth of innovation after expecting none at all.

Alcohol and tattoos are not meant for the pre-teen set

But Debra Harrell now has custody of daughter again

I am probably not the first to tell you this: Kids come with lots of stuff. Even if you try to be as minimal as possible, the little creatures require an awful lot to keep things running smoothly. Here's a master-plan slideshow of ways to cut corners on space in every room to accommodate all the things that come along with kids.

You never know for certain what type of parent you'll be until you've actually become one and your parenting style, as it becomes evident, may surprise you. Here are 4 parenting books to help you figure it all out.

Sunshine! Camping! Pool parties! BBQs! The sunny season is here and to help you make the most of it, we've hand-picked 7 great products to make this summer the best your family has ever had. Click through for our list to inspire your sunny day fun. From our sponsor: Walmart

We all love a picnic. But do one quick search for 'picnic ideas' on Pinterest and you're instantly teleported into a land of overachieving home chefs clearly looking for their big break on Food Network. Well, never mind that, we say. Scratch the 25-ingredient recipes and the incessant trips to the craft store for that perfect tablescape. Here are 5 truly simple picnic ideas that will look great, taste great, and make you feel like the winner you are! From our sponsor: Walmart

Admit it — you do these things, too! And that's OK. But maybe — just maybe — it's time to think about changing things up a little bit, for the sake of your sanity, your relationship with your kids, and because life's too short.

We asked veterinary experts and readers which breeds they think and if it is OK to shave longhaired pets in the summer.