School uses ID chips to track student locations
Students who refuse tracking reportedly can't vote for homecoming.
The Student Locator Project, which launched on Oct 1. at a San Antonio high school and middle school and could be extended to as many as 112 schools, tracks student whereabouts using embedded RFID (radio-frequency identification) chips on student ID badges.
PC World reports:
"Unlike passive chips that transmit data only when scanned by a reader, these chips have batteries and broadcast a constant signal so they can track students' exact locations on school property, down to where they're sitting—whether it's at a desk, in a counselor's office, or on the toilet."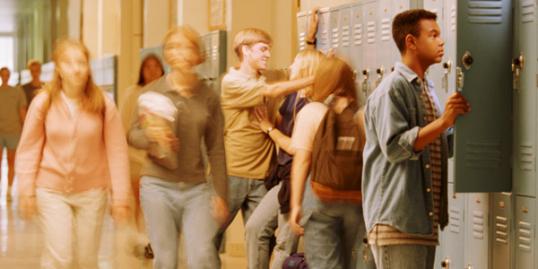 Some parents and students are reported to have protested the program and at least a few students are refusing to wear the badges, which are required to be worn around their necks.  
The students essentially need their badges with them at all times since they are necessary to perform ordinary student functions like access the library or cafeteria and participate in any extracurricular activities – such as voting for homecoming king and queen.
"I had a teacher tell me I would not be allowed to vote because I did not have the proper voter ID," one student told WND. "I had my old student ID card which they originally told us would be good for the entire four years we were in school. He said I needed the new ID with the chip in order to vote."
Bing: Read more news coverage about the controversy.
The district says the program is necessary to improve safety and track the number of students who attend the schools, which reportedly have high truancy rates.
MySanAntonio.com reports the pilot program will cost about $525,000 and another $136,000 a year to operate.
Tell us on Facebook: Do you think the school district has gone too far?
Photo: Barros & Barros/Getty Images
More Family & Parenting on MSN Living:
51 Perfect Day Trips for Families
The Most Popular Baby Names of All Time
Top Names for the Top 10 Dog Breeds
News, stories, tips and laughs for moms & dads
Megan Davies Mennes has been blogging and posting photos of her son Quinn online for some time now. Quinn has Down syndrome, and Mennes has dealt with a few nasty comments here and there, the type of stuff you'd expect to encounter on the Internet.

From a cozy-chic hotel by the seashore in Los Angeles that doubles as a home away from home to a nature-lover's tropical paradise in Costa Rica, each of these properties is a family-friendly in its own special way.

Two controversial science projects resembled weapons, school officials said.

Must-haves for every mommy on the road

What are we teaching our children when we focus on their achievements rather than their kindness?

Discover the seemingly insignificant things that can affect your chances of getting pregnant.

A thrill-obsessed subculture claimed another life this week.

A few suggested answers for the diciest questions

Here's our list of fifteen moms in the food industry that deserve some recognition.

The site gets high marks for its user-friendly interface and excellent and responsive customer service. And the reviews are also pretty accurate. Compare amenities and prices next to a hotel's in the same area, and you're likely to see Airbnb come out on top.

We captured a frame-by-frame look just for you.

Other moms can be ruthless when it comes to picking apart your parenting choices. From dissing your decision to go back to work to criticizing when you started baby on solids, here are the most ridiculous comments moms have heard. Bonus, we've got just the right way to respond to the haters! You're welcome.