New anti-teen-pregnancy ads feature kids shaming their parents
A controversial anti-teen-pregnancy ad campaign is under fire from critics who say that the ads stigmatize teen moms.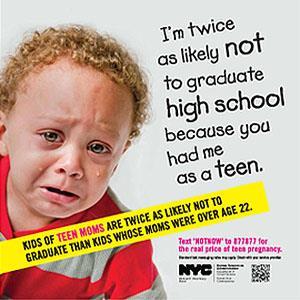 By Leonora Desar
At a New York City bus stop, an ad of a child with tear-streaked cheeks catches the eye. "I'm twice as likely not to graduate high school because you had me as a teen," says the ad. At another bus stop hangs a similar ad, this one featuring a wide-eyed little girl, with the caption: "Honestly mom….chances are he won't stay with you. What happens to me?"

These ads are part of a controversial new anti-teen pregnancy campaign by the New York City Human Resources Administration. The campaign is under fire by critics who argue that the ads shame and stigmatize teen moms.
Plus: Does the Forever 21 Maternity Line Encourage Teen Pregnancy?
"The latest NYC ad campaign creates stigma, hostility, and negative public opinions about teen pregnancy and parenthood rather than offering alternative aspirations for young people," said Haydee Morales, the Vice President of Education and Training at  Planned Parenthood of New York City, in a news release. "The City's money would be better spent helping teens access health care, birth control, and high-quality sexual and reproductive health education, not on an ad campaign intended to create shock value."
The city says the campaign demonstrates "the negative consequences of having a child before you are ready," reports TODAY. According to the city, there are more than 20,000 teen pregnancies a year, most of which are unplanned, in spite of the 27 percent drop in the teen pregnancy rate over the last decade.
"We want to make it clear to teenagers that there are significant responsibilities and burdens and consequences that come with parenthood and teenagers need to hear strong messages," Robert Doar, commissioner of the city's Human Resource Administration, told TODAY.
Plus: 16 Early Signs of Pregnancy
Jessica Pika, a spokesperson for The National Campaign to Prevent Teen Pregnancy, said that it's difficult to gauge whether the ads will be effective.  "It's such a complicated question that I hesitate to just say 'Oh, they're terrible,' or 'Oh, they're amazing,' Pika told Parenting.com. "The point obviously that Bloomberg and the Department of Health was trying to make was that teen pregnancy has a lot of social issues attached to it. And I think they were trying to call a lot of attention to it, and maybe they've chosen a pretty inflammatory way of doing it."
Do you think the new ads are a good approach to the problem of teen pregnancy, or are they out of line?
More from Parenting.com:
New Lords of the Playground Video
Watch How to Make an Easter Basket

I'm so sick and tired of the stigma and the lets kick them while they're down towards teen moms. Ignorant people call them whores or worse. People lets educate ourselves on teen pregnancy. has anyone ever asked these young girls what their life has been like? Or what kind of functioning dysfunction they had growing up? or how about if they have ever encountered any abuse? Sexual, physical, mental, emotional? Lets put the responsibility where it lies, on their parents and yes, society! Society being held accountable in advertising young women half naked!! With stigmas and blame like these it doesn't look like it! And good grief! Labelling their kids and deeming them as failures before they even get a chance! APPALLING!! 
I had three kids when I was a teen. I am also a childhood sexual abuse survivor. My son is in third year University and passing at the top of his class, my eldest daughter is graduating High School this year and has been accepted to two colleges, my youngest is still in High school and doing excellent. So to stereo type and kick these teens down and shame them, you are NOT helping at all! Educate yourselves and strip back the outcomes. It starts long before the baby gets here. 
Despicable! 

IIRC, there was an ad campaign--there certainly was an outdoor billboard--in New York City just as controversial some half-decade back (or thereabouts [thenabouts?]). I forget the exact details, but I think that that ad campaign said that the majority of abortions in the city if not the entire country were (at least at that time) performed on African-American women.
I am 19 but my mom and dad had my brother really young in their teens, but my dad had his family to help us. Everybody doesn't have families like my dad that will help them.  My dad tells us all the time he wish him and my mom were older when they had us, but he is happy we are here and him and my mom are still together after 26 which is rare now.
They need posters like that because it's reality. They life will not be like an MTV reality show.  
Are you sure you want to delete this comment?
News, stories, tips and laughs for moms & dads
Make sure your go-to gadgets are as cute as your style, with these trendy tech finds!

Oh, how the times have changed...

Get ready to hit the mall! Check out the hottest back-to-school trends—and get ready to make a major style statement this year.

Unique, or downright strange?

This is Kevin Droniak and his grandma. They're besties, they're awesome and they're YouTube stars.

It can be difficult to entice little ones to eat anything at all, let alone to devour a healthy plate. But feeding your kids nutritious snacks after school just got way easier, thanks to these adorably clever and cute snack ideas! For more smart and fun ways to get your kids to enjoy healthful and delicious foods, try one of these amazingly artsy lunch ideas.

Through a tonsillectomy all the way to brain surgery, my mother deserves some recognition. She's my spine, my birthday shadow, my BFF, my thunder buddy, so Mommy, thank you.

My son needs me, as much as yours needs you. Sadly, my son needs me more. He needs someone to have his back, when it seems that the police, the men he'd wave to with excitement as a little boy, see him as a being worthy only of prison or death.

If you know someone who has adopted and have made some of these comments, don't fret... now you know!

"Because you shine from within," I said, touching my finger to her heart. "Not everybody sees it, but I do. I see it. And my job is to protect that light. So when people say mean comments that squelch that light, I want you to tell me. I will protect your light by listening and loving you, my brave, courageous, and unique little firefly."

Studies have shown that it helps, top education officials have recommended it, and now doctors are officially saying the same.

I may have accidentally dropped you a few times, forgotten to document your first fart, let a little pee fly and dressed you like an idiot, but I have also loved you with every piece of me, and you will never hear an apology for that.