Boy's feminine footwear incites commenting storm
A preschooler's pink slippers cause a flurry of online comments.
Pink is for girls. Blue is for boys. So our chromatic tradition holds. As society has become more broadminded about gender, you might expect that our prescriptive color palette would expand, too. 
A five-year-old boy's selection of pink zebra-striped flats for school shoes sparked some online debate among adults this week.
Since the preschooler's sister posted a photo of her brother Sam on the Facebook community site "Have a Gay Day" last Thursday, over 14,000 comments have ensued. Most remarks are supportive. ("That just looks like a happy kid to me. Bravo mom!!")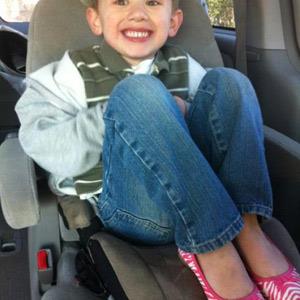 However, as the sister explains in her post, several of the boy's own relatives were not as accepting. The boy's mother posted the same photo of Sam on her Facebook page where an aunt remarked that such behavior would "turn him gay."
Blogger Mary Fischer on The Stir insisted that Sam's mother was courting controversy, stating, "I'm sure you can guess the negative kind of things that were said about his pink shoes," then listing the aunt's same concern among her examples.
Most criticism suggests that parents should protect their children from potential bullying stemming from non-stereotypical gender behaviors. But according to the sister's post the boy received only compliments from his peers, no teasing. "What does it say about society when a group of adults could stand to take a lesson in humanity from a class of preschoolers?" the sister wrote.
The boy chose the shoes because the zebra is his favorite animal. When his mother told him that the shoes were for girls, Sam responded, "ninjas can wear pink shoes, too."
Photo: Image credit: Via Facebook
More from Family Room:
Woman gives birth at zoo
Dentist brings dog to work to calm kids
Santa photo goes viral

I used to let my son wear princess dresses.  Today he is a 34 yr. old, big strapping athletic man with two boys of his own.  This is the case if there is an older sister in the family.  Once this boy's gender id kicks in, he won't wear pink zebra shoes.  And, it WILL kick in and he will ask mom 'WHY DID YOU LET ME WEAR THOSE TO SCHOOL??!!??".  Trust me, I know.  ;)
Are you sure you want to delete this comment?
News, stories, tips and laughs for moms & dads
A thrill-obsessed subculture claimed another life this week.

A few suggested answers for the diciest questions

Must-haves for every mommy on the road

Here's our list of fifteen moms in the food industry that deserve some recognition.

The site gets high marks for its user-friendly interface and excellent and responsive customer service. And the reviews are also pretty accurate. Compare amenities and prices next to a hotel's in the same area, and you're likely to see Airbnb come out on top.

We captured a frame-by-frame look just for you.

Other moms can be ruthless when it comes to picking apart your parenting choices. From dissing your decision to go back to work to criticizing when you started baby on solids, here are the most ridiculous comments moms have heard. Bonus, we've got just the right way to respond to the haters! You're welcome.

Nope, you don't have to spend the next nine months in black elastic-waist pants and oversize sweaters. And you don't have to shell out a fortune on your "temporary" wardrobe either. Check out these stylish and affordable maternity clothes.

Because society crumbles without us

Another kid figured out how to get into a claw machine.

As a new mom, you've recently discovered there are many things you can live without—sleep and modesty being chief among them. But what can't you live without? Seasoned moms share their Top 10 list for how to survive the early months of motherhood.

Here are our experts' best tips for how to be a positive role model for your kids so that they grow up healthy, strong and confident about the way they look.