Boy's feminine footwear incites commenting storm
A preschooler's pink slippers cause a flurry of online comments.
Pink is for girls. Blue is for boys. So our chromatic tradition holds. As society has become more broadminded about gender, you might expect that our prescriptive color palette would expand, too. 
A five-year-old boy's selection of pink zebra-striped flats for school shoes sparked some online debate among adults this week.
Since the preschooler's sister posted a photo of her brother Sam on the Facebook community site "Have a Gay Day" last Thursday, over 14,000 comments have ensued. Most remarks are supportive. ("That just looks like a happy kid to me. Bravo mom!!")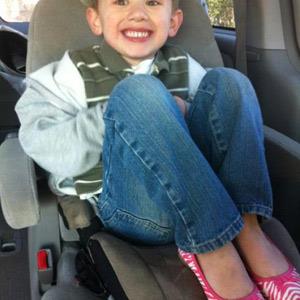 However, as the sister explains in her post, several of the boy's own relatives were not as accepting. The boy's mother posted the same photo of Sam on her Facebook page where an aunt remarked that such behavior would "turn him gay."
Blogger Mary Fischer on The Stir insisted that Sam's mother was courting controversy, stating, "I'm sure you can guess the negative kind of things that were said about his pink shoes," then listing the aunt's same concern among her examples.
Most criticism suggests that parents should protect their children from potential bullying stemming from non-stereotypical gender behaviors. But according to the sister's post the boy received only compliments from his peers, no teasing. "What does it say about society when a group of adults could stand to take a lesson in humanity from a class of preschoolers?" the sister wrote.
The boy chose the shoes because the zebra is his favorite animal. When his mother told him that the shoes were for girls, Sam responded, "ninjas can wear pink shoes, too."
Photo: Image credit: Via Facebook
More from Family Room:
Woman gives birth at zoo
Dentist brings dog to work to calm kids
Santa photo goes viral

I used to let my son wear princess dresses.  Today he is a 34 yr. old, big strapping athletic man with two boys of his own.  This is the case if there is an older sister in the family.  Once this boy's gender id kicks in, he won't wear pink zebra shoes.  And, it WILL kick in and he will ask mom 'WHY DID YOU LET ME WEAR THOSE TO SCHOOL??!!??".  Trust me, I know.  ;)
Are you sure you want to delete this comment?
family: tips, trends & advice for all things family
From designer crosses to giant breeds, we scoured Vetstreet's data of millions of dog breeds to determine the trendiest breeds of the past decade.

One of the most unsettling consequences of bringing a child into your previously simple, happily oblivious manly life is that you're now unquestionably, inescapably…The Man.

Whether it was baby's first kick or the first time your boobs leaked in public, there's a point in every mom's life when the world as you know it ends and you realize -- Whoa, I'm someone's mom now. Some of our favorite mommy bloggers revealed what their aha moments were. They range from heartwarming to completely hilarious.

From DIY jewelry to homemade "flowers" to sweet vases, you can help your kid make mom's day with these crafty gifts.

The first parenting shock: They let you take the baby home. Like, without supervision. Only then do the real surprises unfold. Here's what readers told us was most unexpected for them as they embraced this whole mama thing.

Be prepared to say, 'awww,' multiple times while flipping through this collection super-sweet stuff for babies and kids on Etsy.com. Take a peek at some of our favorite finds for moms (and click 'More' to find out how to get this amazing gnome hat!)...By MSN Living editors

Your Mother's Day plans are all set, right? Brunch is booked and a fabulous gift is wrapped and ready to go. So take a breather and celebrate these stylish celebrity moms who work hard, care for their kids, and manage to look amazing in the process.

Find out this year's top baby names on Parenting.com, and see what we predict will be big in 2013

Sophia and Jacob reign supreme.

In an online contest, Parenting.com asked readers to tell us what it means to "have it all." Read the winner's moving essay on how that phrase has defined her motherhood, plus essays from the three runners up.

Tow lot employee finds abandoned pup.

Animals, says Dr. Patty Khuly, are the best listeners in the world and don't care that you've just been dumped or laid off.