Royal baby Prince George could have 6 godparents
Who will Prince William and Duchess Kate choose?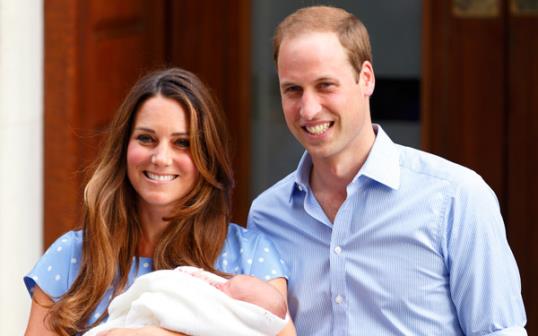 If you thought the
royal baby's name
was long, wait until you hear how many godparents the future king of England is fit to have.
While little Prince George enjoys his downtime with Mom and Dad at his grandparents' home in Bucklebury, England, the rest of the world is gearing up for the next royal baby preview: his christening.
Apparently, palace prep work is already under way for George's christening, slated to take place in early fall. And forget about the stress that Duchess Catherine of Cambridge and Prince William are under trying to choose just two godparents for the future king -- because according to U.K. tradition, the Duke and Duchess of Cambridge will have to pick six godparents for their baby boy. Traditionally, the royal family picks three women and three men, and heavens, are the bets heating up.
Ladbrokes, the British betting firm that made a wad of cash taking bets on the royal baby's due date and name, is at it again -- this time collecting cash on whom Kate and Will will name as the royal babe's godparents. To the surprise of no one, Prince Harry and Pippa Middleton are the ranking favorites.
Though there are no official rules to follow, Kate and Will's choice has the future of England riding on it. In America, we pick godparents for the baby through family or close friends, and they're typically seen as the people who look after and care for our children just like they were their own. But in the United Kingdom, when your godchild is third in line to be the king of England, the responsibilities change just a smidgen.
Prince William's godparents are Lady Susan Hussey, the Queen's lady-in-waiting; the former king of Greece, Constantine; Princess Alexandra, his cousin; Lord Romsey, also his cousin; Natalia Grosvenor, the Duchess of Westminster; and the explorer Sir Laurens van der Post, a close friend of Will's dad, Prince Charles.
Here's who might take the cake as one of the royal six:
Prince Harry
Because Will and Harry are brothers, Harry seems like the top choice for godfather to baby George. Can you just imagine how much fun (aka trouble) these two would have together? We can -- and we can't wait.
James Middleton
We think that Kate might want to honor her little brother as godparent to the royal babe. Asking him to be a part of the baby's upbringing is a great way to merge the two families in a modern way. Who knows, Will and Kate could buck tradition entirely and if so, James would be first on our list to choose.
David Beckham
Never say never. The Becks and his wife, Victoria, were invited to the royal nuptials, and the foursome has been friends for years. Even though a red-hot celebrity has never been picked to be a royal godparent, there's a first time for everything. Not to mention, David is a father four times over, so he's most likely got a wealth of knowledge to pass on to the royal baby.
Pippa Middleton
You can't list potential godparent candidates without putting Pippa somewhere on the list. She was maid of honor in her sister's wedding and was perhaps even more attention-grabbing than Kate was on her big day (OK, fine, she wasn't, but you get what I mean). Makes sense that Pippa would be a first choice for the godmother.
Zara Tindall
With a baby of her own on the way, playing godmum to baby George might be the perfect way to introduce Zara to parenthood. Both royal babies will grow up together -- and Will and Zara apparently are very close, so if she's on the list, we wouldn't be surprised.
Tiggy Legge-Bourke
This could be a little controversial, but we think it's a possibility. After William's parents divorced, Tiggy took over as nanny for William and Harry and spent a lot of time with the boys, raising them when they weren't with their mum and looking after them. Second to his parents' influence, Tiggy could also be credited for making William into the man he is today. Seems like William might want to pay her the highest respect and ask her to be grandmother to his own baby boy. Talk about a full-circle story.
Whom do you think William and Kate will choose as the royal baby's godparents?
More from The Bump:
By Kylie McConville 
Photo: Getty Images / The Bump
News, stories, tips and laughs for moms & dads
When you're expecting a baby, preparations can be overwhelming. Decorating is stressful as it is, and when it comes to nurseries, there are the added concerns of reducing sharp edges, use of engaging colors and -- if you're a believer in the powers of feng shui—optimal furniture placement. Luckily, your favorite fashionable A-listers are here with tons of dazzling baby room ideas. Click through this slideshow for more nursery ideas from celebrities, stylists and just plain fashionable moms.

Our Research Institute scouted out the New York City Toy Fair and spotted a few standouts we predict will be topping wish lists shortly.

When we scoped out the New York City Toy Fair, we spotted everything from human-like robots to kid-friendly DIY projects.

Stroll down any aisle of a Toys"R"Us these days and you'll be confronted with a billion options that are light-years beyond anything you had to entertain yourself with as a kid. Lego cruise ships (complete with flatscreen TVs in the lounge and sideboard jet-skis), battery-operated Mercedes-Benz sedans, and hi-tech tablets with Android operating systems abound. We wondered, as we let ourselves get nostalgic for a moment, if any of the beloved toys we played with as children were still even on the market. Thanks to a quick hunt on the Internet we were able to find that Fisher Price still makes their classic Two Tune TV, and you can still get your hands on a good ol' Slinky. Here's a roundup of the best old-school toys for kids-- we encourage you to click through the slideshow and consider wrapping up a well-loved classic for your little one this year.

Not great with a budget? Don't sweat it. Try these simple ways to save.

Watch the video of Kristen Bell going head to head with paparazzi - it will make you angry

Every year, toy makers from around the world gather to show their latest creations at the Toy Fair in New York City. The high-tech models, gadgets and trinkets on display put those basic Legos we played with at kids to shame. Here are 10 new toys that we'd happily buy or children. Or, really, ourselves.

Find yourself wandering the aisles, suddenly needing an owl-shaped candle while drinking a $5 latte? You're not alone, moms...

Here's some parenting advice for whatever stage of separation or divorce you're in.

Whether you pop it in the mail or post it on social media, a creative photo is a surefire way to grab everyone's attention and proudly say, "I'm pregnant!" Prepare for a lot of likes.

Remember the magical children's rooms in Peter Pan and The Little Prince? These timeless novels described spaces that were enchanting and made us wish that we could inhabit the rooms ourselves. The sumptuous interiors that were filled with never-ending toys and fort-like draping may seem like a fairytale, but thanks to four of our favorite kids' furniture websites, the dream could actually become a reality. Click through the slideshow to check out the best kids furniture websites that have everything necessary to create a fantasy room for your little one. And check out Sophia Demenge's super-fun space in the video below. By Barry Samaha

They lay, they play, and they take selfies with supermodels. Meet 5 of the most social media-savvy pets—animals taking control of their own fashionable online image.