Royal baby Prince George could have 6 godparents
Who will Prince William and Duchess Kate choose?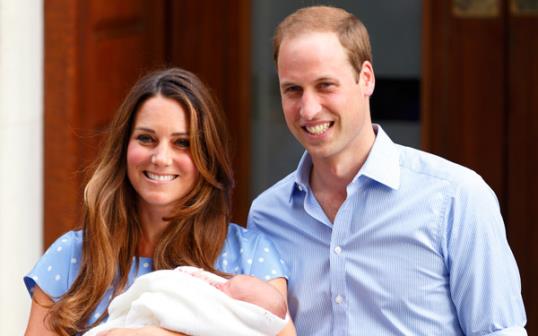 If you thought the
royal baby's name
was long, wait until you hear how many godparents the future king of England is fit to have.
While little Prince George enjoys his downtime with Mom and Dad at his grandparents' home in Bucklebury, England, the rest of the world is gearing up for the next royal baby preview: his christening.
Apparently, palace prep work is already under way for George's christening, slated to take place in early fall. And forget about the stress that Duchess Catherine of Cambridge and Prince William are under trying to choose just two godparents for the future king -- because according to U.K. tradition, the Duke and Duchess of Cambridge will have to pick six godparents for their baby boy. Traditionally, the royal family picks three women and three men, and heavens, are the bets heating up.
Ladbrokes, the British betting firm that made a wad of cash taking bets on the royal baby's due date and name, is at it again -- this time collecting cash on whom Kate and Will will name as the royal babe's godparents. To the surprise of no one, Prince Harry and Pippa Middleton are the ranking favorites.
Though there are no official rules to follow, Kate and Will's choice has the future of England riding on it. In America, we pick godparents for the baby through family or close friends, and they're typically seen as the people who look after and care for our children just like they were their own. But in the United Kingdom, when your godchild is third in line to be the king of England, the responsibilities change just a smidgen.
Prince William's godparents are Lady Susan Hussey, the Queen's lady-in-waiting; the former king of Greece, Constantine; Princess Alexandra, his cousin; Lord Romsey, also his cousin; Natalia Grosvenor, the Duchess of Westminster; and the explorer Sir Laurens van der Post, a close friend of Will's dad, Prince Charles.
Here's who might take the cake as one of the royal six:
Prince Harry
Because Will and Harry are brothers, Harry seems like the top choice for godfather to baby George. Can you just imagine how much fun (aka trouble) these two would have together? We can -- and we can't wait.
James Middleton
We think that Kate might want to honor her little brother as godparent to the royal babe. Asking him to be a part of the baby's upbringing is a great way to merge the two families in a modern way. Who knows, Will and Kate could buck tradition entirely and if so, James would be first on our list to choose.
David Beckham
Never say never. The Becks and his wife, Victoria, were invited to the royal nuptials, and the foursome has been friends for years. Even though a red-hot celebrity has never been picked to be a royal godparent, there's a first time for everything. Not to mention, David is a father four times over, so he's most likely got a wealth of knowledge to pass on to the royal baby.
Pippa Middleton
You can't list potential godparent candidates without putting Pippa somewhere on the list. She was maid of honor in her sister's wedding and was perhaps even more attention-grabbing than Kate was on her big day (OK, fine, she wasn't, but you get what I mean). Makes sense that Pippa would be a first choice for the godmother.
Zara Tindall
With a baby of her own on the way, playing godmum to baby George might be the perfect way to introduce Zara to parenthood. Both royal babies will grow up together -- and Will and Zara apparently are very close, so if she's on the list, we wouldn't be surprised.
Tiggy Legge-Bourke
This could be a little controversial, but we think it's a possibility. After William's parents divorced, Tiggy took over as nanny for William and Harry and spent a lot of time with the boys, raising them when they weren't with their mum and looking after them. Second to his parents' influence, Tiggy could also be credited for making William into the man he is today. Seems like William might want to pay her the highest respect and ask her to be grandmother to his own baby boy. Talk about a full-circle story.
Whom do you think William and Kate will choose as the royal baby's godparents?
More from The Bump:
By Kylie McConville 
Photo: Getty Images / The Bump
News, stories, tips and laughs for moms & dads
Make sure your go-to gadgets are as cute as your style, with these trendy tech finds!

Oh, how the times have changed...

Get ready to hit the mall! Check out the hottest back-to-school trends—and get ready to make a major style statement this year.

Unique, or downright strange?

This is Kevin Droniak and his grandma. They're besties, they're awesome and they're YouTube stars.

It can be difficult to entice little ones to eat anything at all, let alone to devour a healthy plate. But feeding your kids nutritious snacks after school just got way easier, thanks to these adorably clever and cute snack ideas! For more smart and fun ways to get your kids to enjoy healthful and delicious foods, try one of these amazingly artsy lunch ideas.

Through a tonsillectomy all the way to brain surgery, my mother deserves some recognition. She's my spine, my birthday shadow, my BFF, my thunder buddy, so Mommy, thank you.

My son needs me, as much as yours needs you. Sadly, my son needs me more. He needs someone to have his back, when it seems that the police, the men he'd wave to with excitement as a little boy, see him as a being worthy only of prison or death.

If you know someone who has adopted and have made some of these comments, don't fret... now you know!

"Because you shine from within," I said, touching my finger to her heart. "Not everybody sees it, but I do. I see it. And my job is to protect that light. So when people say mean comments that squelch that light, I want you to tell me. I will protect your light by listening and loving you, my brave, courageous, and unique little firefly."

Studies have shown that it helps, top education officials have recommended it, and now doctors are officially saying the same.

I may have accidentally dropped you a few times, forgotten to document your first fart, let a little pee fly and dressed you like an idiot, but I have also loved you with every piece of me, and you will never hear an apology for that.