Royal baby Prince George could have 6 godparents
Who will Prince William and Duchess Kate choose?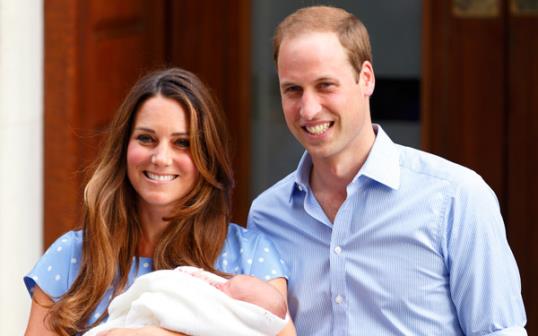 If you thought the
royal baby's name
was long, wait until you hear how many godparents the future king of England is fit to have.
While little Prince George enjoys his downtime with Mom and Dad at his grandparents' home in Bucklebury, England, the rest of the world is gearing up for the next royal baby preview: his christening.
Apparently, palace prep work is already under way for George's christening, slated to take place in early fall. And forget about the stress that Duchess Catherine of Cambridge and Prince William are under trying to choose just two godparents for the future king -- because according to U.K. tradition, the Duke and Duchess of Cambridge will have to pick six godparents for their baby boy. Traditionally, the royal family picks three women and three men, and heavens, are the bets heating up.
Ladbrokes, the British betting firm that made a wad of cash taking bets on the royal baby's due date and name, is at it again -- this time collecting cash on whom Kate and Will will name as the royal babe's godparents. To the surprise of no one, Prince Harry and Pippa Middleton are the ranking favorites.
Though there are no official rules to follow, Kate and Will's choice has the future of England riding on it. In America, we pick godparents for the baby through family or close friends, and they're typically seen as the people who look after and care for our children just like they were their own. But in the United Kingdom, when your godchild is third in line to be the king of England, the responsibilities change just a smidgen.
Prince William's godparents are Lady Susan Hussey, the Queen's lady-in-waiting; the former king of Greece, Constantine; Princess Alexandra, his cousin; Lord Romsey, also his cousin; Natalia Grosvenor, the Duchess of Westminster; and the explorer Sir Laurens van der Post, a close friend of Will's dad, Prince Charles.
Here's who might take the cake as one of the royal six:
Prince Harry
Because Will and Harry are brothers, Harry seems like the top choice for godfather to baby George. Can you just imagine how much fun (aka trouble) these two would have together? We can -- and we can't wait.
James Middleton
We think that Kate might want to honor her little brother as godparent to the royal babe. Asking him to be a part of the baby's upbringing is a great way to merge the two families in a modern way. Who knows, Will and Kate could buck tradition entirely and if so, James would be first on our list to choose.
David Beckham
Never say never. The Becks and his wife, Victoria, were invited to the royal nuptials, and the foursome has been friends for years. Even though a red-hot celebrity has never been picked to be a royal godparent, there's a first time for everything. Not to mention, David is a father four times over, so he's most likely got a wealth of knowledge to pass on to the royal baby.
Pippa Middleton
You can't list potential godparent candidates without putting Pippa somewhere on the list. She was maid of honor in her sister's wedding and was perhaps even more attention-grabbing than Kate was on her big day (OK, fine, she wasn't, but you get what I mean). Makes sense that Pippa would be a first choice for the godmother.
Zara Tindall
With a baby of her own on the way, playing godmum to baby George might be the perfect way to introduce Zara to parenthood. Both royal babies will grow up together -- and Will and Zara apparently are very close, so if she's on the list, we wouldn't be surprised.
Tiggy Legge-Bourke
This could be a little controversial, but we think it's a possibility. After William's parents divorced, Tiggy took over as nanny for William and Harry and spent a lot of time with the boys, raising them when they weren't with their mum and looking after them. Second to his parents' influence, Tiggy could also be credited for making William into the man he is today. Seems like William might want to pay her the highest respect and ask her to be grandmother to his own baby boy. Talk about a full-circle story.
Whom do you think William and Kate will choose as the royal baby's godparents?
More from The Bump:
By Kylie McConville 
Photo: Getty Images / The Bump
News, stories, tips and laughs for moms & dads
Famed event-planner David Stark shared tips for making chic holiday decorations using items you already have around the house. Take a look!

Sociologist Karen Z. Kramer found that over the past decade more than 550,000 men were stay-at-home fathers, which is about 3.5 percent of the married with kids population.

Ben Miller celebrates his wife's birthday and the anniversary of the day their premature son Ward Miles came home for good with a video documenting his first year.

Adopting an animal is a major commitment. Yet all too often people put more effort into researching what kind of car to get than the type of pet that would best fit their lifestyle.

'Tis the season to send out holiday greeting cards to all your friends and family. But, as our friends at Awkward Family Pet Photos know, not all holiday snapshots are the same. Some are just plain kooky — especially when pets are included. So with good tidings and great cheer, here are 10 wacky holiday animal portraits that are sure to make you laugh out loud and get you in the holiday spirit. And possibly make you think twice about dressing up the family cat this year.

King of the jungle? Nah, it's just a labradoodle!

Side-by-side images of adorable babies and their celebrity doppelgängers

Do you have a finicky furry friend on your holiday gift list this year? You're in luck! We've rounded up the coolest cat-approved products to bring you purrfect gift ideas for every kind of cat -- from the curious kitten to the most refined feline. Any one of these special gifts could make your resident kitty purr with pleasure and maybe, just maybe, like the present this year even more than the box and wrapping paper it came in!

Plus, puppy names to watch

This holiday season's hottest toy has yet to be revealed, but more often than not, the best gifts are the ones kids don't even know to ask for. So this year, surprise your kids with unique presents under the tree, and watch as their eyes light up when they unwrap them. From space-age sand to a DIY race track, these out-of-the-box gift ideas will provide some serious shopping inspiration. Click through the slideshow above for all our favorite picks.

Yep, you're older than you think

Avoid these gaffes for a better relationship with your stepchildren—and your spouse.