Can you have it all without having kids?
Living a childfree life.
The birthrate in the U.S. is the lowest in recorded history.
One in five American women end their childbearing years maternity-free, compared with one in 10 in the 1970s, shows a 2010 Pew Research report.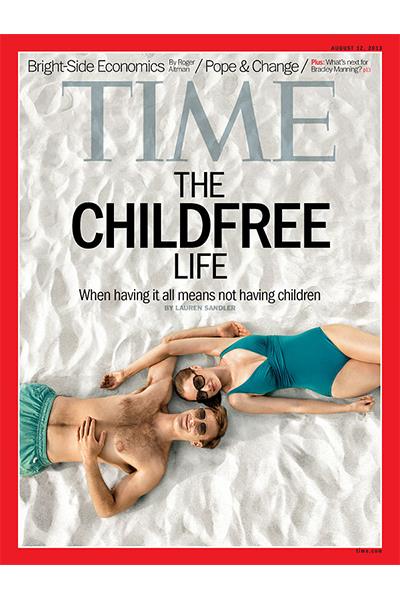 As a 40-year old woman who is childfree by choice, I've heard unsolicited opinions on the topic of baby making for more than a decade.
I'm perfectly happy with my decision not to procreate and I'm not alone. From 2007 to 2011, the fertility rate declined nine percent, reports TIME in its August 12 cover story, "The Childfree Life: When Having It All Means Not Having Children."
Still many people take issue with women who opt out of motherhood.
Choosing not to have a child makes one a selfish, misguided person, doomed to a life of loneliness and regret.  Or so I've been told. Repeatedly.
More on Miss Manners: Reproductive plan is none of her business
No, I won't "change my mind." And when people insist on an answer, I tell them the truth: I love my life exactly the way it is. I'm happily partnered to a man that loves me and supports my choice. I have a dog that fulfills my maternal needs. I volunteer and give back to my community. My friends are amazing. I travel every chance I get. I love what I do for a living. As far as I'm concerned, I have it all.
Bing: Things to consider before having a baby
Before people jump to the next judgment – how my life will be lacking without kids – I disclose this personal detail: I accidentally got pregnant a little over 10 years ago and planned on keeping the kid – only because the father said "no."
I did not want a baby, but I didn't like someone telling what I could and couldn't do with my body.  A miscarriage made me realize that I dodged a bullet and reflect upon what my life may have been like if I'd sealed the reproduction deal. This close call only reinforced my decision not to travel down the mommy path.
More on MSN Living: New mom secrets and lies
Don't get me wrong, I like kids – I adore my niece and nephew and many of my friends' kids in low-commitment, when-I-please doses. But I don't feel the need to have my own. So, why do people insist on second-guessing how I could possibly be happy?
The TIME article poses a great point: "We rarely ask, 'Why do you have kids?'" Having a child or not having a child should be a private decision.
So consider this: The next time you question a woman's choice to be childfree, entertain the idea that she may actually like her life the way it is.
Tell us: Do you think you can have it all without kids in the equation?
Read the complete TIME story here.
More from The Family Room: 
Cute kid love story: Women and shoes edition
Spanking in public: Another great parenting debate
Kate applauded for not hiding new-mommy tummy
Subscribe to The Family Room | Friend us on Facebook, follow us on Twitter and find us on Pinterest.
Photo: Time
News, stories, tips and laughs for moms & dads
Make sure your go-to gadgets are as cute as your style, with these trendy tech finds!

Oh, how the times have changed...

Get ready to hit the mall! Check out the hottest back-to-school trends—and get ready to make a major style statement this year.

Unique, or downright strange?

This is Kevin Droniak and his grandma. They're besties, they're awesome and they're YouTube stars.

It can be difficult to entice little ones to eat anything at all, let alone to devour a healthy plate. But feeding your kids nutritious snacks after school just got way easier, thanks to these adorably clever and cute snack ideas! For more smart and fun ways to get your kids to enjoy healthful and delicious foods, try one of these amazingly artsy lunch ideas.

Through a tonsillectomy all the way to brain surgery, my mother deserves some recognition. She's my spine, my birthday shadow, my BFF, my thunder buddy, so Mommy, thank you.

My son needs me, as much as yours needs you. Sadly, my son needs me more. He needs someone to have his back, when it seems that the police, the men he'd wave to with excitement as a little boy, see him as a being worthy only of prison or death.

If you know someone who has adopted and have made some of these comments, don't fret... now you know!

"Because you shine from within," I said, touching my finger to her heart. "Not everybody sees it, but I do. I see it. And my job is to protect that light. So when people say mean comments that squelch that light, I want you to tell me. I will protect your light by listening and loving you, my brave, courageous, and unique little firefly."

Studies have shown that it helps, top education officials have recommended it, and now doctors are officially saying the same.

I may have accidentally dropped you a few times, forgotten to document your first fart, let a little pee fly and dressed you like an idiot, but I have also loved you with every piece of me, and you will never hear an apology for that.