Can you have it all without having kids?
Living a childfree life.
The birthrate in the U.S. is the lowest in recorded history.
One in five American women end their childbearing years maternity-free, compared with one in 10 in the 1970s, shows a 2010 Pew Research report.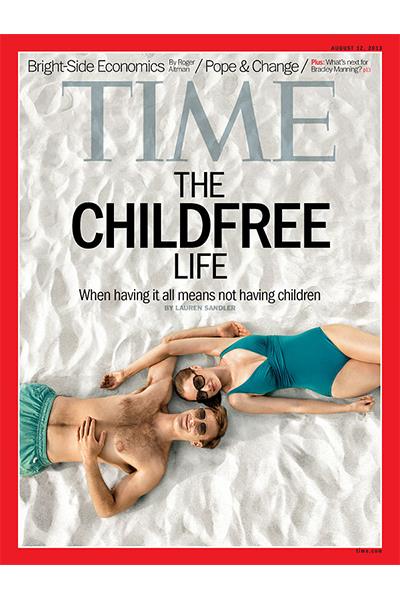 As a 40-year old woman who is childfree by choice, I've heard unsolicited opinions on the topic of baby making for more than a decade.
I'm perfectly happy with my decision not to procreate and I'm not alone. From 2007 to 2011, the fertility rate declined nine percent, reports TIME in its August 12 cover story, "The Childfree Life: When Having It All Means Not Having Children."
Still many people take issue with women who opt out of motherhood.
Choosing not to have a child makes one a selfish, misguided person, doomed to a life of loneliness and regret.  Or so I've been told. Repeatedly.
More on Miss Manners: Reproductive plan is none of her business
No, I won't "change my mind." And when people insist on an answer, I tell them the truth: I love my life exactly the way it is. I'm happily partnered to a man that loves me and supports my choice. I have a dog that fulfills my maternal needs. I volunteer and give back to my community. My friends are amazing. I travel every chance I get. I love what I do for a living. As far as I'm concerned, I have it all.
Bing: Things to consider before having a baby
Before people jump to the next judgment – how my life will be lacking without kids – I disclose this personal detail: I accidentally got pregnant a little over 10 years ago and planned on keeping the kid – only because the father said "no."
I did not want a baby, but I didn't like someone telling what I could and couldn't do with my body.  A miscarriage made me realize that I dodged a bullet and reflect upon what my life may have been like if I'd sealed the reproduction deal. This close call only reinforced my decision not to travel down the mommy path.
More on MSN Living: New mom secrets and lies
Don't get me wrong, I like kids – I adore my niece and nephew and many of my friends' kids in low-commitment, when-I-please doses. But I don't feel the need to have my own. So, why do people insist on second-guessing how I could possibly be happy?
The TIME article poses a great point: "We rarely ask, 'Why do you have kids?'" Having a child or not having a child should be a private decision.
So consider this: The next time you question a woman's choice to be childfree, entertain the idea that she may actually like her life the way it is.
Tell us: Do you think you can have it all without kids in the equation?
Read the complete TIME story here.
More from The Family Room: 
Cute kid love story: Women and shoes edition
Spanking in public: Another great parenting debate
Kate applauded for not hiding new-mommy tummy
Subscribe to The Family Room | Friend us on Facebook, follow us on Twitter and find us on Pinterest.
Photo: Time
News, stories, tips and laughs for moms & dads
Got kids that are questioning whether or not the Easter Bunny is real? If you want to keep the tradition going at least one more year, try one of these ideas...

You're cold-hearted? We'll take care of that for you...read on.

This kid despises poetry and he's not afraid to let you know.

I used to be one of those moms who thought, 'who on earth would bring their child to an event like that?' and then I had a son. Here's why you might become a convert, too.

Take a look at your house for these telltale signs that a cat is running the show.

Check out this list of requirements you should meet before getting a new puppy or adult dog.

Virtually everything you need to know about relationships, you learned in nursery school: Treat people as you want to be treated, clean up after yourself, and don't be a know-it-all.

Here are our experts' best tips for how to be a positive role model for your kids so that they grow up healthy, strong and confident about the way they look.

Much like their famous owners, these pooches live a fabulous life. Some are rescues, others purebred, but one thing is certain – these dogs play an important part in their famous parents' lives. Can you guess who owns each of these dogs?

We captured a frame-by-frame look just for you.

Two controversial science projects resembled weapons, school officials said.