Can you have it all without having kids?
Living a childfree life.
The birthrate in the U.S. is the lowest in recorded history.
One in five American women end their childbearing years maternity-free, compared with one in 10 in the 1970s, shows a 2010 Pew Research report.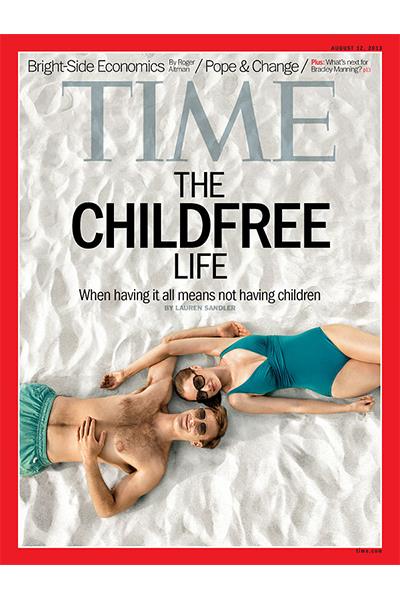 As a 40-year old woman who is childfree by choice, I've heard unsolicited opinions on the topic of baby making for more than a decade.
I'm perfectly happy with my decision not to procreate and I'm not alone. From 2007 to 2011, the fertility rate declined nine percent, reports TIME in its August 12 cover story, "The Childfree Life: When Having It All Means Not Having Children."
Still many people take issue with women who opt out of motherhood.
Choosing not to have a child makes one a selfish, misguided person, doomed to a life of loneliness and regret.  Or so I've been told. Repeatedly.
More on Miss Manners: Reproductive plan is none of her business
No, I won't "change my mind." And when people insist on an answer, I tell them the truth: I love my life exactly the way it is. I'm happily partnered to a man that loves me and supports my choice. I have a dog that fulfills my maternal needs. I volunteer and give back to my community. My friends are amazing. I travel every chance I get. I love what I do for a living. As far as I'm concerned, I have it all.
Bing: Things to consider before having a baby
Before people jump to the next judgment – how my life will be lacking without kids – I disclose this personal detail: I accidentally got pregnant a little over 10 years ago and planned on keeping the kid – only because the father said "no."
I did not want a baby, but I didn't like someone telling what I could and couldn't do with my body.  A miscarriage made me realize that I dodged a bullet and reflect upon what my life may have been like if I'd sealed the reproduction deal. This close call only reinforced my decision not to travel down the mommy path.
More on MSN Living: New mom secrets and lies
Don't get me wrong, I like kids – I adore my niece and nephew and many of my friends' kids in low-commitment, when-I-please doses. But I don't feel the need to have my own. So, why do people insist on second-guessing how I could possibly be happy?
The TIME article poses a great point: "We rarely ask, 'Why do you have kids?'" Having a child or not having a child should be a private decision.
So consider this: The next time you question a woman's choice to be childfree, entertain the idea that she may actually like her life the way it is.
Tell us: Do you think you can have it all without kids in the equation?
Read the complete TIME story here.
More from The Family Room: 
Cute kid love story: Women and shoes edition
Spanking in public: Another great parenting debate
Kate applauded for not hiding new-mommy tummy
Subscribe to The Family Room | Friend us on Facebook, follow us on Twitter and find us on Pinterest.
Photo: Time
News, stories, tips and laughs for moms & dads
6-year-old has rare brain condition

He wanted to know if woman was pregnant

Did your state make the grade?

A new dad finds an Epcot Center's worth of innovation after expecting none at all.

Alcohol and tattoos are not meant for the pre-teen set

But Debra Harrell now has custody of daughter again

I am probably not the first to tell you this: Kids come with lots of stuff. Even if you try to be as minimal as possible, the little creatures require an awful lot to keep things running smoothly. Here's a master-plan slideshow of ways to cut corners on space in every room to accommodate all the things that come along with kids.

You never know for certain what type of parent you'll be until you've actually become one and your parenting style, as it becomes evident, may surprise you. Here are 4 parenting books to help you figure it all out.

Sunshine! Camping! Pool parties! BBQs! The sunny season is here and to help you make the most of it, we've hand-picked 7 great products to make this summer the best your family has ever had. Click through for our list to inspire your sunny day fun. From our sponsor: Walmart

We all love a picnic. But do one quick search for 'picnic ideas' on Pinterest and you're instantly teleported into a land of overachieving home chefs clearly looking for their big break on Food Network. Well, never mind that, we say. Scratch the 25-ingredient recipes and the incessant trips to the craft store for that perfect tablescape. Here are 5 truly simple picnic ideas that will look great, taste great, and make you feel like the winner you are! From our sponsor: Walmart

Admit it — you do these things, too! And that's OK. But maybe — just maybe — it's time to think about changing things up a little bit, for the sake of your sanity, your relationship with your kids, and because life's too short.

We asked veterinary experts and readers which breeds they think and if it is OK to shave longhaired pets in the summer.