School security under scrutiny
Challenges remain in well-meaning programs.
As students and faculty head back into America's schools this week for the first time since the terrible events in Newtown, Connecticut, school districts have sought to assure families while reviewing safety and security measures.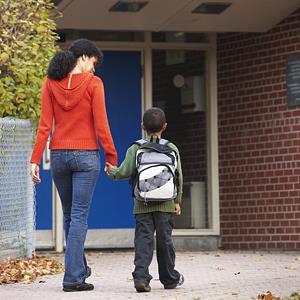 Emergency management planning has long been a priority to keep students and staff safe in the event of fire, natural disaster, or war-time threat such as an air raid. But after Columbine in 1999 and again after 9/11, a different brand of school safety arose with newfound urgency and complexity. Schools installed metal detectors and security cameras, locked their doors, banned backpacks, and required picture ID's. At many schools, police were stationed in and around public schools, as they were this morning.
With 31 school shootings since Columbine, it's clear the measures have not yet proven adequate to prevent threats from both inside and outside our schools. Elementary schools are not the expected or even statistically likely locations for such tragedies but, horribly, there is precedent. Long before Sandy Hook, even long before Lancaster, the deadliest mass murder in a U.S. school took place in 1927 in Bath, Michigan, where 38 children and six adults were killed by bombs set off by a disgruntled school board treasurer.
A 2011 report by the National Center for Education Statistics reviewed the current state of safety and security in our schools, and offered percentages of safety measures according to school level. Among their findings for primary schools was that 93.8 percent have locked or monitored doors; 67.6 percent require ID badges of faculty and staff; and 1.9 percent use metal detectors, compared to 12 percent at high schools. Notification systems for school-wide emergencies were reported at 61 percent of primary schools, and 30 percent had a structured, anonymous threat reporting system in place.
New technologies are available to help improve emergency measures with panic buttons for classrooms, sophisticated I.D. devices, and smart cameras to allow and disallow access. But the country's will to improve school safety is stronger than its wallet. According to CNN, allocations for the Department of Education's Safe and Drug-Free Schools program were cut by a third between 1999 and 2008, to about $294.8 million. Another post-Columbine program to place about 6,300 police officers in public schools at an approximate cost of $800 million was dismantled after 2005, and according to the Washington Guardian, a $200 million Department of Justice program providing training, security, and police resources for schools was eliminated last year.
Fortunately, school districts don't depend exclusively on the federal government for safety guidelines and grants, but instead band together as communities of parents, teachers, administrators, and students. But it's difficult to believe any planning or budgeting could ever be enough when the loss of lives at Sandy Hook reminds us that individuals like Dylan Klebold and Eric Harris, Charles Carl Roberts, Seung-Hui Cho, and Adam Lanza can imagine things far more terrible than a rational person's mind will allow.
Photo: LWA/Getty Images
Bing: The latest developments in the Connecticut school shooting.
More from MSN Living:
Mom of mentally ill son asks for help
Whether - and what - to tell your kids about this tragedy
How to help your kids feel safe
News, stories, tips and laughs for moms & dads
Remember the concept of weekends being a time for rest, relaxation, and togetherness? No? Us either. Between soccer games, playdates, dragging your kids to see the new exhibition at the local children's museum, and we need to pick up a gift for that birthday party that starts in . . . 20 minutes, juggling a busy family's weekend schedule can be more stressful than a weekday. While we know it's simply not realistic to cancel all your plans and obligations moving forward, clearing the calendar for just one weekend can be just the refresher that your family's craving. Here's why.

Any of these sound familiar?

4 steps for raising a child who doesn't feel emotionally stranded.

You just had a baby? You're a superstar! All those diapers, all that spit up, and you're makin' magic happen. But you're also likely tired - really tired - and busy (so, so busy). Taking time for yourself might seem like an indulgence but a happy mom makes for a happy baby. Here are 7 things you should definitely do to keep your sanity intact and your spirit high. <more, below>

Summertime is on, and the kids are out of school. Every mom knows that for these three months it's more important than ever to keep the kids busy. But you don't have to schedule your life away with camps, or drop a bundle on activities and games that come in a box. You can make your own fun, and even include the kids in the prep, with some simple, inexpensive DIY crafts that will keep them playing 'til the lightening bugs come out. Make your own fingerpaint, bubbles, and crayons. Create a fort-building kit and superhero capes that will kick their imaginations into overdrive. Here are 10 of our favorite kid-friendly DIY crafts to fuel your summertime fun.

Let these DIY dog bed projects be your inspiration and within a single weekend, you can construct something that really makes Rex feel like a king.

The task of finding an eco-friendly, safe-for-baby gift parents-to-be will actually use is kind of challenging. Add to that a price limit of $50, and the feat suddenly feels impossible! Fortunately, we combed the marketplace for some of the prettiest, most useful, sweetest gifts for baby and family. Many are fine on their own, while others would work well as part of a bigger basket — you know, if you wish to achieve that shower-goer hero status.

Jennifer Goodall gave birth Friday after much drama

My kids snapped a pic of me on my phone and it changed how I see myself

6-year-old has rare brain condition

He wanted to know if woman was pregnant

Did your state make the grade?