School security under scrutiny
Challenges remain in well-meaning programs.
As students and faculty head back into America's schools this week for the first time since the terrible events in Newtown, Connecticut, school districts have sought to assure families while reviewing safety and security measures.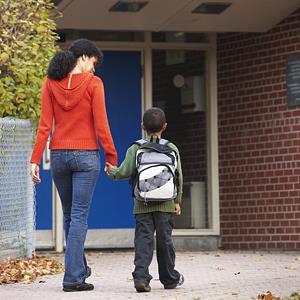 Emergency management planning has long been a priority to keep students and staff safe in the event of fire, natural disaster, or war-time threat such as an air raid. But after Columbine in 1999 and again after 9/11, a different brand of school safety arose with newfound urgency and complexity. Schools installed metal detectors and security cameras, locked their doors, banned backpacks, and required picture ID's. At many schools, police were stationed in and around public schools, as they were this morning.
With 31 school shootings since Columbine, it's clear the measures have not yet proven adequate to prevent threats from both inside and outside our schools. Elementary schools are not the expected or even statistically likely locations for such tragedies but, horribly, there is precedent. Long before Sandy Hook, even long before Lancaster, the deadliest mass murder in a U.S. school took place in 1927 in Bath, Michigan, where 38 children and six adults were killed by bombs set off by a disgruntled school board treasurer.
A 2011 report by the National Center for Education Statistics reviewed the current state of safety and security in our schools, and offered percentages of safety measures according to school level. Among their findings for primary schools was that 93.8 percent have locked or monitored doors; 67.6 percent require ID badges of faculty and staff; and 1.9 percent use metal detectors, compared to 12 percent at high schools. Notification systems for school-wide emergencies were reported at 61 percent of primary schools, and 30 percent had a structured, anonymous threat reporting system in place.
New technologies are available to help improve emergency measures with panic buttons for classrooms, sophisticated I.D. devices, and smart cameras to allow and disallow access. But the country's will to improve school safety is stronger than its wallet. According to CNN, allocations for the Department of Education's Safe and Drug-Free Schools program were cut by a third between 1999 and 2008, to about $294.8 million. Another post-Columbine program to place about 6,300 police officers in public schools at an approximate cost of $800 million was dismantled after 2005, and according to the Washington Guardian, a $200 million Department of Justice program providing training, security, and police resources for schools was eliminated last year.
Fortunately, school districts don't depend exclusively on the federal government for safety guidelines and grants, but instead band together as communities of parents, teachers, administrators, and students. But it's difficult to believe any planning or budgeting could ever be enough when the loss of lives at Sandy Hook reminds us that individuals like Dylan Klebold and Eric Harris, Charles Carl Roberts, Seung-Hui Cho, and Adam Lanza can imagine things far more terrible than a rational person's mind will allow.
Photo: LWA/Getty Images
Bing: The latest developments in the Connecticut school shooting.
More from MSN Living:
Mom of mentally ill son asks for help
Whether - and what - to tell your kids about this tragedy
How to help your kids feel safe
News, stories, tips and laughs for moms & dads
Stroll down any aisle of a Toys"R"Us these days and you'll be confronted with a billion options that are light-years beyond anything you had to entertain yourself with as a kid. Lego cruise ships (complete with flatscreen TVs in the lounge and sideboard jet-skis), battery-operated Mercedes-Benz sedans, and hi-tech tablets with Android operating systems abound. We wondered, as we let ourselves get nostalgic for a moment, if any of the beloved toys we played with as children were still even on the market. Thanks to a quick hunt on the Internet we were able to find that Fisher Price still makes their classic Two Tune TV, and you can still get your hands on a good ol' Slinky. Here's a roundup of the best old-school toys for kids-- we encourage you to click through the slideshow and consider wrapping up a well-loved classic for your little one this year.

Not great with a budget? Don't sweat it. Try these simple ways to save.

Watch the video of Kristen Bell going head to head with paparazzi - it will make you angry

Every year, toy makers from around the world gather to show their latest creations at the Toy Fair in New York City. The high-tech models, gadgets and trinkets on display put those basic Legos we played with at kids to shame. Here are 10 new toys that we'd happily buy or children. Or, really, ourselves.

Find yourself wandering the aisles, suddenly needing an owl-shaped candle while drinking a $5 latte? You're not alone, moms...

Here's some parenting advice for whatever stage of separation or divorce you're in.

Whether you pop it in the mail or post it on social media, a creative photo is a surefire way to grab everyone's attention and proudly say, "I'm pregnant!" Prepare for a lot of likes.

Remember the magical children's rooms in Peter Pan and The Little Prince? These timeless novels described spaces that were enchanting and made us wish that we could inhabit the rooms ourselves. The sumptuous interiors that were filled with never-ending toys and fort-like draping may seem like a fairytale, but thanks to four of our favorite kids' furniture websites, the dream could actually become a reality. Click through the slideshow to check out the best kids furniture websites that have everything necessary to create a fantasy room for your little one. And check out Sophia Demenge's super-fun space in the video below. By Barry Samaha

They lay, they play, and they take selfies with supermodels. Meet 5 of the most social media-savvy pets—animals taking control of their own fashionable online image.

We could try to offer you carefully researched and crafted words of Dad-centric inspiration, intended to show you the path to being a better man and, in turn, a better father. But Tom Limbert took up the task for us in his new book 'Dad's Playbook: Wisdom for Fathers from the Greatest Coaches of All Time,' so we left it to him. Limbert -- a parent coach and the founder of the Studio Grow children's play space in Berkeley, California -- has collected pearls of wisdom from an elite crew of coaches who have not only experienced greatness themselves, but also found ways to consistently instill it in their teams. "It's monkey-see, monkey-do," Limbert told us, after we asked him to gather the best quotes on achieving one's goals. "If you want your child to follow, you have to lead." Click on to read the often simple-seeming words that have inspired countless others to follow through on the field, but that can also easily be translated to the school, work, fitness, and, of course, parenting arenas.

What parents need to know

It's raining, it's pouring ... but that doesn't mean the day has to be a snore. Rather than let the kids grow restless and rambunctious, why not divert their energy toward some fun family bonding activities? Although the weather may have scotched your original plans for the day, seize the opportunity to reconnect and let loose with your loved ones. Click through this slideshow for ten refreshing rainy day activities that'll make you glad the clouds (almost) rained on your parade.