School security under scrutiny
Challenges remain in well-meaning programs.
As students and faculty head back into America's schools this week for the first time since the terrible events in Newtown, Connecticut, school districts have sought to assure families while reviewing safety and security measures.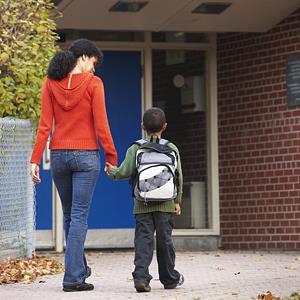 Emergency management planning has long been a priority to keep students and staff safe in the event of fire, natural disaster, or war-time threat such as an air raid. But after Columbine in 1999 and again after 9/11, a different brand of school safety arose with newfound urgency and complexity. Schools installed metal detectors and security cameras, locked their doors, banned backpacks, and required picture ID's. At many schools, police were stationed in and around public schools, as they were this morning.
With 31 school shootings since Columbine, it's clear the measures have not yet proven adequate to prevent threats from both inside and outside our schools. Elementary schools are not the expected or even statistically likely locations for such tragedies but, horribly, there is precedent. Long before Sandy Hook, even long before Lancaster, the deadliest mass murder in a U.S. school took place in 1927 in Bath, Michigan, where 38 children and six adults were killed by bombs set off by a disgruntled school board treasurer.
A 2011 report by the National Center for Education Statistics reviewed the current state of safety and security in our schools, and offered percentages of safety measures according to school level. Among their findings for primary schools was that 93.8 percent have locked or monitored doors; 67.6 percent require ID badges of faculty and staff; and 1.9 percent use metal detectors, compared to 12 percent at high schools. Notification systems for school-wide emergencies were reported at 61 percent of primary schools, and 30 percent had a structured, anonymous threat reporting system in place.
New technologies are available to help improve emergency measures with panic buttons for classrooms, sophisticated I.D. devices, and smart cameras to allow and disallow access. But the country's will to improve school safety is stronger than its wallet. According to CNN, allocations for the Department of Education's Safe and Drug-Free Schools program were cut by a third between 1999 and 2008, to about $294.8 million. Another post-Columbine program to place about 6,300 police officers in public schools at an approximate cost of $800 million was dismantled after 2005, and according to the Washington Guardian, a $200 million Department of Justice program providing training, security, and police resources for schools was eliminated last year.
Fortunately, school districts don't depend exclusively on the federal government for safety guidelines and grants, but instead band together as communities of parents, teachers, administrators, and students. But it's difficult to believe any planning or budgeting could ever be enough when the loss of lives at Sandy Hook reminds us that individuals like Dylan Klebold and Eric Harris, Charles Carl Roberts, Seung-Hui Cho, and Adam Lanza can imagine things far more terrible than a rational person's mind will allow.
Photo: LWA/Getty Images
Bing: The latest developments in the Connecticut school shooting.
More from MSN Living:
Mom of mentally ill son asks for help
Whether - and what - to tell your kids about this tragedy
How to help your kids feel safe
News, stories, tips and laughs for moms & dads
Gone are the days of mystery meat and the crabby, hairnet-wearing lunch lady. Across the nation, school lunchrooms are getting a face-lift and a menu makeover. From picked-from-the-garden veggies to fresh-caught fish tacos, students are experiencing the gourmet treatment. Here's a sample of the most innovative (and delicious) lunch programs we uncovered — bet your school lunch never tasted this good!

In a few short weeks you'll be dropping your child off at college, where they'll spend the next four years learning, laughing, and probably partying. Of course, in true teen fashion, your child has already started shopping for their dorm room essentials. Don't panic just yet!

When tots burst through the door after a busy day at school, the first order of business is securing a snack.

The only thing more important than what you pack your child for lunch is what you pack it in.

Frustrated mom invents Ignore No More app

Do you have the right mix of moms surrounding you?