School security under scrutiny
Challenges remain in well-meaning programs.
As students and faculty head back into America's schools this week for the first time since the terrible events in Newtown, Connecticut, school districts have sought to assure families while reviewing safety and security measures.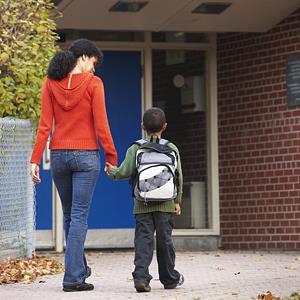 Emergency management planning has long been a priority to keep students and staff safe in the event of fire, natural disaster, or war-time threat such as an air raid. But after Columbine in 1999 and again after 9/11, a different brand of school safety arose with newfound urgency and complexity. Schools installed metal detectors and security cameras, locked their doors, banned backpacks, and required picture ID's. At many schools, police were stationed in and around public schools, as they were this morning.
With 31 school shootings since Columbine, it's clear the measures have not yet proven adequate to prevent threats from both inside and outside our schools. Elementary schools are not the expected or even statistically likely locations for such tragedies but, horribly, there is precedent. Long before Sandy Hook, even long before Lancaster, the deadliest mass murder in a U.S. school took place in 1927 in Bath, Michigan, where 38 children and six adults were killed by bombs set off by a disgruntled school board treasurer.
A 2011 report by the National Center for Education Statistics reviewed the current state of safety and security in our schools, and offered percentages of safety measures according to school level. Among their findings for primary schools was that 93.8 percent have locked or monitored doors; 67.6 percent require ID badges of faculty and staff; and 1.9 percent use metal detectors, compared to 12 percent at high schools. Notification systems for school-wide emergencies were reported at 61 percent of primary schools, and 30 percent had a structured, anonymous threat reporting system in place.
New technologies are available to help improve emergency measures with panic buttons for classrooms, sophisticated I.D. devices, and smart cameras to allow and disallow access. But the country's will to improve school safety is stronger than its wallet. According to CNN, allocations for the Department of Education's Safe and Drug-Free Schools program were cut by a third between 1999 and 2008, to about $294.8 million. Another post-Columbine program to place about 6,300 police officers in public schools at an approximate cost of $800 million was dismantled after 2005, and according to the Washington Guardian, a $200 million Department of Justice program providing training, security, and police resources for schools was eliminated last year.
Fortunately, school districts don't depend exclusively on the federal government for safety guidelines and grants, but instead band together as communities of parents, teachers, administrators, and students. But it's difficult to believe any planning or budgeting could ever be enough when the loss of lives at Sandy Hook reminds us that individuals like Dylan Klebold and Eric Harris, Charles Carl Roberts, Seung-Hui Cho, and Adam Lanza can imagine things far more terrible than a rational person's mind will allow.
Photo: LWA/Getty Images
Bing: The latest developments in the Connecticut school shooting.
More from MSN Living:
Mom of mentally ill son asks for help
Whether - and what - to tell your kids about this tragedy
How to help your kids feel safe
News, stories, tips and laughs for moms & dads
Get ready to hit the mall! Check out the hottest back-to-school trends—and get ready to make a major style statement this year.

Unique, or downright strange?

This is Kevin Droniak and his grandma. They're besties, they're awesome and they're YouTube stars.

It can be difficult to entice little ones to eat anything at all, let alone to devour a healthy plate. But feeding your kids nutritious snacks after school just got way easier, thanks to these adorably clever and cute snack ideas! For more smart and fun ways to get your kids to enjoy healthful and delicious foods, try one of these amazingly artsy lunch ideas.

Through a tonsillectomy all the way to brain surgery, my mother deserves some recognition. She's my spine, my birthday shadow, my BFF, my thunder buddy, so Mommy, thank you.

My son needs me, as much as yours needs you. Sadly, my son needs me more. He needs someone to have his back, when it seems that the police, the men he'd wave to with excitement as a little boy, see him as a being worthy only of prison or death.

If you know someone who has adopted and have made some of these comments, don't fret... now you know!

"Because you shine from within," I said, touching my finger to her heart. "Not everybody sees it, but I do. I see it. And my job is to protect that light. So when people say mean comments that squelch that light, I want you to tell me. I will protect your light by listening and loving you, my brave, courageous, and unique little firefly."

Studies have shown that it helps, top education officials have recommended it, and now doctors are officially saying the same.

I may have accidentally dropped you a few times, forgotten to document your first fart, let a little pee fly and dressed you like an idiot, but I have also loved you with every piece of me, and you will never hear an apology for that.

Back-to-school shopping is still in full swing, and your little gents probably need some new kicks to round out their fall wardrobes (you already picked up some bold shoes for the little ladies in your life, right?).

Not every kid is a fan of returning to the classroom, so parents try to ease the blow with a little back-to-school shopping.