School security under scrutiny
Challenges remain in well-meaning programs.
As students and faculty head back into America's schools this week for the first time since the terrible events in Newtown, Connecticut, school districts have sought to assure families while reviewing safety and security measures.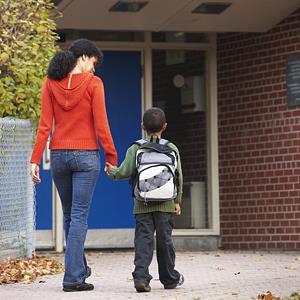 Emergency management planning has long been a priority to keep students and staff safe in the event of fire, natural disaster, or war-time threat such as an air raid. But after Columbine in 1999 and again after 9/11, a different brand of school safety arose with newfound urgency and complexity. Schools installed metal detectors and security cameras, locked their doors, banned backpacks, and required picture ID's. At many schools, police were stationed in and around public schools, as they were this morning.
With 31 school shootings since Columbine, it's clear the measures have not yet proven adequate to prevent threats from both inside and outside our schools. Elementary schools are not the expected or even statistically likely locations for such tragedies but, horribly, there is precedent. Long before Sandy Hook, even long before Lancaster, the deadliest mass murder in a U.S. school took place in 1927 in Bath, Michigan, where 38 children and six adults were killed by bombs set off by a disgruntled school board treasurer.
A 2011 report by the National Center for Education Statistics reviewed the current state of safety and security in our schools, and offered percentages of safety measures according to school level. Among their findings for primary schools was that 93.8 percent have locked or monitored doors; 67.6 percent require ID badges of faculty and staff; and 1.9 percent use metal detectors, compared to 12 percent at high schools. Notification systems for school-wide emergencies were reported at 61 percent of primary schools, and 30 percent had a structured, anonymous threat reporting system in place.
New technologies are available to help improve emergency measures with panic buttons for classrooms, sophisticated I.D. devices, and smart cameras to allow and disallow access. But the country's will to improve school safety is stronger than its wallet. According to CNN, allocations for the Department of Education's Safe and Drug-Free Schools program were cut by a third between 1999 and 2008, to about $294.8 million. Another post-Columbine program to place about 6,300 police officers in public schools at an approximate cost of $800 million was dismantled after 2005, and according to the Washington Guardian, a $200 million Department of Justice program providing training, security, and police resources for schools was eliminated last year.
Fortunately, school districts don't depend exclusively on the federal government for safety guidelines and grants, but instead band together as communities of parents, teachers, administrators, and students. But it's difficult to believe any planning or budgeting could ever be enough when the loss of lives at Sandy Hook reminds us that individuals like Dylan Klebold and Eric Harris, Charles Carl Roberts, Seung-Hui Cho, and Adam Lanza can imagine things far more terrible than a rational person's mind will allow.
Photo: LWA/Getty Images
Bing: The latest developments in the Connecticut school shooting.
More from MSN Living:
Mom of mentally ill son asks for help
Whether - and what - to tell your kids about this tragedy
How to help your kids feel safe
News, stories, tips and laughs for moms & dads
Nope, you don't have to spend the next nine months in black elastic-waist pants and oversize sweaters. And you don't have to shell out a fortune on your "temporary" wardrobe either. Check out these stylish and affordable maternity clothes.

Because society crumbles without us

Another kid figured out how to get into a claw machine.

As a new mom, you've recently discovered there are many things you can live without—sleep and modesty being chief among them. But what can't you live without? Seasoned moms share their Top 10 list for how to survive the early months of motherhood.

Here are our experts' best tips for how to be a positive role model for your kids so that they grow up healthy, strong and confident about the way they look.

The center of the family is your relationship; not the children.

Transform your mornings from grumpy to great by following these 12 simple steps. (Singing in the shower is highly encouraged.)

We're all aware of the reasons one might prefer to raise biological children. There's the miraculous experience that is pregnancy and childbirth. Also, let's not forget how expensive adoption is (though with the cost of childbirth in the United States growing ever-more crippling, it's hard to say which method is most economical). Couple that with the difficulty of the adoption process -- unless, of course, you're Madonna -- and you've got plenty of strong incentives to go the traditional route. Despite the arduous adoption process and the significant financial commitment, all kinds of people -- both famous and not -- choose to adopt for a variety of reasons. Check out this slideshow to see which celebrities (besides the famous Jolie-Pitts) opted to adopt.

One of our favorite ways to start the day is with a piping hot cup of coffee and a thought-provoking TED talk. In case you'€™re not familiar with the group, TED (which stands for Technology, Entertainment and Design) is a nonprofit organization dedicated to spreading ideas through projects and talks by a diverse group of inspired thinkers - people of all cultures, ages and disciplines. As you can probably guess, listening to these innovators share their ideas is a surefire way to jumpstart your day and get your creative juices flowing. Click through the slideshow above for the eight TED talks every parent needs to see. By Cordelia Tai

Got kids that are questioning whether or not the Easter Bunny is real? If you want to keep the tradition going at least one more year, try one of these ideas...

You're cold-hearted? We'll take care of that for you...read on.

This kid despises poetry and he's not afraid to let you know.