Teen 'Read It' video incites rights debate
Sony recants position & allows teens to post "Beat It" parody.
Mashups and sampling have become staple techniques of the music industry. But when it comes to toying with the property of the Jackson estate, even the best intentions can't escape the litigious reach of the acrimonious clan.
Several high school students who frequent the Lansdowne Public Library in Pennsylvania discovered this on Nov. 19. Sony-ATV Records temporarily obstructed the posting of their amateur video promoting teen literacy because it featured music similar to Michael Jackson's song "Beat It."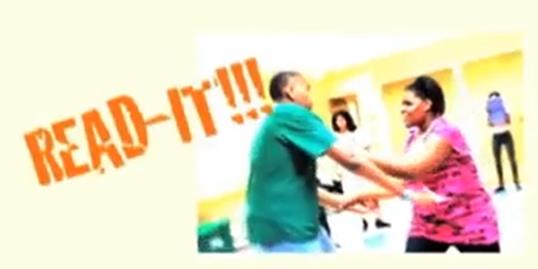 Teen readers from the Lansdowne borough of Philadelphia altered the singer's famous chart topper into what they considered a parody titled "Read It." The students wrote their own lyrics and recorded the song on Garage Band. Sony-ATV, which co-owns the track with the pop singer's estate, deemed the "Read It" video a violation on the grounds that it conveyed a "message."
More on MSN Living: 50 ways to stay bonded with your kids
Lansdowne Public Library staff and patrons contested Sony's decision, even producing another video, "Just Un-Ban It." On Monday evening, Sony-ATV altered its position, granting the video "an exception."
Bing: Watch the "Read It" video and compare to Michael Jackson's video for "Beat It."
"As long as it's on YouTube, we don't have an issue," says Sandra Giannella the library's director. "When you [search for] "Beat It" thousands of parodies, some very senseless and tasteless, surface. It's unclear why we were singled out."
The video features teens crawling out of a book drop and a duel between digital and traditional books.
More on MSN Living: Totally awkward pet holiday photos
While it is highly unlikely that the Lansdowne teens' video could injure Jackson's legacy in any way, the video is certainly getting more attention than it would have without the legal debate it issued.
Business execs seem to always "wanna be startin' somethin'."
Video still from 'Read It' (lansdownepublic via YouTube, (http://aka.ms/lansdo​wnepublic)
More on MSN Living:
10 most popular cat names
5 weird reasons couples have divorced
15 themed rooms for your teen

Oh heck, ANYTHING to get kids to read !!!
These days, all they do is watch TV and play stupid video games.  Kids today coming out of high school go to college not even able to construct a proper sentence, use basic grammar, punctuation, or proper word usage...  They cannot sit down and actually write a decent letter or set forth their thoughts on paper -- and it's because they don't read!  Reading helps kids learn to write, spell, and understand vocabulary...  how are they going to read stuff out of a college textbook if they can't get through Harry-freakin-Potter​ ??? !!!
Parents need to take a sledge hammer and smash the TV set, then toss the computer out the window, and take away the kids' dumb-phones...  and lock them in a room with nothing but BOOKS !!!  They'll be grateful later, I am sure !!!

jjaiii - I would have to agree with you.  Though this parody seems to have been done for the right reasons...to engage young people to read...there are dozens and dozens being done to simply to turn a quick buck, and the owners of these songs need to hold the line until they figure which is which.
Are you sure you want to delete this comment?
News, stories, tips and laughs for moms & dads
Transform the fall vegetable into cool decor pieces.

Put together these creative, but simple, Halloween looks for your youngsters.

We know you're documenting just about every move baby makes. (Do you even have any memory left on your phone? We didn't think so.) These tips from professional photographers can help you perfect your pics.

These six on-trend ideas will make baby's room your new favorite place to hang out.

Baby probably won't remember his first birthday party, but that doesn't mean you can't go all out (after all, parents need to celebrate making it through this first year, right?). These fun, colorful themes take planning to the next level.

See what celebrities who had problems conceiving have to say.

You'll be hearing a lot of advice and opinions. Some of it will be really helpful and some will be just plain wrong. Here are the most common things people say about babies that aren't true.

A new dad finds an Epcot Center's worth of innovation after expecting none at all.

The dog days of summer may be well behind us, but that doesn't mean it's time to pack in the outdoor adventures quite yet.

Protect yourself and your family with these ingenious gizmos and smartphone apps.

Make sure your go-to gadgets are as cute as your style, with these trendy tech finds!

Oh, how the times have changed...