Teen 'Read It' video incites rights debate
Sony recants position & allows teens to post "Beat It" parody.
Mashups and sampling have become staple techniques of the music industry. But when it comes to toying with the property of the Jackson estate, even the best intentions can't escape the litigious reach of the acrimonious clan.
Several high school students who frequent the Lansdowne Public Library in Pennsylvania discovered this on Nov. 19. Sony-ATV Records temporarily obstructed the posting of their amateur video promoting teen literacy because it featured music similar to Michael Jackson's song "Beat It."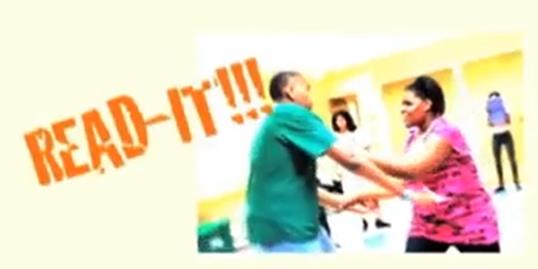 Teen readers from the Lansdowne borough of Philadelphia altered the singer's famous chart topper into what they considered a parody titled "Read It." The students wrote their own lyrics and recorded the song on Garage Band. Sony-ATV, which co-owns the track with the pop singer's estate, deemed the "Read It" video a violation on the grounds that it conveyed a "message."
More on MSN Living: 50 ways to stay bonded with your kids
Lansdowne Public Library staff and patrons contested Sony's decision, even producing another video, "Just Un-Ban It." On Monday evening, Sony-ATV altered its position, granting the video "an exception."
Bing: Watch the "Read It" video and compare to Michael Jackson's video for "Beat It."
"As long as it's on YouTube, we don't have an issue," says Sandra Giannella the library's director. "When you [search for] "Beat It" thousands of parodies, some very senseless and tasteless, surface. It's unclear why we were singled out."
The video features teens crawling out of a book drop and a duel between digital and traditional books.
More on MSN Living: Totally awkward pet holiday photos
While it is highly unlikely that the Lansdowne teens' video could injure Jackson's legacy in any way, the video is certainly getting more attention than it would have without the legal debate it issued.
Business execs seem to always "wanna be startin' somethin'."
Video still from 'Read It' (lansdownepublic via YouTube, (http://aka.ms/lansdo​wnepublic)
More on MSN Living:
10 most popular cat names
5 weird reasons couples have divorced
15 themed rooms for your teen
News, stories, tips and laughs for moms & dads
Stroll down any aisle of a Toys"R"Us these days and you'll be confronted with a billion options that are light-years beyond anything you had to entertain yourself with as a kid. Lego cruise ships (complete with flatscreen TVs in the lounge and sideboard jet-skis), battery-operated Mercedes-Benz sedans, and hi-tech tablets with Android operating systems abound. We wondered, as we let ourselves get nostalgic for a moment, if any of the beloved toys we played with as children were still even on the market. Thanks to a quick hunt on the Internet we were able to find that Fisher Price still makes their classic Two Tune TV, and you can still get your hands on a good ol' Slinky. Here's a roundup of the best old-school toys for kids-- we encourage you to click through the slideshow and consider wrapping up a well-loved classic for your little one this year.

Not great with a budget? Don't sweat it. Try these simple ways to save.

Watch the video of Kristen Bell going head to head with paparazzi - it will make you angry

Every year, toy makers from around the world gather to show their latest creations at the Toy Fair in New York City. The high-tech models, gadgets and trinkets on display put those basic Legos we played with at kids to shame. Here are 10 new toys that we'd happily buy or children. Or, really, ourselves.

Find yourself wandering the aisles, suddenly needing an owl-shaped candle while drinking a $5 latte? You're not alone, moms...

Here's some parenting advice for whatever stage of separation or divorce you're in.

Whether you pop it in the mail or post it on social media, a creative photo is a surefire way to grab everyone's attention and proudly say, "I'm pregnant!" Prepare for a lot of likes.

Remember the magical children's rooms in Peter Pan and The Little Prince? These timeless novels described spaces that were enchanting and made us wish that we could inhabit the rooms ourselves. The sumptuous interiors that were filled with never-ending toys and fort-like draping may seem like a fairytale, but thanks to four of our favorite kids' furniture websites, the dream could actually become a reality. Click through the slideshow to check out the best kids furniture websites that have everything necessary to create a fantasy room for your little one. And check out Sophia Demenge's super-fun space in the video below. By Barry Samaha

They lay, they play, and they take selfies with supermodels. Meet 5 of the most social media-savvy pets—animals taking control of their own fashionable online image.

We could try to offer you carefully researched and crafted words of Dad-centric inspiration, intended to show you the path to being a better man and, in turn, a better father. But Tom Limbert took up the task for us in his new book 'Dad's Playbook: Wisdom for Fathers from the Greatest Coaches of All Time,' so we left it to him. Limbert -- a parent coach and the founder of the Studio Grow children's play space in Berkeley, California -- has collected pearls of wisdom from an elite crew of coaches who have not only experienced greatness themselves, but also found ways to consistently instill it in their teams. "It's monkey-see, monkey-do," Limbert told us, after we asked him to gather the best quotes on achieving one's goals. "If you want your child to follow, you have to lead." Click on to read the often simple-seeming words that have inspired countless others to follow through on the field, but that can also easily be translated to the school, work, fitness, and, of course, parenting arenas.

What parents need to know

It's raining, it's pouring ... but that doesn't mean the day has to be a snore. Rather than let the kids grow restless and rambunctious, why not divert their energy toward some fun family bonding activities? Although the weather may have scotched your original plans for the day, seize the opportunity to reconnect and let loose with your loved ones. Click through this slideshow for ten refreshing rainy day activities that'll make you glad the clouds (almost) rained on your parade.