Teen 'Read It' video incites rights debate
Sony recants position & allows teens to post "Beat It" parody.
Mashups and sampling have become staple techniques of the music industry. But when it comes to toying with the property of the Jackson estate, even the best intentions can't escape the litigious reach of the acrimonious clan.
Several high school students who frequent the Lansdowne Public Library in Pennsylvania discovered this on Nov. 19. Sony-ATV Records temporarily obstructed the posting of their amateur video promoting teen literacy because it featured music similar to Michael Jackson's song "Beat It."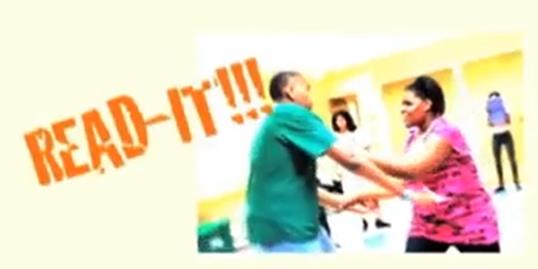 Teen readers from the Lansdowne borough of Philadelphia altered the singer's famous chart topper into what they considered a parody titled "Read It." The students wrote their own lyrics and recorded the song on Garage Band. Sony-ATV, which co-owns the track with the pop singer's estate, deemed the "Read It" video a violation on the grounds that it conveyed a "message."
More on MSN Living: 50 ways to stay bonded with your kids
Lansdowne Public Library staff and patrons contested Sony's decision, even producing another video, "Just Un-Ban It." On Monday evening, Sony-ATV altered its position, granting the video "an exception."
Bing: Watch the "Read It" video and compare to Michael Jackson's video for "Beat It."
"As long as it's on YouTube, we don't have an issue," says Sandra Giannella the library's director. "When you [search for] "Beat It" thousands of parodies, some very senseless and tasteless, surface. It's unclear why we were singled out."
The video features teens crawling out of a book drop and a duel between digital and traditional books.
More on MSN Living: Totally awkward pet holiday photos
While it is highly unlikely that the Lansdowne teens' video could injure Jackson's legacy in any way, the video is certainly getting more attention than it would have without the legal debate it issued.
Business execs seem to always "wanna be startin' somethin'."
Video still from 'Read It' (lansdownepublic via YouTube, (http://aka.ms/lansdo​wnepublic)
More on MSN Living:
10 most popular cat names
5 weird reasons couples have divorced
15 themed rooms for your teen
News, stories, tips and laughs for moms & dads
This kid despises poetry and he's not afraid to let you know.

I used to be one of those moms who thought, 'who on earth would bring their child to an event like that?' and then I had a son. Here's why you might become a convert, too.

Take a look at your house for these telltale signs that a cat is running the show.

Check out this list of requirements you should meet before getting a new puppy or adult dog.

Virtually everything you need to know about relationships, you learned in nursery school: Treat people as you want to be treated, clean up after yourself, and don't be a know-it-all.

Here are our experts' best tips for how to be a positive role model for your kids so that they grow up healthy, strong and confident about the way they look.

Much like their famous owners, these pooches live a fabulous life. Some are rescues, others purebred, but one thing is certain – these dogs play an important part in their famous parents' lives. Can you guess who owns each of these dogs?

We captured a frame-by-frame look just for you.

Two controversial science projects resembled weapons, school officials said.

Make the most of the summer with these family-oriented activities!

Pets are part of many children's lives. Learn how to help them foster strong, healthy relationships.