Teen 'Read It' video incites rights debate
Sony recants position & allows teens to post "Beat It" parody.
Mashups and sampling have become staple techniques of the music industry. But when it comes to toying with the property of the Jackson estate, even the best intentions can't escape the litigious reach of the acrimonious clan.
Several high school students who frequent the Lansdowne Public Library in Pennsylvania discovered this on Nov. 19. Sony-ATV Records temporarily obstructed the posting of their amateur video promoting teen literacy because it featured music similar to Michael Jackson's song "Beat It."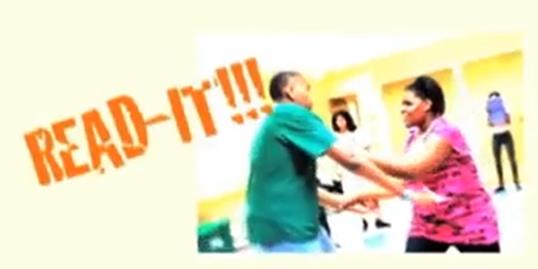 Teen readers from the Lansdowne borough of Philadelphia altered the singer's famous chart topper into what they considered a parody titled "Read It." The students wrote their own lyrics and recorded the song on Garage Band. Sony-ATV, which co-owns the track with the pop singer's estate, deemed the "Read It" video a violation on the grounds that it conveyed a "message."
More on MSN Living: 50 ways to stay bonded with your kids
Lansdowne Public Library staff and patrons contested Sony's decision, even producing another video, "Just Un-Ban It." On Monday evening, Sony-ATV altered its position, granting the video "an exception."
Bing: Watch the "Read It" video and compare to Michael Jackson's video for "Beat It."
"As long as it's on YouTube, we don't have an issue," says Sandra Giannella the library's director. "When you [search for] "Beat It" thousands of parodies, some very senseless and tasteless, surface. It's unclear why we were singled out."
The video features teens crawling out of a book drop and a duel between digital and traditional books.
More on MSN Living: Totally awkward pet holiday photos
While it is highly unlikely that the Lansdowne teens' video could injure Jackson's legacy in any way, the video is certainly getting more attention than it would have without the legal debate it issued.
Business execs seem to always "wanna be startin' somethin'."
Video still from 'Read It' (lansdownepublic via YouTube, (http://aka.ms/lansdo​wnepublic)
More on MSN Living:
10 most popular cat names
5 weird reasons couples have divorced
15 themed rooms for your teen
family: tips, trends & advice for all things family
From designer crosses to giant breeds, we scoured Vetstreet's data of millions of dog breeds to determine the trendiest breeds of the past decade.

One of the most unsettling consequences of bringing a child into your previously simple, happily oblivious manly life is that you're now unquestionably, inescapably…The Man.

Whether it was baby's first kick or the first time your boobs leaked in public, there's a point in every mom's life when the world as you know it ends and you realize -- Whoa, I'm someone's mom now. Some of our favorite mommy bloggers revealed what their aha moments were. They range from heartwarming to completely hilarious.

From DIY jewelry to homemade "flowers" to sweet vases, you can help your kid make mom's day with these crafty gifts.

The first parenting shock: They let you take the baby home. Like, without supervision. Only then do the real surprises unfold. Here's what readers told us was most unexpected for them as they embraced this whole mama thing.

Be prepared to say, 'awww,' multiple times while flipping through this collection super-sweet stuff for babies and kids on Etsy.com. Take a peek at some of our favorite finds for moms (and click 'More' to find out how to get this amazing gnome hat!)...By MSN Living editors

Your Mother's Day plans are all set, right? Brunch is booked and a fabulous gift is wrapped and ready to go. So take a breather and celebrate these stylish celebrity moms who work hard, care for their kids, and manage to look amazing in the process.

Find out this year's top baby names on Parenting.com, and see what we predict will be big in 2013

Sophia and Jacob reign supreme.

In an online contest, Parenting.com asked readers to tell us what it means to "have it all." Read the winner's moving essay on how that phrase has defined her motherhood, plus essays from the three runners up.

Tow lot employee finds abandoned pup.

Animals, says Dr. Patty Khuly, are the best listeners in the world and don't care that you've just been dumped or laid off.