Teen 'Read It' video incites rights debate
Sony recants position & allows teens to post "Beat It" parody.
Mashups and sampling have become staple techniques of the music industry. But when it comes to toying with the property of the Jackson estate, even the best intentions can't escape the litigious reach of the acrimonious clan.
Several high school students who frequent the Lansdowne Public Library in Pennsylvania discovered this on Nov. 19. Sony-ATV Records temporarily obstructed the posting of their amateur video promoting teen literacy because it featured music similar to Michael Jackson's song "Beat It."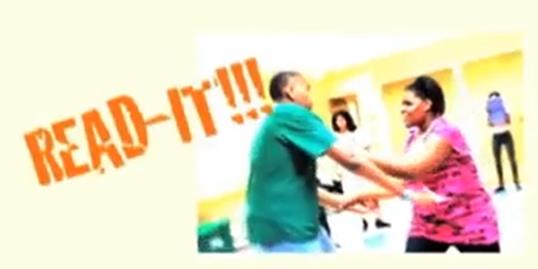 Teen readers from the Lansdowne borough of Philadelphia altered the singer's famous chart topper into what they considered a parody titled "Read It." The students wrote their own lyrics and recorded the song on Garage Band. Sony-ATV, which co-owns the track with the pop singer's estate, deemed the "Read It" video a violation on the grounds that it conveyed a "message."
More on MSN Living: 50 ways to stay bonded with your kids
Lansdowne Public Library staff and patrons contested Sony's decision, even producing another video, "Just Un-Ban It." On Monday evening, Sony-ATV altered its position, granting the video "an exception."
Bing: Watch the "Read It" video and compare to Michael Jackson's video for "Beat It."
"As long as it's on YouTube, we don't have an issue," says Sandra Giannella the library's director. "When you [search for] "Beat It" thousands of parodies, some very senseless and tasteless, surface. It's unclear why we were singled out."
The video features teens crawling out of a book drop and a duel between digital and traditional books.
More on MSN Living: Totally awkward pet holiday photos
While it is highly unlikely that the Lansdowne teens' video could injure Jackson's legacy in any way, the video is certainly getting more attention than it would have without the legal debate it issued.
Business execs seem to always "wanna be startin' somethin'."
Video still from 'Read It' (lansdownepublic via YouTube, (http://aka.ms/lansdo​wnepublic)
More on MSN Living:
10 most popular cat names
5 weird reasons couples have divorced
15 themed rooms for your teen
News, stories, tips and laughs for moms & dads
Megan Davies Mennes has been blogging and posting photos of her son Quinn online for some time now. Quinn has Down syndrome, and Mennes has dealt with a few nasty comments here and there, the type of stuff you'd expect to encounter on the Internet.

From a cozy-chic hotel by the seashore in Los Angeles that doubles as a home away from home to a nature-lover's tropical paradise in Costa Rica, each of these properties is a family-friendly in its own special way.

Two controversial science projects resembled weapons, school officials said.

Must-haves for every mommy on the road

What are we teaching our children when we focus on their achievements rather than their kindness?

Discover the seemingly insignificant things that can affect your chances of getting pregnant.

A thrill-obsessed subculture claimed another life this week.

A few suggested answers for the diciest questions

Here's our list of fifteen moms in the food industry that deserve some recognition.

The site gets high marks for its user-friendly interface and excellent and responsive customer service. And the reviews are also pretty accurate. Compare amenities and prices next to a hotel's in the same area, and you're likely to see Airbnb come out on top.

We captured a frame-by-frame look just for you.

Other moms can be ruthless when it comes to picking apart your parenting choices. From dissing your decision to go back to work to criticizing when you started baby on solids, here are the most ridiculous comments moms have heard. Bonus, we've got just the right way to respond to the haters! You're welcome.