Dog reunites with owner after 7 years
Man 'never gave up hope' that his dog would be found
It was seven years ago that B.A. got spooked by a thunderstorm and took off from his Raleigh, N.C., home. So, when owner Dan Kesler, who now lives in Arizona, got a call last month from the Durham County Animal Shelter saying that B.A. had been identified by a microchip, he was shocked.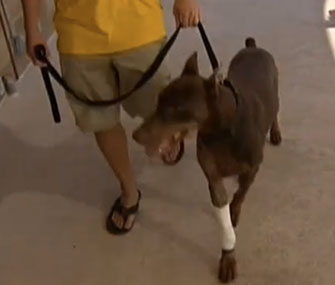 "Oh my God, it's my dog!" Kesler said. "Did I think he'd be back? I can't say yes, but I never gave up hope."
B.A. favors one leg from what the shelter's veterinarian believes was an old injury, but is otherwise healthy, and was recently flown out to Arizona to be with Kesler.
"There was some angel watching out for this dog for seven years," said shelter director Shafonda Davis. "That is one lucky dog."
— Watch it at CNN
Photo: CNN // B.A. was reunited with owner Dan Kesler after seven years.
Bing: Amazing animal stories
More from Vetstreet:
5 dog breeds that are sadly losing popularity
Video: Baby koala steals a sneak peek?
2 new dog breeds make debut
Why does my dog… walk in a circle before lying down?
5 great low-maintenance dogs
News, stories, tips and laughs for moms & dads
Got kids that are questioning whether or not the Easter Bunny is real? If you want to keep the tradition going at least one more year, try one of these ideas...

You're cold-hearted? We'll take care of that for you...read on.

This kid despises poetry and he's not afraid to let you know.

I used to be one of those moms who thought, 'who on earth would bring their child to an event like that?' and then I had a son. Here's why you might become a convert, too.

Take a look at your house for these telltale signs that a cat is running the show.

Check out this list of requirements you should meet before getting a new puppy or adult dog.

Virtually everything you need to know about relationships, you learned in nursery school: Treat people as you want to be treated, clean up after yourself, and don't be a know-it-all.

Here are our experts' best tips for how to be a positive role model for your kids so that they grow up healthy, strong and confident about the way they look.

Much like their famous owners, these pooches live a fabulous life. Some are rescues, others purebred, but one thing is certain – these dogs play an important part in their famous parents' lives. Can you guess who owns each of these dogs?

We captured a frame-by-frame look just for you.

Two controversial science projects resembled weapons, school officials said.