Dog reunites with owner after 7 years
Man 'never gave up hope' that his dog would be found
It was seven years ago that B.A. got spooked by a thunderstorm and took off from his Raleigh, N.C., home. So, when owner Dan Kesler, who now lives in Arizona, got a call last month from the Durham County Animal Shelter saying that B.A. had been identified by a microchip, he was shocked.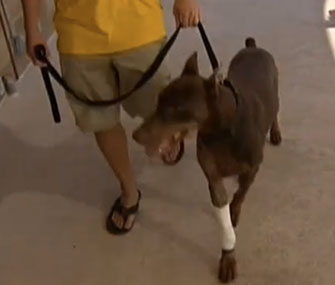 "Oh my God, it's my dog!" Kesler said. "Did I think he'd be back? I can't say yes, but I never gave up hope."
B.A. favors one leg from what the shelter's veterinarian believes was an old injury, but is otherwise healthy, and was recently flown out to Arizona to be with Kesler.
"There was some angel watching out for this dog for seven years," said shelter director Shafonda Davis. "That is one lucky dog."
— Watch it at CNN
Photo: CNN // B.A. was reunited with owner Dan Kesler after seven years.
Bing: Amazing animal stories
More from Vetstreet:
5 dog breeds that are sadly losing popularity
Video: Baby koala steals a sneak peek?
2 new dog breeds make debut
Why does my dog… walk in a circle before lying down?
5 great low-maintenance dogs
News, stories, tips and laughs for moms & dads
Megan Davies Mennes has been blogging and posting photos of her son Quinn online for some time now. Quinn has Down syndrome, and Mennes has dealt with a few nasty comments here and there, the type of stuff you'd expect to encounter on the Internet.

From a cozy-chic hotel by the seashore in Los Angeles that doubles as a home away from home to a nature-lover's tropical paradise in Costa Rica, each of these properties is a family-friendly in its own special way.

Two controversial science projects resembled weapons, school officials said.

Must-haves for every mommy on the road

What are we teaching our children when we focus on their achievements rather than their kindness?

Discover the seemingly insignificant things that can affect your chances of getting pregnant.

A thrill-obsessed subculture claimed another life this week.

A few suggested answers for the diciest questions

Here's our list of fifteen moms in the food industry that deserve some recognition.

The site gets high marks for its user-friendly interface and excellent and responsive customer service. And the reviews are also pretty accurate. Compare amenities and prices next to a hotel's in the same area, and you're likely to see Airbnb come out on top.

We captured a frame-by-frame look just for you.

Other moms can be ruthless when it comes to picking apart your parenting choices. From dissing your decision to go back to work to criticizing when you started baby on solids, here are the most ridiculous comments moms have heard. Bonus, we've got just the right way to respond to the haters! You're welcome.