Dog reunites with owner after 7 years
Man 'never gave up hope' that his dog would be found
It was seven years ago that B.A. got spooked by a thunderstorm and took off from his Raleigh, N.C., home. So, when owner Dan Kesler, who now lives in Arizona, got a call last month from the Durham County Animal Shelter saying that B.A. had been identified by a microchip, he was shocked.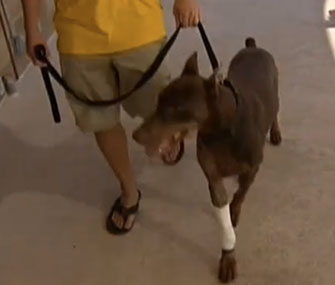 "Oh my God, it's my dog!" Kesler said. "Did I think he'd be back? I can't say yes, but I never gave up hope."
B.A. favors one leg from what the shelter's veterinarian believes was an old injury, but is otherwise healthy, and was recently flown out to Arizona to be with Kesler.
"There was some angel watching out for this dog for seven years," said shelter director Shafonda Davis. "That is one lucky dog."
— Watch it at CNN
Photo: CNN // B.A. was reunited with owner Dan Kesler after seven years.
Bing: Amazing animal stories
More from Vetstreet:
5 dog breeds that are sadly losing popularity
Video: Baby koala steals a sneak peek?
2 new dog breeds make debut
Why does my dog… walk in a circle before lying down?
5 great low-maintenance dogs
News, stories, tips and laughs for moms & dads
Make sure your go-to gadgets are as cute as your style, with these trendy tech finds!

Oh, how the times have changed...

Get ready to hit the mall! Check out the hottest back-to-school trends—and get ready to make a major style statement this year.

Unique, or downright strange?

This is Kevin Droniak and his grandma. They're besties, they're awesome and they're YouTube stars.

It can be difficult to entice little ones to eat anything at all, let alone to devour a healthy plate. But feeding your kids nutritious snacks after school just got way easier, thanks to these adorably clever and cute snack ideas! For more smart and fun ways to get your kids to enjoy healthful and delicious foods, try one of these amazingly artsy lunch ideas.

Through a tonsillectomy all the way to brain surgery, my mother deserves some recognition. She's my spine, my birthday shadow, my BFF, my thunder buddy, so Mommy, thank you.

My son needs me, as much as yours needs you. Sadly, my son needs me more. He needs someone to have his back, when it seems that the police, the men he'd wave to with excitement as a little boy, see him as a being worthy only of prison or death.

If you know someone who has adopted and have made some of these comments, don't fret... now you know!

"Because you shine from within," I said, touching my finger to her heart. "Not everybody sees it, but I do. I see it. And my job is to protect that light. So when people say mean comments that squelch that light, I want you to tell me. I will protect your light by listening and loving you, my brave, courageous, and unique little firefly."

Studies have shown that it helps, top education officials have recommended it, and now doctors are officially saying the same.

I may have accidentally dropped you a few times, forgotten to document your first fart, let a little pee fly and dressed you like an idiot, but I have also loved you with every piece of me, and you will never hear an apology for that.