Does parental volunteering create a strong school culture?
One writer examines whether American parents should get involved at their kids' schools or focus their efforts elsewhere.
American parents spend a lot of time volunteering at their kids' schools.
Nearly nine out of 10 attended at least one PTA or other school meeting in the 2011-12 school year, according to data released last week by the Education Department's National Household Education Surveys Program, reports Slate. Six out of 10 participated in at least one school fundraiser.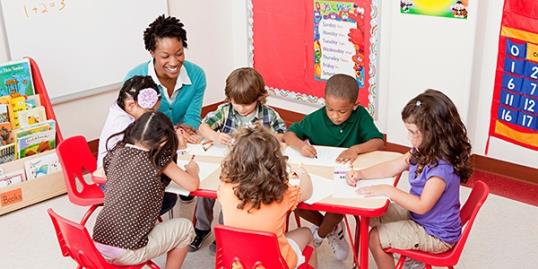 Slate writer Amanda Ripley took a look at how parents get involved in their kids' education in several countries. She concluded that in other countries, parents are indeed involved with their kids' education but are not caught up in bake sales, joining the PTA or attending after-school sporting events like many American parents. Instead, these international parents focused their time and energy on learning activities at home, such as routinely reading to young children or discussing movies and news with their teenagers.
In a 2009 study of parenting in 13 countries and regions, parents who volunteered at their kids' schools had children who performed worse at reading than parents who did not volunteer. In only two countries, Denmark and New Zealand, did parental volunteering have a positive effect.
More on MSN Living: How do you help your community?
Still, many American parents believe that whether a parent is involved with their kids' education in the classroom or at home, it helps build a foundation for a better-educated child. It also sends a message to your children that education is important.
"When I was home full time I volunteered a lot – once a week or so in the classroom, either with the kids, working on projects, reading or field trips, or doing work to help the teachers – bulletin board, laminating, photocopying," says Libby Seiter Nelson of Phoenix. "I was also the room mom every year and worked on PTO as our school's volunteer coordinator." 
Bing: Ways parents can get involved in the classroom
Now that Nelson's kids are older and she's working outside the home, she's scaled back to a few times a month, helping with parties, etc. "I love seeing the kids in action and also building a closer relationship with the teachers," she says. "When I was home full time, I felt like I was making a 'time deposit' for the self I am now and for the other working moms who wished they could be there."
More on MSN Living: 6 ways to teach your kids the thrill of giving back
Gina Cohen of Issaquah, Wash., typically volunteers once a month in her son's classroom and at one school party or event per year. "I like being able to interact with the kids that he talks about every day, to see my son in his learning environment and how he acts at school, and frankly, just to show that I care about him," she says.
Do you think volunteering at your kids' school has an effect on how much they learn?
Read the complete story in Slate here.
More from Family Room: 
Arizona hotshot firefighter's widow gives birth to boy
Woman wakes from coma and finds out she's pregnant
Poll: Most babies make Facebook debut within hour of birth
Subscribe to The Family Room | Friend us on Facebook, follow us on Twitter and find us on Pinterest.
Photo: Image Source/Getty Images
News, stories, tips and laughs for moms & dads
Make sure your go-to gadgets are as cute as your style, with these trendy tech finds!

Oh, how the times have changed...

Get ready to hit the mall! Check out the hottest back-to-school trends—and get ready to make a major style statement this year.

Unique, or downright strange?

This is Kevin Droniak and his grandma. They're besties, they're awesome and they're YouTube stars.

It can be difficult to entice little ones to eat anything at all, let alone to devour a healthy plate. But feeding your kids nutritious snacks after school just got way easier, thanks to these adorably clever and cute snack ideas! For more smart and fun ways to get your kids to enjoy healthful and delicious foods, try one of these amazingly artsy lunch ideas.

Through a tonsillectomy all the way to brain surgery, my mother deserves some recognition. She's my spine, my birthday shadow, my BFF, my thunder buddy, so Mommy, thank you.

My son needs me, as much as yours needs you. Sadly, my son needs me more. He needs someone to have his back, when it seems that the police, the men he'd wave to with excitement as a little boy, see him as a being worthy only of prison or death.

If you know someone who has adopted and have made some of these comments, don't fret... now you know!

"Because you shine from within," I said, touching my finger to her heart. "Not everybody sees it, but I do. I see it. And my job is to protect that light. So when people say mean comments that squelch that light, I want you to tell me. I will protect your light by listening and loving you, my brave, courageous, and unique little firefly."

Studies have shown that it helps, top education officials have recommended it, and now doctors are officially saying the same.

I may have accidentally dropped you a few times, forgotten to document your first fart, let a little pee fly and dressed you like an idiot, but I have also loved you with every piece of me, and you will never hear an apology for that.