Does parental volunteering create a strong school culture?
One writer examines whether American parents should get involved at their kids' schools or focus their efforts elsewhere.
American parents spend a lot of time volunteering at their kids' schools.
Nearly nine out of 10 attended at least one PTA or other school meeting in the 2011-12 school year, according to data released last week by the Education Department's National Household Education Surveys Program, reports Slate. Six out of 10 participated in at least one school fundraiser.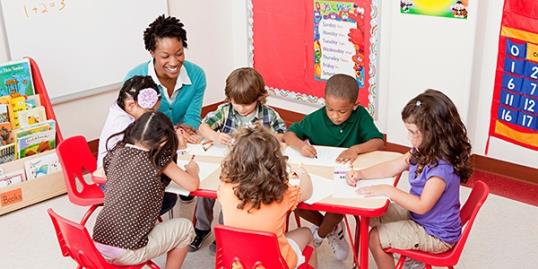 Slate writer Amanda Ripley took a look at how parents get involved in their kids' education in several countries. She concluded that in other countries, parents are indeed involved with their kids' education but are not caught up in bake sales, joining the PTA or attending after-school sporting events like many American parents. Instead, these international parents focused their time and energy on learning activities at home, such as routinely reading to young children or discussing movies and news with their teenagers.
In a 2009 study of parenting in 13 countries and regions, parents who volunteered at their kids' schools had children who performed worse at reading than parents who did not volunteer. In only two countries, Denmark and New Zealand, did parental volunteering have a positive effect.
More on MSN Living: How do you help your community?
Still, many American parents believe that whether a parent is involved with their kids' education in the classroom or at home, it helps build a foundation for a better-educated child. It also sends a message to your children that education is important.
"When I was home full time I volunteered a lot – once a week or so in the classroom, either with the kids, working on projects, reading or field trips, or doing work to help the teachers – bulletin board, laminating, photocopying," says Libby Seiter Nelson of Phoenix. "I was also the room mom every year and worked on PTO as our school's volunteer coordinator." 
Bing: Ways parents can get involved in the classroom
Now that Nelson's kids are older and she's working outside the home, she's scaled back to a few times a month, helping with parties, etc. "I love seeing the kids in action and also building a closer relationship with the teachers," she says. "When I was home full time, I felt like I was making a 'time deposit' for the self I am now and for the other working moms who wished they could be there."
More on MSN Living: 6 ways to teach your kids the thrill of giving back
Gina Cohen of Issaquah, Wash., typically volunteers once a month in her son's classroom and at one school party or event per year. "I like being able to interact with the kids that he talks about every day, to see my son in his learning environment and how he acts at school, and frankly, just to show that I care about him," she says.
Do you think volunteering at your kids' school has an effect on how much they learn?
Read the complete story in Slate here.
More from Family Room: 
Arizona hotshot firefighter's widow gives birth to boy
Woman wakes from coma and finds out she's pregnant
Poll: Most babies make Facebook debut within hour of birth
Subscribe to The Family Room | Friend us on Facebook, follow us on Twitter and find us on Pinterest.
Photo: Image Source/Getty Images
News, stories, tips and laughs for moms & dads
A new dad finds an Epcot Center's worth of innovation after expecting none at all.

Alcohol and tattoos are not meant for the pre-teen set

But Debra Harrell now has custody of daughter again

I am probably not the first to tell you this: Kids come with lots of stuff. Even if you try to be as minimal as possible, the little creatures require an awful lot to keep things running smoothly. Here's a master-plan slideshow of ways to cut corners on space in every room to accommodate all the things that come along with kids.

You never know for certain what type of parent you'll be until you've actually become one and your parenting style, as it becomes evident, may surprise you. Here are 4 parenting books to help you figure it all out.

Sunshine! Camping! Pool parties! BBQs! The sunny season is here and to help you make the most of it, we've hand-picked 7 great products to make this summer the best your family has ever had. Click through for our list to inspire your sunny day fun. From our sponsor: Walmart

We all love a picnic. But do one quick search for 'picnic ideas' on Pinterest and you're instantly teleported into a land of overachieving home chefs clearly looking for their big break on Food Network. Well, never mind that, we say. Scratch the 25-ingredient recipes and the incessant trips to the craft store for that perfect tablescape. Here are 5 truly simple picnic ideas that will look great, taste great, and make you feel like the winner you are! From our sponsor: Walmart

Admit it — you do these things, too! And that's OK. But maybe — just maybe — it's time to think about changing things up a little bit, for the sake of your sanity, your relationship with your kids, and because life's too short.

We asked veterinary experts and readers which breeds they think and if it is OK to shave longhaired pets in the summer.

Celeb moms post photos to show off their weight loss, but then they undermine their progress in the captions.

Kriste Lewis was inspired by her kidney disease to try out

Hittin' the road, moms and dads? Plan for these five things to happen...