Does parental volunteering create a strong school culture?
One writer examines whether American parents should get involved at their kids' schools or focus their efforts elsewhere.
American parents spend a lot of time volunteering at their kids' schools.
Nearly nine out of 10 attended at least one PTA or other school meeting in the 2011-12 school year, according to data released last week by the Education Department's National Household Education Surveys Program, reports Slate. Six out of 10 participated in at least one school fundraiser.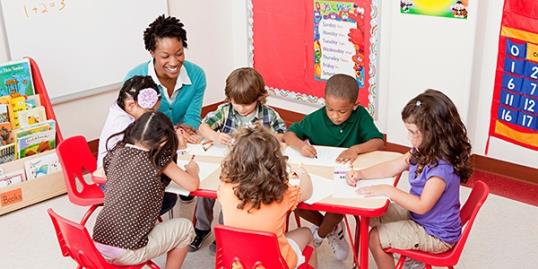 Slate writer Amanda Ripley took a look at how parents get involved in their kids' education in several countries. She concluded that in other countries, parents are indeed involved with their kids' education but are not caught up in bake sales, joining the PTA or attending after-school sporting events like many American parents. Instead, these international parents focused their time and energy on learning activities at home, such as routinely reading to young children or discussing movies and news with their teenagers.
In a 2009 study of parenting in 13 countries and regions, parents who volunteered at their kids' schools had children who performed worse at reading than parents who did not volunteer. In only two countries, Denmark and New Zealand, did parental volunteering have a positive effect.
More on MSN Living: How do you help your community?
Still, many American parents believe that whether a parent is involved with their kids' education in the classroom or at home, it helps build a foundation for a better-educated child. It also sends a message to your children that education is important.
"When I was home full time I volunteered a lot – once a week or so in the classroom, either with the kids, working on projects, reading or field trips, or doing work to help the teachers – bulletin board, laminating, photocopying," says Libby Seiter Nelson of Phoenix. "I was also the room mom every year and worked on PTO as our school's volunteer coordinator." 
Bing: Ways parents can get involved in the classroom
Now that Nelson's kids are older and she's working outside the home, she's scaled back to a few times a month, helping with parties, etc. "I love seeing the kids in action and also building a closer relationship with the teachers," she says. "When I was home full time, I felt like I was making a 'time deposit' for the self I am now and for the other working moms who wished they could be there."
More on MSN Living: 6 ways to teach your kids the thrill of giving back
Gina Cohen of Issaquah, Wash., typically volunteers once a month in her son's classroom and at one school party or event per year. "I like being able to interact with the kids that he talks about every day, to see my son in his learning environment and how he acts at school, and frankly, just to show that I care about him," she says.
Do you think volunteering at your kids' school has an effect on how much they learn?
Read the complete story in Slate here.
More from Family Room: 
Arizona hotshot firefighter's widow gives birth to boy
Woman wakes from coma and finds out she's pregnant
Poll: Most babies make Facebook debut within hour of birth
Subscribe to The Family Room | Friend us on Facebook, follow us on Twitter and find us on Pinterest.
Photo: Image Source/Getty Images
News, stories, tips and laughs for moms & dads
Two sociologists have found that parents who have daughters are more inclined to support the GOP and turn a cold shoulder to Democrats.

The experts at Nameberry.com predict what will be big in baby-naming next year

Famed event-planner David Stark shared tips for making chic holiday decorations using items you already have around the house. Take a look!

Sociologist Karen Z. Kramer found that over the past decade more than 550,000 men were stay-at-home fathers, which is about 3.5 percent of the married with kids population.

Ben Miller celebrates his wife's birthday and the anniversary of the day their premature son Ward Miles came home for good with a video documenting his first year.

Adopting an animal is a major commitment. Yet all too often people put more effort into researching what kind of car to get than the type of pet that would best fit their lifestyle.

'Tis the season to send out holiday greeting cards to all your friends and family. But, as our friends at Awkward Family Pet Photos know, not all holiday snapshots are the same. Some are just plain kooky — especially when pets are included. So with good tidings and great cheer, here are 10 wacky holiday animal portraits that are sure to make you laugh out loud and get you in the holiday spirit. And possibly make you think twice about dressing up the family cat this year.

King of the jungle? Nah, it's just a labradoodle!

Side-by-side images of adorable babies and their celebrity doppelgängers

Do you have a finicky furry friend on your holiday gift list this year? You're in luck! We've rounded up the coolest cat-approved products to bring you purrfect gift ideas for every kind of cat -- from the curious kitten to the most refined feline. Any one of these special gifts could make your resident kitty purr with pleasure and maybe, just maybe, like the present this year even more than the box and wrapping paper it came in!

Plus, puppy names to watch

This holiday season's hottest toy has yet to be revealed, but more often than not, the best gifts are the ones kids don't even know to ask for. So this year, surprise your kids with unique presents under the tree, and watch as their eyes light up when they unwrap them. From space-age sand to a DIY race track, these out-of-the-box gift ideas will provide some serious shopping inspiration. Click through the slideshow above for all our favorite picks.