Are Boys Easier Than Girls?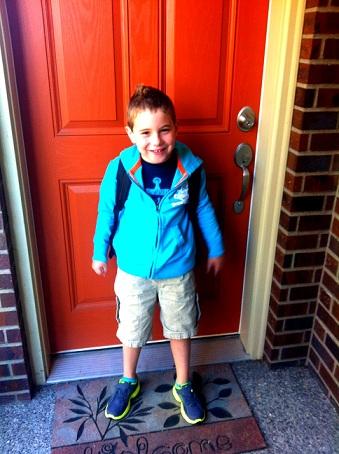 Like many of your kids, my son had his first day of school this week. He began the first grade, and I couldn't be prouder. As I drove to work after dropping him off that morning, I reflected on how quickly and quietly this day had snuck up on me. Why had I not experienced the harried back-to-school whirlwind of many years prior, when I prepared my (now college-aged) daughter for school? I couldn't help but wonder: Is it easier readying boys for school than girls, or am I just older and wiser now? I decided I can take exactly zero credit here. Boys — in my experience of a focus group of two — are easier. Allow me to present two strong pieces of evidence:
  * The Backpack. I recall going into store after store with my daughter when she was in elementary school, trying to find the right backpack. You know, the one that wasn't too babyish and didn't have the wrong words on it and wasn't the one her best friend's friend's friend had already chosen, and wasn't too much like last year's backpack. With my son, I saw there was a sale at Toys R Us (free lunch bag with purchase of backpack! Score.). He took one look at a seemingly endless aisle of neon options, and within seconds, selected a basic Hot Wheels backpack, because it came with a toy car attached to the zipper. Done. He didn't even care if the lunch bag matched or not. He nearly chose a Ninjago lunchbox! Oh, the un-matchy horror that would have been, had I not swooped in and saved him from a year of ridicule from his 7-year-old brethren. Phew. You're welcome, son.
 
Still haven't found a backpack? Try one of these options.
  * The First Day Outfit. Must I even go into detail as it relates to the grand event that is Back to School Clothing Shopping for Daughters? There are labels to consider, see. Colors that are in or out. Styles that are so totally not her. Mostly, anything you choose as a mom is decidedly unappealing, even though you know for certain she would have chosen it herself had you not been standing there. So there's drama, and there are dressing rooms and emotional breakdowns in front of mirrors and lots of reassuring that your little girl looks beautiful and cool and whatever else she wants to look and feel like that year. My son and I spent about 22 seconds on a sale rack and walked out with a bag of outfits. On the morning of his first day of school, I asked him to choose his outfit. He came downstairs wearing a t-shirt and shorts from last year.
I rest my case.
Tell us — do you agree? Are sons easier than daughters when it comes to back to school?
Photo: Courtesy of Gina Cohen
Gina Cohen is a Lead Producer at MSN Living. She is a very proud parent of two terrific kids, ages 18 and 6, and is currently undergoing a home makeover project, including searching for the perfect paint shade of snowy gray. If you know the one, you should recommend it – follow Gina on Twitter or send her an email.
More Family & Parenting on MSN Living:
51 Perfect Day Trips for Families
The Most Popular Baby Names of All Time
Top Names for the Top 10 Dog Breeds
News, stories, tips and laughs for moms & dads
Any of these sound familiar?

Fire challenge involves pouring alcohol on one's chest and lighting it

A coincidence after the furlough?

Helpful tips for easing first day jitters.

Getting ready for fall has never been more fun.

Great reads for the back-to-school mindset.

Remember the concept of weekends being a time for rest, relaxation, and togetherness? No? Us either. Between soccer games, playdates, dragging your kids to see the new exhibition at the local children's museum, and we need to pick up a gift for that birthday party that starts in . . . 20 minutes, juggling a busy family's weekend schedule can be more stressful than a weekday. While we know it's simply not realistic to cancel all your plans and obligations moving forward, clearing the calendar for just one weekend can be just the refresher that your family's craving. Here's why.

4 steps for raising a child who doesn't feel emotionally stranded.

You just had a baby? You're a superstar! All those diapers, all that spit up, and you're makin' magic happen. But you're also likely tired - really tired - and busy (so, so busy). Taking time for yourself might seem like an indulgence but a happy mom makes for a happy baby. Here are 7 things you should definitely do to keep your sanity intact and your spirit high. <more, below>

Summertime is on, and the kids are out of school. Every mom knows that for these three months it's more important than ever to keep the kids busy. But you don't have to schedule your life away with camps, or drop a bundle on activities and games that come in a box. You can make your own fun, and even include the kids in the prep, with some simple, inexpensive DIY crafts that will keep them playing 'til the lightening bugs come out. Make your own fingerpaint, bubbles, and crayons. Create a fort-building kit and superhero capes that will kick their imaginations into overdrive. Here are 10 of our favorite kid-friendly DIY crafts to fuel your summertime fun.

Let these DIY dog bed projects be your inspiration and within a single weekend, you can construct something that really makes Rex feel like a king.