Are Boys Easier Than Girls?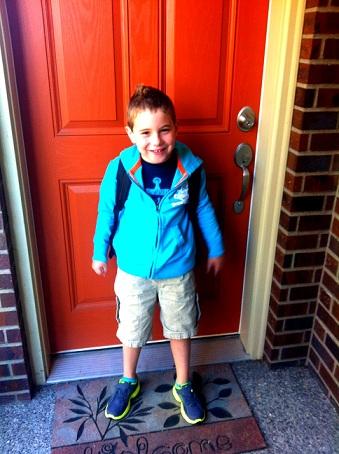 Like many of your kids, my son had his first day of school this week. He began the first grade, and I couldn't be prouder. As I drove to work after dropping him off that morning, I reflected on how quickly and quietly this day had snuck up on me. Why had I not experienced the harried back-to-school whirlwind of many years prior, when I prepared my (now college-aged) daughter for school? I couldn't help but wonder: Is it easier readying boys for school than girls, or am I just older and wiser now? I decided I can take exactly zero credit here. Boys — in my experience of a focus group of two — are easier. Allow me to present two strong pieces of evidence:
  * The Backpack. I recall going into store after store with my daughter when she was in elementary school, trying to find the right backpack. You know, the one that wasn't too babyish and didn't have the wrong words on it and wasn't the one her best friend's friend's friend had already chosen, and wasn't too much like last year's backpack. With my son, I saw there was a sale at Toys R Us (free lunch bag with purchase of backpack! Score.). He took one look at a seemingly endless aisle of neon options, and within seconds, selected a basic Hot Wheels backpack, because it came with a toy car attached to the zipper. Done. He didn't even care if the lunch bag matched or not. He nearly chose a Ninjago lunchbox! Oh, the un-matchy horror that would have been, had I not swooped in and saved him from a year of ridicule from his 7-year-old brethren. Phew. You're welcome, son.
 
Still haven't found a backpack? Try one of these options.
  * The First Day Outfit. Must I even go into detail as it relates to the grand event that is Back to School Clothing Shopping for Daughters? There are labels to consider, see. Colors that are in or out. Styles that are so totally not her. Mostly, anything you choose as a mom is decidedly unappealing, even though you know for certain she would have chosen it herself had you not been standing there. So there's drama, and there are dressing rooms and emotional breakdowns in front of mirrors and lots of reassuring that your little girl looks beautiful and cool and whatever else she wants to look and feel like that year. My son and I spent about 22 seconds on a sale rack and walked out with a bag of outfits. On the morning of his first day of school, I asked him to choose his outfit. He came downstairs wearing a t-shirt and shorts from last year.
I rest my case.
Tell us — do you agree? Are sons easier than daughters when it comes to back to school?
Photo: Courtesy of Gina Cohen
Gina Cohen is a Lead Producer at MSN Living. She is a very proud parent of two terrific kids, ages 18 and 6, and is currently undergoing a home makeover project, including searching for the perfect paint shade of snowy gray. If you know the one, you should recommend it – follow Gina on Twitter or send her an email.
More Family & Parenting on MSN Living:
51 Perfect Day Trips for Families
The Most Popular Baby Names of All Time
Top Names for the Top 10 Dog Breeds

Well I have 2 daughters & 1 Son...Well my 2 Girls Loved school & going to school was so much easier than my Son who is 5 yrs.old I have to fight with him every morning to get up & get ready. he always as so many excuses why he can't go & that everyone is Crazy.. We are late every morning & he just wants to go back to 4K & never go to school again.
 I told him he has to go to school & he can't stay home & he can't go back to 4K that he was moving on to be a Big Boy now. All I heard was I want to be a little Boy & I hate school & I don't like going to meet new friends & its to cold to go to school & the wind is blowing real hard. my throat hurts & my stomache & so on & so on..
 I wish I would of had another girl because it was so easy with them. Yes they wanted clothes that they wanted but that was ok with me because I want to spend money on clothes that they would wear not on clothes that would stay in the closet till who knows when. My son won't wear half the clothes cause he says they won't fit when they will.
 So yes my Son is going to make his whole school yrs. a nitemare cause if I have to sit & fight with him till he is 18 its going to be a mess... I tryed everything with him I told him he goes everyday he will get a toy at the end of the month he said No way.. I also told him if he goes everyday he can get a prize at the end of the week he said No that he don't want to hear it anymore.. So now I just get him to school late & he complains all the way to school when we get there he is fighting with me to get out of my truck But I pick him up & carry him in school kicking & yelling.. I hope one day he will see that he isn't getting his way at all... But I Love him with all my heart no matter what he does......
Are you sure you want to delete this comment?
family: tips, trends & advice for all things family
Kids and water parks go together like macaroni and cheese. Check out our top picks for your next wet and wild vacation.

We got new dads to dish on what they wish their partners knew. So, listen up, mamas!

Are you really ready to be a parent, or should you stick with a houseplant? Find out before you TTC.

With all the glitz and glamour that comes out of Tinseltown (not to mention the endless tabloid fodder), it's not always obvious that many celebrities are animal lovers, too.

From designer crosses to giant breeds, we scoured Vetstreet's data of millions of dog breeds to determine the trendiest breeds of the past decade.

One of the most unsettling consequences of bringing a child into your previously simple, happily oblivious manly life is that you're now unquestionably, inescapably…The Man.

Whether it was baby's first kick or the first time your boobs leaked in public, there's a point in every mom's life when the world as you know it ends and you realize -- Whoa, I'm someone's mom now. Some of our favorite mommy bloggers revealed what their aha moments were. They range from heartwarming to completely hilarious.

From DIY jewelry to homemade "flowers" to sweet vases, you can help your kid make mom's day with these crafty gifts.

The first parenting shock: They let you take the baby home. Like, without supervision. Only then do the real surprises unfold. Here's what readers told us was most unexpected for them as they embraced this whole mama thing.

Be prepared to say, 'awww,' multiple times while flipping through this collection super-sweet stuff for babies and kids on Etsy.com. Take a peek at some of our favorite finds for moms (and click 'More' to find out how to get this amazing gnome hat!)...By MSN Living editors

Your Mother's Day plans are all set, right? Brunch is booked and a fabulous gift is wrapped and ready to go. So take a breather and celebrate these stylish celebrity moms who work hard, care for their kids, and manage to look amazing in the process.

Find out this year's top baby names on Parenting.com, and see what we predict will be big in 2013