Schools criticized for bans on dreadlocks, Afros
Children like Tiana Parker have been at the center of a debate over standards of black beauty, cultural pride and freedom of expression.
By Leanne Italie, The Associated Press
"Why are you so sad?" a TV reporter asked the little girl with a bright pink bow in her hair.
"Because they didn't like my dreads," she sobbed, wiping her tears. "I think that they should let me have my dreads."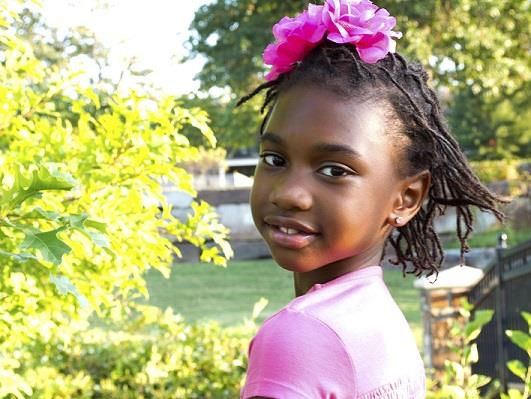 This 2013 image released by the Parker Family shows Tiana Parker in Tulsa, Okla. (AP Photo/The Parker Family, Marq Lewis)
With those words, second-grader Tiana Parker of Tulsa, Okla., found herself, at age 7, at the center of decades of debate over standards of black beauty, cultural pride and freedom of expression.
More from MSN Living: How Oprah got that giant afro
It was no isolated incident at the predominantly black Deborah Brown Community School, which in the face of outrage in late August apologized and rescinded language banning dreadlocks, Afros, mohawks and other "faddish" hairstyles it had called unacceptable and potential health hazards.
A few weeks earlier, another charter school, the Horizon Science Academy in Lorain, Ohio, sent a draft policy home to parents that proposed a ban on "Afro-puffs and small twisted braids." It, too, quickly apologized and withdrew the wording.
But at historically black Hampton University in Hampton, Va., the dean of the business school has defended and left in place a 12-year-old prohibition on dreadlocks and cornrows for male students in a leadership seminar for MBA candidates, saying the look is not businesslike.
Tiana's father, barber student Terrance Parker, said he and his wife chose not to change her style and moved the straight-A student to a different public school, where she now happily sings songs about her hair with friends.
"I think it stills hurts her. But the way I teach my kids is regardless of what people say, you be yourself and you be happy with who you are and how God made you," he said.
Tiana added: "I like my new school better." As for the thousands of emails and phone calls of support the family has received from around the world, she said she feels "cared about."
Deborah Brown, the school's founder, did not return a call from The Associated Press. Jayson Bendik, dean of students at Horizon in Lorain, said in an email that "our word choice was a mistake."
In New York City, the dress code at 16-year-old Dante de Blasio's large public high school in Brooklyn includes no such hair restrictions. Good thing for Dante, whose large Afro is hard to miss at campaign stops and in a TV spot for his father, Bill de Blasio, who is running for mayor.
There is no central clearinghouse for local school board policies on hairstyles, or surveys indicating whether such rules are widespread. Regardless, mothers of color and black beauty experts consider the controversies business as usual.
"Our girls are always getting messages that tell them that they are not good enough, that they don't look pretty enough, that their skin isn't light enough, that their hair isn't long enough, that their hair isn't blond enough," said Beverly Bond of the New York-based esteem-building group Black Girls Rock.
"The public banning of our hair or anything about us that looks like we look, it feels like it's such a step backward."
Bond founded the organization in response to an episode in 2007 when radio host Don Imus called members of the Rutgers women's basketball team "nappy-headed hos." He later apologized.
In Chicago, Leila Noelliste has been blogging about natural hair at Blackgirllonghair.co​m for about five years. She has followed the school cases closely. The 28-year-old mother with a natural hairstyle and two daughters who also wear their hair that way said it is a touchy issue among African-Americans and others.
"This is the way the hair grows out of my head, yet it's even shocking in some black communities, because we've kind of been told culturally that to be acceptable and to make other people kind of comfortable with the way that we look, we should straighten our hair, whether through heat or chemicals," she said. "So whether we're in non-black communities or black communities, with our natural hair, we stand out. It evokes a lot of reaction."
Particularly painful, said Noelliste and others, is the notion that natural styles are not hygienic.
"Historically natural hair has been viewed as dirty, unclean, unkempt, messy," she said. "An older black generation, there's this idea of African-American exceptionalism, that the way for us to get ahead is to work twice as hard as any white person and to prove that if we just work hard and we look presentable we'll get ahead, and that's very entrenched. My generation, we're saying that that's not fair. We should be able to show up as we are and based on our individual merit and effort be judged on that."
Ryan Kiesel, executive director of the Oklahoma chapter of the American Civil Liberties Union, said legal rulings on hair and other issues pertaining to school dress codes have been fairly clear.
"For decades now, Supreme Court precedent has reaffirmed that clothing, including hairstyle, is part of a student's speech, and if you're going to interfere with that, then the school district has to make some findings beforehand demonstrating that there is an immediate threat to the academic environment," he said. "That wasn't the case here and in most dress-code cases."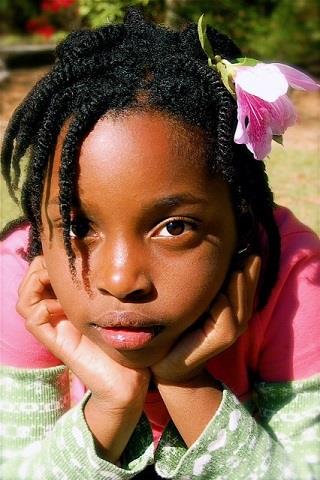 This 2009 photo released by author and blogger Denene Millner shows her daughter, Lila Chiles, 7, in Snellville, Ga. Millner chose to wear her hair natural nearly 14 years ago for the sake of her daughters. "I didn't want them to grow up with the same idea that I had when I was little, that there was something wrong with the way that my hair grew out of my head." (AP Photo/Denene Millner)
Denene Millner in Atlanta created a blog, Mybrownbaby.com, for other African-American moms and also followed the school hair controversies. She went natural nearly 14 years ago for the sake of her daughters, now 11 and 14.
"I didn't want them to grow up with the same idea that I had when I was little, that there was something wrong with the way that my hair grew out of my head," said Millner, 45. "It's something that we've grappled with for a very, very long time. There's a whole lot of assumptions made about you that may not necessarily be true: that you're political, that you're Afro-centric, that you might be vegetarian, that you're kind of a hipster."
She said watching Tiana sob on camera "about these grown-ups, black folks, who are supposed to not just educate her but show her how to love herself, it tore my heart to shreds."
More from The Family Room:
Student banned over dyed hair

'Dear Santa' wish comes true for bullied sister
Daughters more likely to care for elderly parents
Subscribe to The Family Room | Friend us on Facebook, follow us on Twitter and find us on Pinterest.
News, stories, tips and laughs for moms & dads
What one mom learned about herself might just change your world

From Ryan Gosling earrings to portable speakers, there's something here for kids of all ages.

When it comes to holiday giving, it's the thought that counts, which is why homemade gifts from kids are so treasured by their mothers. Children might not have money to spend on an expensive piece of jewelry or designer handbag, but they do have the time to DIY something special for their number one fan. If you're in charge of helping the little ones think of presents, check out the above list of homemade gifts for mom. From a custom vase to Instagram coasters to Warhol-inspired wall art, we have something for every taste and skill level.

At our household, we have a large, diverse collection of toys. While I'm not as uptight as my husband on what enters our kids' toy chest, my husband must approve all toy acquisitions mostly because of aesthetics (appearance is important). In our search for functional and stylish toys, the sustainable ones often have the best design, and appeal to the visual and tactile senses or improve fine motor skills such as dexterity and hand coordination. Here are a few of our family favorites that intrigue and hold our little ones' attention—and look good, too.

Worried that a violent video game might sneak its way into your shopping cart during the holidays? Before you make it to the register, make sure you're armed with all the information you need regarding your child's games. Just because your well-meaning thirteen-year-old promises you that the game he's about to buy with the gift card from Uncle Mike is totally chill, doesn't mean it's good for kids. Do your research ahead of time to avoid any game store drama. And have a chat with your offspring before the big day; let them know that you're going to have to green light their choices before they get their hearts set on any particular item. At the end of the day, you're just being a good parent. Some of the games on the market now may look OK at first glance, but are actually quite objectionable. Trust us: We've done our homework and we're here to give you the ultimate low-down. Check out this slideshow for all the games to steer clear of this season. Don't say we didn't warn you.

Two sociologists have found that parents who have daughters are more inclined to support the GOP and turn a cold shoulder to Democrats.

The experts at Nameberry.com predict what will be big in baby-naming next year

Famed event-planner David Stark shared tips for making chic holiday decorations using items you already have around the house. Take a look!

Sociologist Karen Z. Kramer found that over the past decade more than 550,000 men were stay-at-home fathers, which is about 3.5 percent of the married with kids population.

Ben Miller celebrates his wife's birthday and the anniversary of the day their premature son Ward Miles came home for good with a video documenting his first year.

Adopting an animal is a major commitment. Yet all too often people put more effort into researching what kind of car to get than the type of pet that would best fit their lifestyle.

'Tis the season to send out holiday greeting cards to all your friends and family. But, as our friends at Awkward Family Pet Photos know, not all holiday snapshots are the same. Some are just plain kooky — especially when pets are included. So with good tidings and great cheer, here are 10 wacky holiday animal portraits that are sure to make you laugh out loud and get you in the holiday spirit. And possibly make you think twice about dressing up the family cat this year.