Kindness may be key to happiness for kids
Nice kids are happier, more popular than bullies.
New research indicates that kids who adhere to the old adage, "Do unto others as you would like others to do unto you," are happier and more popular reports Fox News.
This finding suggests that simple and brief acts of kindness might help reduce bullying, researchers say.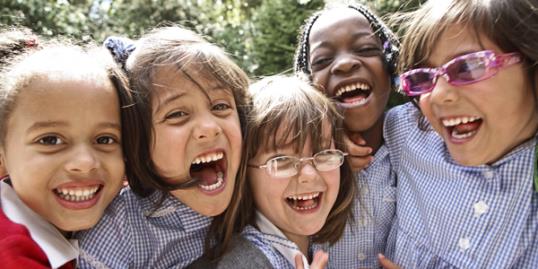 Not only do happy people often do good for others, but being more prosocial increases people's sense of well-being.
Based on this research, scientists carried out what they say was the first long-term experiment examining kindness in more than 400 "tweens" – kids age 9 to 12 – attending Vancouver, Canada, elementary schools.
Half the randomly-selected students were asked by teachers to keep track of pleasant places they visited, such as playgrounds, sporting fields, shopping centers or a friend's house. The other half were asked to perform acts of kindness. "We gave them examples of acts of kindness, but we left it up to the kids to decide what was a kind act," researcher Kimberly Schonert-Reichl, a developmental psychologist at the University of British Columbia in Vancouver, was quoted.
More on MSN Living: 50 worst celebrity hairstyles of all time
After four weeks, both groups said they were happier, but the kids who had performed acts of kindness reported experiencing greater acceptance from their peers. 
Recently, news journalist Ann Curry proposed #26acts of kindness in response to the Newtown shooting. The movement went viral as the hashtag "#26acts" trended on Twitter and a "26 Acts of Kindness" Facebook page has exceeded 17,000 likes. From baking treats for a teacher to leaving a bigger tip, this simple idea has sparked good deeds across the nation and even kids are getting in on the do-good act.
More on MSN Living: Worst celeb fashions of the year
According to Schonert-Reichl, bullying often increases in grades 4 and 5. By asking students to briefly and regularly act kindly to those around them, "hopefully we can get kids to get along in the classroom and reduce instances of the bullying and teasing that we see, especially around this age group," Schonert-Reichl was quoted.
Share this post if you encourage your kids to be kind. If your family has participated in the #26acts movements, we'd love to hear about it in the comments below.
Bing: How to teach children to be kind
Photo: Peter Cade/Getty Images
More from MSN Living:
How to help your kids feel safe
True love stories: Doctor diagnoses tumor, marries patient
News, stories, tips and laughs for moms & dads
A new dad finds an Epcot Center's worth of innovation after expecting none at all.

Alcohol and tattoos are not meant for the pre-teen set

But Debra Harrell now has custody of daughter again

I am probably not the first to tell you this: Kids come with lots of stuff. Even if you try to be as minimal as possible, the little creatures require an awful lot to keep things running smoothly. Here's a master-plan slideshow of ways to cut corners on space in every room to accommodate all the things that come along with kids.

You never know for certain what type of parent you'll be until you've actually become one and your parenting style, as it becomes evident, may surprise you. Here are 4 parenting books to help you figure it all out.

Sunshine! Camping! Pool parties! BBQs! The sunny season is here and to help you make the most of it, we've hand-picked 7 great products to make this summer the best your family has ever had. Click through for our list to inspire your sunny day fun. From our sponsor: Walmart

We all love a picnic. But do one quick search for 'picnic ideas' on Pinterest and you're instantly teleported into a land of overachieving home chefs clearly looking for their big break on Food Network. Well, never mind that, we say. Scratch the 25-ingredient recipes and the incessant trips to the craft store for that perfect tablescape. Here are 5 truly simple picnic ideas that will look great, taste great, and make you feel like the winner you are! From our sponsor: Walmart

Admit it — you do these things, too! And that's OK. But maybe — just maybe — it's time to think about changing things up a little bit, for the sake of your sanity, your relationship with your kids, and because life's too short.

We asked veterinary experts and readers which breeds they think and if it is OK to shave longhaired pets in the summer.

Celeb moms post photos to show off their weight loss, but then they undermine their progress in the captions.

Kriste Lewis was inspired by her kidney disease to try out

Hittin' the road, moms and dads? Plan for these five things to happen...