Kindness may be key to happiness for kids
Nice kids are happier, more popular than bullies.
New research indicates that kids who adhere to the old adage, "Do unto others as you would like others to do unto you," are happier and more popular reports Fox News.
This finding suggests that simple and brief acts of kindness might help reduce bullying, researchers say.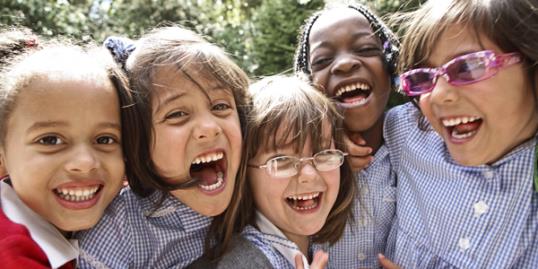 Not only do happy people often do good for others, but being more prosocial increases people's sense of well-being.
Based on this research, scientists carried out what they say was the first long-term experiment examining kindness in more than 400 "tweens" – kids age 9 to 12 – attending Vancouver, Canada, elementary schools.
Half the randomly-selected students were asked by teachers to keep track of pleasant places they visited, such as playgrounds, sporting fields, shopping centers or a friend's house. The other half were asked to perform acts of kindness. "We gave them examples of acts of kindness, but we left it up to the kids to decide what was a kind act," researcher Kimberly Schonert-Reichl, a developmental psychologist at the University of British Columbia in Vancouver, was quoted.
More on MSN Living: 50 worst celebrity hairstyles of all time
After four weeks, both groups said they were happier, but the kids who had performed acts of kindness reported experiencing greater acceptance from their peers. 
Recently, news journalist Ann Curry proposed #26acts of kindness in response to the Newtown shooting. The movement went viral as the hashtag "#26acts" trended on Twitter and a "26 Acts of Kindness" Facebook page has exceeded 17,000 likes. From baking treats for a teacher to leaving a bigger tip, this simple idea has sparked good deeds across the nation and even kids are getting in on the do-good act.
More on MSN Living: Worst celeb fashions of the year
According to Schonert-Reichl, bullying often increases in grades 4 and 5. By asking students to briefly and regularly act kindly to those around them, "hopefully we can get kids to get along in the classroom and reduce instances of the bullying and teasing that we see, especially around this age group," Schonert-Reichl was quoted.
Share this post if you encourage your kids to be kind. If your family has participated in the #26acts movements, we'd love to hear about it in the comments below.
Bing: How to teach children to be kind
Photo: Peter Cade/Getty Images
More from MSN Living:
How to help your kids feel safe
True love stories: Doctor diagnoses tumor, marries patient
News, stories, tips and laughs for moms & dads
What are we teaching our children when we focus on their achievements rather than their kindness?

Discover the seemingly insignificant things that can affect your chances of getting pregnant.

A thrill-obsessed subculture claimed another life this week.

A few suggested answers for the diciest questions

Must-haves for every mommy on the road

Here's our list of fifteen moms in the food industry that deserve some recognition.

The site gets high marks for its user-friendly interface and excellent and responsive customer service. And the reviews are also pretty accurate. Compare amenities and prices next to a hotel's in the same area, and you're likely to see Airbnb come out on top.

We captured a frame-by-frame look just for you.

Other moms can be ruthless when it comes to picking apart your parenting choices. From dissing your decision to go back to work to criticizing when you started baby on solids, here are the most ridiculous comments moms have heard. Bonus, we've got just the right way to respond to the haters! You're welcome.

Nope, you don't have to spend the next nine months in black elastic-waist pants and oversize sweaters. And you don't have to shell out a fortune on your "temporary" wardrobe either. Check out these stylish and affordable maternity clothes.

Because society crumbles without us

Another kid figured out how to get into a claw machine.