High school girls hold 'no makeup day'
Students promote 'true beauty.'
Middle and high school can be tough years for teenage girls and their developing self-confidence.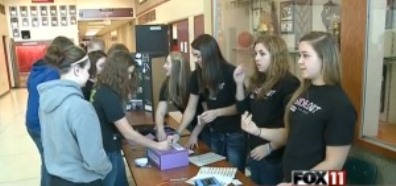 Three girls from New London High School in Wisconsin recently started a campaign to boost the spirits of their peers and get them to embrace themselves. Created by juniors Caitlin Schmidt, Cambria Fitzgerald and Jenna Mytton, the True Beauty Campaign began as an assignment for their enterprise marketing class and developed into much more.
More from Parenting: 9 unique holiday traditions
Their mission: to make all girls love their natural beauty instead of chasing some impossible standard of beauty. True Beauty's most recent function was No Makeup Day, held at school on Nov. 15. Some 300 girls at New London pledged not to wear makeup for the entire day, and 100 boys pledged to support their efforts.
It was a schoolwide event, inspiring girls of all grades to let their natural beauty shine through. Girls were given stickers that said "Bare-Faced and Beautiful" and the boys were given stickers that said "I Dig Confidence." They even sold T-shirts and bracelets to raise money for future events.
These girls have figured out what it means to be beautiful. Now, their confidence is inspiring the rest of the New London adolescent community.
How do you teach your children to embrace their natural beauty?
Photo: Courtesy Fox 11 News
Bing: How to look nice without makeup.
More from Parenting:
After-school snack ideas
Search for baby names
Best gifts for kids

I applaud this effort! Wow! Millions of Americans will watch the Victoria's Secret Fashion Show next Tuesday, while thousands of young women wish they looked like the models. It is unattainable, while being smart in school, generous, and caring towards others doesn't cost you a dime (diamond bras?, boob jobs, plastic surgery, etc.). Nice job girls! :)

Are you sure you want to delete this comment?
News, stories, tips and laughs for moms & dads
6-year-old has rare brain condition

He wanted to know if woman was pregnant

Did your state make the grade?

A new dad finds an Epcot Center's worth of innovation after expecting none at all.

Alcohol and tattoos are not meant for the pre-teen set

But Debra Harrell now has custody of daughter again

I am probably not the first to tell you this: Kids come with lots of stuff. Even if you try to be as minimal as possible, the little creatures require an awful lot to keep things running smoothly. Here's a master-plan slideshow of ways to cut corners on space in every room to accommodate all the things that come along with kids.

You never know for certain what type of parent you'll be until you've actually become one and your parenting style, as it becomes evident, may surprise you. Here are 4 parenting books to help you figure it all out.

Sunshine! Camping! Pool parties! BBQs! The sunny season is here and to help you make the most of it, we've hand-picked 7 great products to make this summer the best your family has ever had. Click through for our list to inspire your sunny day fun. From our sponsor: Walmart

We all love a picnic. But do one quick search for 'picnic ideas' on Pinterest and you're instantly teleported into a land of overachieving home chefs clearly looking for their big break on Food Network. Well, never mind that, we say. Scratch the 25-ingredient recipes and the incessant trips to the craft store for that perfect tablescape. Here are 5 truly simple picnic ideas that will look great, taste great, and make you feel like the winner you are! From our sponsor: Walmart

Admit it — you do these things, too! And that's OK. But maybe — just maybe — it's time to think about changing things up a little bit, for the sake of your sanity, your relationship with your kids, and because life's too short.

We asked veterinary experts and readers which breeds they think and if it is OK to shave longhaired pets in the summer.