High school girls hold 'no makeup day'
Students promote 'true beauty.'
Middle and high school can be tough years for teenage girls and their developing self-confidence.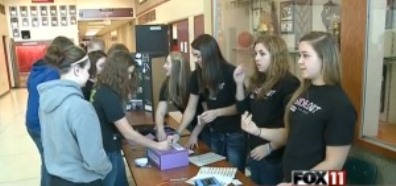 Three girls from New London High School in Wisconsin recently started a campaign to boost the spirits of their peers and get them to embrace themselves. Created by juniors Caitlin Schmidt, Cambria Fitzgerald and Jenna Mytton, the True Beauty Campaign began as an assignment for their enterprise marketing class and developed into much more.
More from Parenting: 9 unique holiday traditions
Their mission: to make all girls love their natural beauty instead of chasing some impossible standard of beauty. True Beauty's most recent function was No Makeup Day, held at school on Nov. 15. Some 300 girls at New London pledged not to wear makeup for the entire day, and 100 boys pledged to support their efforts.
It was a schoolwide event, inspiring girls of all grades to let their natural beauty shine through. Girls were given stickers that said "Bare-Faced and Beautiful" and the boys were given stickers that said "I Dig Confidence." They even sold T-shirts and bracelets to raise money for future events.
These girls have figured out what it means to be beautiful. Now, their confidence is inspiring the rest of the New London adolescent community.
How do you teach your children to embrace their natural beauty?
Photo: Courtesy Fox 11 News
Bing: How to look nice without makeup.
More from Parenting:
After-school snack ideas
Search for baby names
Best gifts for kids

I applaud this effort! Wow! Millions of Americans will watch the Victoria's Secret Fashion Show next Tuesday, while thousands of young women wish they looked like the models. It is unattainable, while being smart in school, generous, and caring towards others doesn't cost you a dime (diamond bras?, boob jobs, plastic surgery, etc.). Nice job girls! :)

Are you sure you want to delete this comment?
News, stories, tips and laughs for moms & dads
Make the most of the summer with these family-oriented activities!

Here our experts' best tips for how to be a positive role model for your kids so that they grow up healthy, strong and confident about the way they look.

Pets are part of many children's lives. Learn how to help them foster strong, healthy relationships.

It's that time again, parents...

One of our favorite ways to start the day is with a piping hot cup of coffee and a thought-provoking TED talk. In case you'€™re not familiar with the group, TED (which stands for Technology, Entertainment and Design) is a nonprofit organization dedicated to spreading ideas through projects and talks by a diverse group of inspired thinkers - people of all cultures, ages and disciplines. As you can probably guess, listening to these innovators share their ideas is a surefire way to jumpstart your day and get your creative juices flowing. Click through the slideshow above for the eight TED talks every parent needs to see. By Cordelia Tai

Much like their famous owners, these pooches live a fabulous life. Some are rescues, others purebred, but one thing is certain – these dogs play an important part in their famous parents' lives. Can you guess who owns each of these dogs?

If you value the backside of your theater seat and making it to your next paycheck, you may want to stay home

Two controversial science projects resembled weapons, school officials said.

One mom shares how she and her family make the Sedar fun and memorable for all

The threats were in public view on the boy's social media wall.

Sometimes, love isn't enough to save us.

Joe, Kevin, and Nick aren't the only hot bros in Hollywood. Seventeen has uncovered the cutest celebrity siblings!