High school girls hold 'no makeup day'
Students promote 'true beauty.'
Middle and high school can be tough years for teenage girls and their developing self-confidence.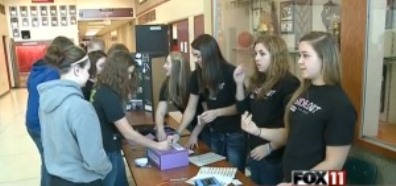 Three girls from New London High School in Wisconsin recently started a campaign to boost the spirits of their peers and get them to embrace themselves. Created by juniors Caitlin Schmidt, Cambria Fitzgerald and Jenna Mytton, the True Beauty Campaign began as an assignment for their enterprise marketing class and developed into much more.
More from Parenting: 9 unique holiday traditions
Their mission: to make all girls love their natural beauty instead of chasing some impossible standard of beauty. True Beauty's most recent function was No Makeup Day, held at school on Nov. 15. Some 300 girls at New London pledged not to wear makeup for the entire day, and 100 boys pledged to support their efforts.
It was a schoolwide event, inspiring girls of all grades to let their natural beauty shine through. Girls were given stickers that said "Bare-Faced and Beautiful" and the boys were given stickers that said "I Dig Confidence." They even sold T-shirts and bracelets to raise money for future events.
These girls have figured out what it means to be beautiful. Now, their confidence is inspiring the rest of the New London adolescent community.
How do you teach your children to embrace their natural beauty?
Photo: Courtesy Fox 11 News
Bing: How to look nice without makeup.
More from Parenting:
After-school snack ideas
Search for baby names
Best gifts for kids
News, stories, tips and laughs for moms & dads
Transform the fall vegetable into cool decor pieces.

Put together these creative, but simple, Halloween looks for your youngsters.

We know you're documenting just about every move baby makes. (Do you even have any memory left on your phone? We didn't think so.) These tips from professional photographers can help you perfect your pics.

These six on-trend ideas will make baby's room your new favorite place to hang out.

Baby probably won't remember his first birthday party, but that doesn't mean you can't go all out (after all, parents need to celebrate making it through this first year, right?). These fun, colorful themes take planning to the next level.

See what celebrities who had problems conceiving have to say.

You'll be hearing a lot of advice and opinions. Some of it will be really helpful and some will be just plain wrong. Here are the most common things people say about babies that aren't true.

A new dad finds an Epcot Center's worth of innovation after expecting none at all.

The dog days of summer may be well behind us, but that doesn't mean it's time to pack in the outdoor adventures quite yet.

Protect yourself and your family with these ingenious gizmos and smartphone apps.

Make sure your go-to gadgets are as cute as your style, with these trendy tech finds!

Oh, how the times have changed...