High school girls hold 'no makeup day'
Students promote 'true beauty.'
Middle and high school can be tough years for teenage girls and their developing self-confidence.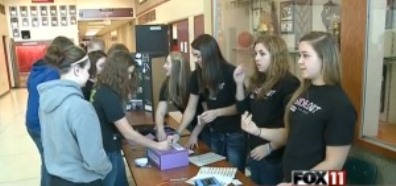 Three girls from New London High School in Wisconsin recently started a campaign to boost the spirits of their peers and get them to embrace themselves. Created by juniors Caitlin Schmidt, Cambria Fitzgerald and Jenna Mytton, the True Beauty Campaign began as an assignment for their enterprise marketing class and developed into much more.
More from Parenting: 9 unique holiday traditions
Their mission: to make all girls love their natural beauty instead of chasing some impossible standard of beauty. True Beauty's most recent function was No Makeup Day, held at school on Nov. 15. Some 300 girls at New London pledged not to wear makeup for the entire day, and 100 boys pledged to support their efforts.
It was a schoolwide event, inspiring girls of all grades to let their natural beauty shine through. Girls were given stickers that said "Bare-Faced and Beautiful" and the boys were given stickers that said "I Dig Confidence." They even sold T-shirts and bracelets to raise money for future events.
These girls have figured out what it means to be beautiful. Now, their confidence is inspiring the rest of the New London adolescent community.
How do you teach your children to embrace their natural beauty?
Photo: Courtesy Fox 11 News
Bing: How to look nice without makeup.
More from Parenting:
After-school snack ideas
Search for baby names
Best gifts for kids
News, stories, tips and laughs for moms & dads
A thrill-obsessed subculture claimed another life this week.

A few suggested answers for the diciest questions

Must-haves for every mommy on the road

Here's our list of fifteen moms in the food industry that deserve some recognition.

The site gets high marks for its user-friendly interface and excellent and responsive customer service. And the reviews are also pretty accurate. Compare amenities and prices next to a hotel's in the same area, and you're likely to see Airbnb come out on top.

We captured a frame-by-frame look just for you.

Other moms can be ruthless when it comes to picking apart your parenting choices. From dissing your decision to go back to work to criticizing when you started baby on solids, here are the most ridiculous comments moms have heard. Bonus, we've got just the right way to respond to the haters! You're welcome.

Nope, you don't have to spend the next nine months in black elastic-waist pants and oversize sweaters. And you don't have to shell out a fortune on your "temporary" wardrobe either. Check out these stylish and affordable maternity clothes.

Because society crumbles without us

Another kid figured out how to get into a claw machine.

As a new mom, you've recently discovered there are many things you can live without—sleep and modesty being chief among them. But what can't you live without? Seasoned moms share their Top 10 list for how to survive the early months of motherhood.

Here are our experts' best tips for how to be a positive role model for your kids so that they grow up healthy, strong and confident about the way they look.