Guns, kids and suicidal tendencies: A risky combination
Nearly 20 percent of children and young people at risk for suicide say there's a gun in their home, new research shows.
Nearly 20 percent of children and young people at risk for suicide say there's a gun in their home, USA Today reports. Among these youths, 15 percent know how to get their hands on both the gun and bullets, new research shows.
"That's a volatile mix: kids at risk and the means to complete suicide," Stephen Teach told the newspaper. Teach will present his study today at a meeting of the Pediatric Academic Societies in Washington.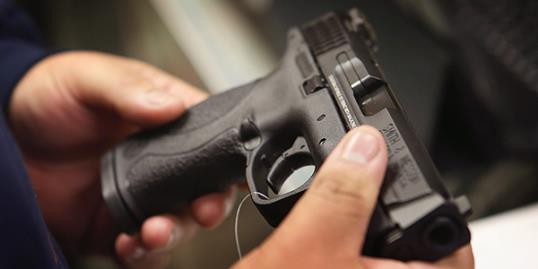 More from MSN Living: 'Smart guns' may help prevent violence
Nearly 2,000 young people in the United States ages 5 to 19 committed suicide in 2010. Almost half of these suicides involved firearms.
More from MSN Living: Infographic: A look at guns in America
Here's a quick look at some of the findings of the study:
Suicide is the third-leading cause of death among teens ages 15 to 19, according to the Centers for Disease Control and Prevention.
Research suggests that about one-third of children live in homes with a firearm.
About 1.5 million children live in a household where guns are kept loaded and unlocked.
Research shows that keeping a gun in the home increases the risk of suicide by nearly five times.
According to the CDC, 85 percent of suicide attempts with guns prove fatal, compared with 1 to 2 percent of attempts made by slashing one's wrists or taking pills.
One-fourth of teens who survived a suicide attempt said they thought of suicide just five minutes before making the attempt.
According to the CDC, 8 percent of high school students have attempted suicide in the past year, while less than 1 percent of adults ages 18 to 54 have attempted suicide in the past 12 months.
Fewer than 10 percent of those who survive a suicide attempt go on to kill themselves.
Read the whole story here.
Tell us:
Do you think access to guns and ammunition increases the possibility of at -risk youth committing suicide?
Bing: How to talk to your kids about gun safety
More from Family Room:
Strapless dresses banned at middle-school dance
Dad illustrates his kids' lunch bags
Should you bring your kids to work?
Love content like this? Friend us on Facebook, follow us on Twitter, and find us on Pinterest.
Readers: Calling all mom bloggers — we're looking for fresh voices on MSN Living. Email us your samples and contact info.
Photo: Gun/ Scott Olson/Getty Images
News, stories, tips and laughs for moms & dads
Any of these sound familiar?

Fire challenge involves pouring alcohol on one's chest and lighting it

A coincidence after the furlough?

Helpful tips for easing first day jitters.

Getting ready for fall has never been more fun.

Great reads for the back-to-school mindset.

Remember the concept of weekends being a time for rest, relaxation, and togetherness? No? Us either. Between soccer games, playdates, dragging your kids to see the new exhibition at the local children's museum, and we need to pick up a gift for that birthday party that starts in . . . 20 minutes, juggling a busy family's weekend schedule can be more stressful than a weekday. While we know it's simply not realistic to cancel all your plans and obligations moving forward, clearing the calendar for just one weekend can be just the refresher that your family's craving. Here's why.

4 steps for raising a child who doesn't feel emotionally stranded.

You just had a baby? You're a superstar! All those diapers, all that spit up, and you're makin' magic happen. But you're also likely tired - really tired - and busy (so, so busy). Taking time for yourself might seem like an indulgence but a happy mom makes for a happy baby. Here are 7 things you should definitely do to keep your sanity intact and your spirit high. <more, below>

Summertime is on, and the kids are out of school. Every mom knows that for these three months it's more important than ever to keep the kids busy. But you don't have to schedule your life away with camps, or drop a bundle on activities and games that come in a box. You can make your own fun, and even include the kids in the prep, with some simple, inexpensive DIY crafts that will keep them playing 'til the lightening bugs come out. Make your own fingerpaint, bubbles, and crayons. Create a fort-building kit and superhero capes that will kick their imaginations into overdrive. Here are 10 of our favorite kid-friendly DIY crafts to fuel your summertime fun.

Let these DIY dog bed projects be your inspiration and within a single weekend, you can construct something that really makes Rex feel like a king.