Gay student comes out to teacher in writing assignment
Brave young man deserves a hug and a high five. Coming out as LGBT is rarely easy, but this student takes the first step in confiding in his teacher.
Sit down and grab some Kleenex. This story will melt your heart and quite possibly make you cry.
I graduated high school in 1991 and cannot recall a single classmate that had come out at that time. Over the past few decades, gays and lesbians have seen greater public acceptance. But, telling someone that you are gay can be an experience fraught with fears of rejection and discrimination.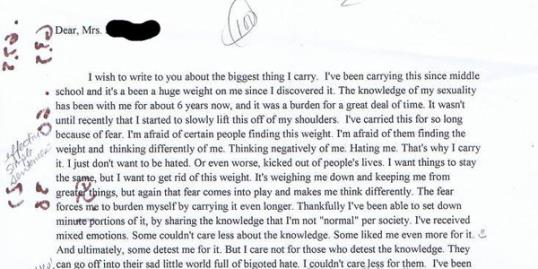 More from MSN Living: The truth behind Seen on TV products
It's difficult to fathom the burden a teen faces when hiding their true identity from their peers.  As if high school wasn't hard enough under normal circumstances.
Check out one brave young man's first step in coming out to his teacher through a writing assignment.
Dear, Mrs. XXXXX:
I wish to write you about the biggest thing I carry. I've been carrying this since middle school a it's a been a huge weight on me since I discovered it. The knowledge of my sexuality has been with me for about 6 years now, and it was a burden for a great deal of time. It wasn't until recently that I started to slowly lift this off my shoulders. I've carried this for so long because of fear. I'm afraid of certain people finding this weight. I'm afraid of them finding the weight and thinking differently about me. Thinking negatively of me. Hating me. That's why I carry it. I just don't want to be hated. Or even worse, kicked out of people's lives. I want to stay the same, but I want to get rid of this weight. It's weighing me down and keeping me from greater things, but again that fear comes into play and makes me think differently. The fear forces me to burden myself by carrying it even more. Thankfully I've been able to set down minute portions of it, by sharing the knowledge that I'm not "normal" per society. I've received mixed emotions. Some couldn't care less about the knowledge. Some liked me even more for it. And ultimately, some detest me for it. But I care not for those who detest the knowledge. They can go off into their sad little world of bigoted hate. I couldn't care less for them. I've been able to shave off a great deal of what I carry, but sadly a bit remains. The bit that is reserved for my family. They will be the hardest one to share the knowledge with, for I don't know how they will accept it. I have no idea if they will think nothing of it, or they will reject the love I offer them and disown me as their son, or brother, or nephew. That, like much of this cold, dark world, is unclear to me. And sadly, there is only one true way to know how this will turn out. They day I can finally remove this weight from me, liberate my world, is the first great victory in my life. That is the day I just can't wait to see.
Best Regards,
XXXXXX
More from MSN Living: Crazy dating trends we hope go away
Read his teacher's wonderful response:
"I am honored to be a witness to this weight being lifted off. You are an amazing, dynamic, compassionate, "with-it" young man who will give the world a gift just by you being you offering your love & spirit. If people choose not to be comfortable with your honesty — their loss my friend — their loss."  
Please leave a comment below if you applaud this student's bravery.
More from Family Room:
Most addictive video games for kids
Toddler death raises concern over car seat rules
Violent video games and child aggression
Love content like this? Friend us on Facebook, follow us on Twitter and find us on Pinterest.
Photo: daftzak via Reddit
News, stories, tips and laughs for moms & dads
Stroll down any aisle of a Toys"R"Us these days and you'll be confronted with a billion options that are light-years beyond anything you had to entertain yourself with as a kid. Lego cruise ships (complete with flatscreen TVs in the lounge and sideboard jet-skis), battery-operated Mercedes-Benz sedans, and hi-tech tablets with Android operating systems abound. We wondered, as we let ourselves get nostalgic for a moment, if any of the beloved toys we played with as children were still even on the market. Thanks to a quick hunt on the Internet we were able to find that Fisher Price still makes their classic Two Tune TV, and you can still get your hands on a good ol' Slinky. Here's a roundup of the best old-school toys for kids-- we encourage you to click through the slideshow and consider wrapping up a well-loved classic for your little one this year.

Not great with a budget? Don't sweat it. Try these simple ways to save.

Watch the video of Kristen Bell going head to head with paparazzi - it will make you angry

Every year, toy makers from around the world gather to show their latest creations at the Toy Fair in New York City. The high-tech models, gadgets and trinkets on display put those basic Legos we played with at kids to shame. Here are 10 new toys that we'd happily buy or children. Or, really, ourselves.

Find yourself wandering the aisles, suddenly needing an owl-shaped candle while drinking a $5 latte? You're not alone, moms...

Here's some parenting advice for whatever stage of separation or divorce you're in.

Whether you pop it in the mail or post it on social media, a creative photo is a surefire way to grab everyone's attention and proudly say, "I'm pregnant!" Prepare for a lot of likes.

Remember the magical children's rooms in Peter Pan and The Little Prince? These timeless novels described spaces that were enchanting and made us wish that we could inhabit the rooms ourselves. The sumptuous interiors that were filled with never-ending toys and fort-like draping may seem like a fairytale, but thanks to four of our favorite kids' furniture websites, the dream could actually become a reality. Click through the slideshow to check out the best kids furniture websites that have everything necessary to create a fantasy room for your little one. And check out Sophia Demenge's super-fun space in the video below. By Barry Samaha

They lay, they play, and they take selfies with supermodels. Meet 5 of the most social media-savvy pets—animals taking control of their own fashionable online image.

We could try to offer you carefully researched and crafted words of Dad-centric inspiration, intended to show you the path to being a better man and, in turn, a better father. But Tom Limbert took up the task for us in his new book 'Dad's Playbook: Wisdom for Fathers from the Greatest Coaches of All Time,' so we left it to him. Limbert -- a parent coach and the founder of the Studio Grow children's play space in Berkeley, California -- has collected pearls of wisdom from an elite crew of coaches who have not only experienced greatness themselves, but also found ways to consistently instill it in their teams. "It's monkey-see, monkey-do," Limbert told us, after we asked him to gather the best quotes on achieving one's goals. "If you want your child to follow, you have to lead." Click on to read the often simple-seeming words that have inspired countless others to follow through on the field, but that can also easily be translated to the school, work, fitness, and, of course, parenting arenas.

What parents need to know

It's raining, it's pouring ... but that doesn't mean the day has to be a snore. Rather than let the kids grow restless and rambunctious, why not divert their energy toward some fun family bonding activities? Although the weather may have scotched your original plans for the day, seize the opportunity to reconnect and let loose with your loved ones. Click through this slideshow for ten refreshing rainy day activities that'll make you glad the clouds (almost) rained on your parade.