Gay student comes out to teacher in writing assignment
Brave young man deserves a hug and a high five. Coming out as LGBT is rarely easy, but this student takes the first step in confiding in his teacher.
Sit down and grab some Kleenex. This story will melt your heart and quite possibly make you cry.
I graduated high school in 1991 and cannot recall a single classmate that had come out at that time. Over the past few decades, gays and lesbians have seen greater public acceptance. But, telling someone that you are gay can be an experience fraught with fears of rejection and discrimination.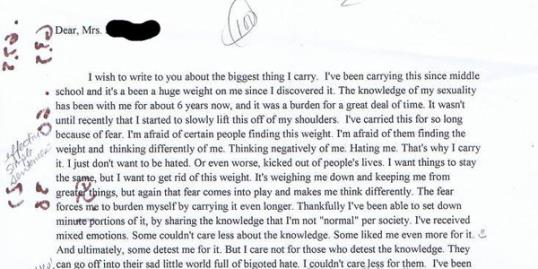 More from MSN Living: The truth behind Seen on TV products
It's difficult to fathom the burden a teen faces when hiding their true identity from their peers.  As if high school wasn't hard enough under normal circumstances.
Check out one brave young man's first step in coming out to his teacher through a writing assignment.
Dear, Mrs. XXXXX:
I wish to write you about the biggest thing I carry. I've been carrying this since middle school a it's a been a huge weight on me since I discovered it. The knowledge of my sexuality has been with me for about 6 years now, and it was a burden for a great deal of time. It wasn't until recently that I started to slowly lift this off my shoulders. I've carried this for so long because of fear. I'm afraid of certain people finding this weight. I'm afraid of them finding the weight and thinking differently about me. Thinking negatively of me. Hating me. That's why I carry it. I just don't want to be hated. Or even worse, kicked out of people's lives. I want to stay the same, but I want to get rid of this weight. It's weighing me down and keeping me from greater things, but again that fear comes into play and makes me think differently. The fear forces me to burden myself by carrying it even more. Thankfully I've been able to set down minute portions of it, by sharing the knowledge that I'm not "normal" per society. I've received mixed emotions. Some couldn't care less about the knowledge. Some liked me even more for it. And ultimately, some detest me for it. But I care not for those who detest the knowledge. They can go off into their sad little world of bigoted hate. I couldn't care less for them. I've been able to shave off a great deal of what I carry, but sadly a bit remains. The bit that is reserved for my family. They will be the hardest one to share the knowledge with, for I don't know how they will accept it. I have no idea if they will think nothing of it, or they will reject the love I offer them and disown me as their son, or brother, or nephew. That, like much of this cold, dark world, is unclear to me. And sadly, there is only one true way to know how this will turn out. They day I can finally remove this weight from me, liberate my world, is the first great victory in my life. That is the day I just can't wait to see.
Best Regards,
XXXXXX
More from MSN Living: Crazy dating trends we hope go away
Read his teacher's wonderful response:
"I am honored to be a witness to this weight being lifted off. You are an amazing, dynamic, compassionate, "with-it" young man who will give the world a gift just by you being you offering your love & spirit. If people choose not to be comfortable with your honesty — their loss my friend — their loss."  
Please leave a comment below if you applaud this student's bravery.
More from Family Room:
Most addictive video games for kids
Toddler death raises concern over car seat rules
Violent video games and child aggression
Love content like this? Friend us on Facebook, follow us on Twitter and find us on Pinterest.
Photo: daftzak via Reddit

Now that's something worth writing for. I hate how straight people who are friends with people who are straight on the outside, but not on the inside. Those who come out of the closet and confess themselves to their friends, teachers, and even family is brave enough to go into may book. I commend on this student for his bravery on himself, and for not caring what others think.
Are you sure you want to delete this comment?
News, stories, tips and laughs for moms & dads
Remember the concept of weekends being a time for rest, relaxation, and togetherness? No? Us either. Between soccer games, playdates, dragging your kids to see the new exhibition at the local children's museum, and we need to pick up a gift for that birthday party that starts in . . . 20 minutes, juggling a busy family's weekend schedule can be more stressful than a weekday. While we know it's simply not realistic to cancel all your plans and obligations moving forward, clearing the calendar for just one weekend can be just the refresher that your family's craving. Here's why.

Any of these sound familiar?

4 steps for raising a child who doesn't feel emotionally stranded.

You just had a baby? You're a superstar! All those diapers, all that spit up, and you're makin' magic happen. But you're also likely tired - really tired - and busy (so, so busy). Taking time for yourself might seem like an indulgence but a happy mom makes for a happy baby. Here are 7 things you should definitely do to keep your sanity intact and your spirit high. <more, below>

Summertime is on, and the kids are out of school. Every mom knows that for these three months it's more important than ever to keep the kids busy. But you don't have to schedule your life away with camps, or drop a bundle on activities and games that come in a box. You can make your own fun, and even include the kids in the prep, with some simple, inexpensive DIY crafts that will keep them playing 'til the lightening bugs come out. Make your own fingerpaint, bubbles, and crayons. Create a fort-building kit and superhero capes that will kick their imaginations into overdrive. Here are 10 of our favorite kid-friendly DIY crafts to fuel your summertime fun.

Let these DIY dog bed projects be your inspiration and within a single weekend, you can construct something that really makes Rex feel like a king.

The task of finding an eco-friendly, safe-for-baby gift parents-to-be will actually use is kind of challenging. Add to that a price limit of $50, and the feat suddenly feels impossible! Fortunately, we combed the marketplace for some of the prettiest, most useful, sweetest gifts for baby and family. Many are fine on their own, while others would work well as part of a bigger basket — you know, if you wish to achieve that shower-goer hero status.

Jennifer Goodall gave birth Friday after much drama

My kids snapped a pic of me on my phone and it changed how I see myself

6-year-old has rare brain condition

He wanted to know if woman was pregnant

Did your state make the grade?