Principal: No 'grinding' at school dances
Officials increase security, change music.
Brian McFeeley, principal at Mt. Lebanon High School in Pittsburgh, Pa., has declared a no "grinding" policy when it comes to school dances.
In a letter to parents, McFeeley described "grinding" as a style of dancing that "generally includes a male student rubbing up behind a female partner while both make a gyrating motion from side to side."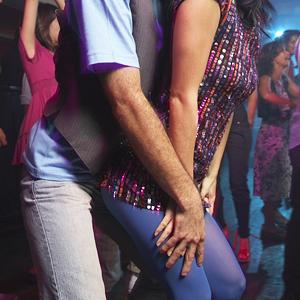 "It's just not appropriate," McFeeley is quoted in the Pittsburgh Post-Gazette. "It would be behavior we wouldn't condone in the hallways and at other events."
Officials told the Post-Gazette the ban is just one step the district is taking toward making the school safer. There have been issues with student drug and alcohol use at the last several school dances. One female student was even taken to the hospital for treatment of alcohol poisoning.
In a letter to Gawker, a Mt. Lebanon student lambasted the new policy.
"[…] I, like nearly the entire student body, feel that the banning on the style of dance that does not hurt anyone is quite absurd and think the administration should be focusing more on the small group of students that consistently shows up to dances completely trashed, which can potentially endanger many people's lives."
Other measures taken to improve behavior at school dances include "adding slow songs to the playlist, changing the DJ, increasing the number of chaperones and hiring at least two police officers to work every dance."
Tell us what you think: Has the principal gone too far?
Bing: Read more about this story
Photo: John Lund/Annabelle Breakey/Getty Images
More from MSN Living:
Awkward family vacation stories
9 fabulous family rooms
10 juiciest mom confessions
News, stories, tips and laughs for moms & dads
Got kids that are questioning whether or not the Easter Bunny is real? If you want to keep the tradition going at least one more year, try one of these ideas...

You're cold-hearted? We'll take care of that for you...read on.

This kid despises poetry and he's not afraid to let you know.

I used to be one of those moms who thought, 'who on earth would bring their child to an event like that?' and then I had a son. Here's why you might become a convert, too.

Take a look at your house for these telltale signs that a cat is running the show.

Check out this list of requirements you should meet before getting a new puppy or adult dog.

Virtually everything you need to know about relationships, you learned in nursery school: Treat people as you want to be treated, clean up after yourself, and don't be a know-it-all.

Here are our experts' best tips for how to be a positive role model for your kids so that they grow up healthy, strong and confident about the way they look.

Much like their famous owners, these pooches live a fabulous life. Some are rescues, others purebred, but one thing is certain – these dogs play an important part in their famous parents' lives. Can you guess who owns each of these dogs?

We captured a frame-by-frame look just for you.

Two controversial science projects resembled weapons, school officials said.