Principal: No 'grinding' at school dances
Officials increase security, change music.
Brian McFeeley, principal at Mt. Lebanon High School in Pittsburgh, Pa., has declared a no "grinding" policy when it comes to school dances.
In a letter to parents, McFeeley described "grinding" as a style of dancing that "generally includes a male student rubbing up behind a female partner while both make a gyrating motion from side to side."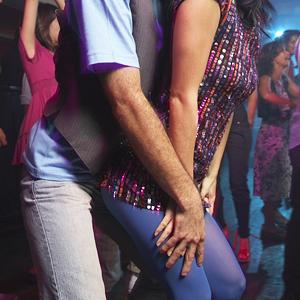 "It's just not appropriate," McFeeley is quoted in the Pittsburgh Post-Gazette. "It would be behavior we wouldn't condone in the hallways and at other events."
Officials told the Post-Gazette the ban is just one step the district is taking toward making the school safer. There have been issues with student drug and alcohol use at the last several school dances. One female student was even taken to the hospital for treatment of alcohol poisoning.
In a letter to Gawker, a Mt. Lebanon student lambasted the new policy.
"[…] I, like nearly the entire student body, feel that the banning on the style of dance that does not hurt anyone is quite absurd and think the administration should be focusing more on the small group of students that consistently shows up to dances completely trashed, which can potentially endanger many people's lives."
Other measures taken to improve behavior at school dances include "adding slow songs to the playlist, changing the DJ, increasing the number of chaperones and hiring at least two police officers to work every dance."
Tell us what you think: Has the principal gone too far?
Bing: Read more about this story
Photo: John Lund/Annabelle Breakey/Getty Images
More from MSN Living:
Awkward family vacation stories
9 fabulous family rooms
10 juiciest mom confessions
News, stories, tips and laughs for moms & dads
Protect yourself and your family with these ingenious gizmos and smartphone apps.

Make sure your go-to gadgets are as cute as your style, with these trendy tech finds!

Oh, how the times have changed...

Get ready to hit the mall! Check out the hottest back-to-school trends—and get ready to make a major style statement this year.

Unique, or downright strange?

This is Kevin Droniak and his grandma. They're besties, they're awesome and they're YouTube stars.

It can be difficult to entice little ones to eat anything at all, let alone to devour a healthy plate. But feeding your kids nutritious snacks after school just got way easier, thanks to these adorably clever and cute snack ideas! For more smart and fun ways to get your kids to enjoy healthful and delicious foods, try one of these amazingly artsy lunch ideas.

Through a tonsillectomy all the way to brain surgery, my mother deserves some recognition. She's my spine, my birthday shadow, my BFF, my thunder buddy, so Mommy, thank you.

My son needs me, as much as yours needs you. Sadly, my son needs me more. He needs someone to have his back, when it seems that the police, the men he'd wave to with excitement as a little boy, see him as a being worthy only of prison or death.

If you know someone who has adopted and have made some of these comments, don't fret... now you know!

"Because you shine from within," I said, touching my finger to her heart. "Not everybody sees it, but I do. I see it. And my job is to protect that light. So when people say mean comments that squelch that light, I want you to tell me. I will protect your light by listening and loving you, my brave, courageous, and unique little firefly."

Studies have shown that it helps, top education officials have recommended it, and now doctors are officially saying the same.