Principal: No 'grinding' at school dances
Officials increase security, change music.
Brian McFeeley, principal at Mt. Lebanon High School in Pittsburgh, Pa., has declared a no "grinding" policy when it comes to school dances.
In a letter to parents, McFeeley described "grinding" as a style of dancing that "generally includes a male student rubbing up behind a female partner while both make a gyrating motion from side to side."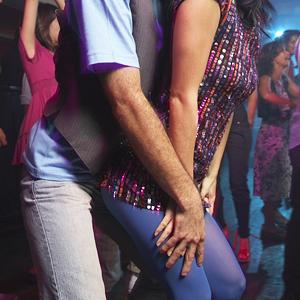 "It's just not appropriate," McFeeley is quoted in the Pittsburgh Post-Gazette. "It would be behavior we wouldn't condone in the hallways and at other events."
Officials told the Post-Gazette the ban is just one step the district is taking toward making the school safer. There have been issues with student drug and alcohol use at the last several school dances. One female student was even taken to the hospital for treatment of alcohol poisoning.
In a letter to Gawker, a Mt. Lebanon student lambasted the new policy.
"[…] I, like nearly the entire student body, feel that the banning on the style of dance that does not hurt anyone is quite absurd and think the administration should be focusing more on the small group of students that consistently shows up to dances completely trashed, which can potentially endanger many people's lives."
Other measures taken to improve behavior at school dances include "adding slow songs to the playlist, changing the DJ, increasing the number of chaperones and hiring at least two police officers to work every dance."
Tell us what you think: Has the principal gone too far?
Bing: Read more about this story
Photo: John Lund/Annabelle Breakey/Getty Images
More from MSN Living:
Awkward family vacation stories
9 fabulous family rooms
10 juiciest mom confessions
News, stories, tips and laughs for moms & dads
Megan Davies Mennes has been blogging and posting photos of her son Quinn online for some time now. Quinn has Down syndrome, and Mennes has dealt with a few nasty comments here and there, the type of stuff you'd expect to encounter on the Internet.

From a cozy-chic hotel by the seashore in Los Angeles that doubles as a home away from home to a nature-lover's tropical paradise in Costa Rica, each of these properties is a family-friendly in its own special way.

Two controversial science projects resembled weapons, school officials said.

Must-haves for every mommy on the road

What are we teaching our children when we focus on their achievements rather than their kindness?

Discover the seemingly insignificant things that can affect your chances of getting pregnant.

A thrill-obsessed subculture claimed another life this week.

A few suggested answers for the diciest questions

Here's our list of fifteen moms in the food industry that deserve some recognition.

The site gets high marks for its user-friendly interface and excellent and responsive customer service. And the reviews are also pretty accurate. Compare amenities and prices next to a hotel's in the same area, and you're likely to see Airbnb come out on top.

We captured a frame-by-frame look just for you.

Other moms can be ruthless when it comes to picking apart your parenting choices. From dissing your decision to go back to work to criticizing when you started baby on solids, here are the most ridiculous comments moms have heard. Bonus, we've got just the right way to respond to the haters! You're welcome.