Principal: No 'grinding' at school dances
Officials increase security, change music.
Brian McFeeley, principal at Mt. Lebanon High School in Pittsburgh, Pa., has declared a no "grinding" policy when it comes to school dances.
In a letter to parents, McFeeley described "grinding" as a style of dancing that "generally includes a male student rubbing up behind a female partner while both make a gyrating motion from side to side."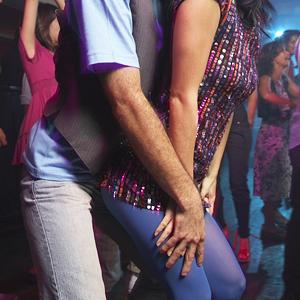 "It's just not appropriate," McFeeley is quoted in the Pittsburgh Post-Gazette. "It would be behavior we wouldn't condone in the hallways and at other events."
Officials told the Post-Gazette the ban is just one step the district is taking toward making the school safer. There have been issues with student drug and alcohol use at the last several school dances. One female student was even taken to the hospital for treatment of alcohol poisoning.
In a letter to Gawker, a Mt. Lebanon student lambasted the new policy.
"[…] I, like nearly the entire student body, feel that the banning on the style of dance that does not hurt anyone is quite absurd and think the administration should be focusing more on the small group of students that consistently shows up to dances completely trashed, which can potentially endanger many people's lives."
Other measures taken to improve behavior at school dances include "adding slow songs to the playlist, changing the DJ, increasing the number of chaperones and hiring at least two police officers to work every dance."
Tell us what you think: Has the principal gone too far?
Bing: Read more about this story
Photo: John Lund/Annabelle Breakey/Getty Images
More from MSN Living:
Awkward family vacation stories
9 fabulous family rooms
10 juiciest mom confessions
News, stories, tips and laughs for moms & dads
Transform the fall vegetable into cool decor pieces.

Put together these creative, but simple, Halloween looks for your youngsters.

We know you're documenting just about every move baby makes. (Do you even have any memory left on your phone? We didn't think so.) These tips from professional photographers can help you perfect your pics.

These six on-trend ideas will make baby's room your new favorite place to hang out.

Baby probably won't remember his first birthday party, but that doesn't mean you can't go all out (after all, parents need to celebrate making it through this first year, right?). These fun, colorful themes take planning to the next level.

See what celebrities who had problems conceiving have to say.

You'll be hearing a lot of advice and opinions. Some of it will be really helpful and some will be just plain wrong. Here are the most common things people say about babies that aren't true.

A new dad finds an Epcot Center's worth of innovation after expecting none at all.

The dog days of summer may be well behind us, but that doesn't mean it's time to pack in the outdoor adventures quite yet.

Protect yourself and your family with these ingenious gizmos and smartphone apps.

Make sure your go-to gadgets are as cute as your style, with these trendy tech finds!

Oh, how the times have changed...